Baby bottles and their accessories come in all shapes and sizes which makes cleaning and drying with a conventional drying rack and towel not the easiest task.
Best all round baby drying rack:  The Philips Avent Baby Bottle Drying Rack was our pick for the best all rounder. Capable of drying glass and plastic bottles while not commanding too much bench space. A winner!
Best designed baby drying rack: The Boon Drying Rack was our choice for the best designed.  No one will realise this is for drying baby bottles at first glance.
This is where having a drying rack for your baby bottles and accessories is useful as the bottles are positioned facing down which allows all water to escape being used again.  Using a drying rack just for your baby bottles and accessories is a great way to seperate things away from your regular household plates, cups, etc.
Admittedly, buying a bottle drying rack is more a luxury than a necessity but we much prefer having a clearly designated area for baby stuff so have no regrets.
What you need to consider when buying a baby bottle drying rack
Amount of bottles – Look for a drying rack which aligns to how many bottles, nipples and humidifiers you will need to dry. As we had twins and more bottles than your average singleton pregnancy, we needed a drying rack to hold all the extra bottles. This did come at a cost however as it means the drying rack takes up more room on our bench.
Can it hold glass bottles – Will you be using plastic or glass bottles? We noticed with some baby bottle holders that some could only hold plastic bottles and weren't able to hold the extra weight of a glass bottle.
Size – Similar to the above, consider the size of your bench space and how many bottles you will actually need to dry before buying.
Durability –  You want something that can withstand the pressure of constantly putting multiple wet bottles on to dry for long periods. Try to avoid no name brands here and buy something with strong reviews.
Easy to clean – As the water filters down off the bottles on the drying rack, this can also build up residue and bacteria over time if not cleaned. We'd recommend getting a drying rack which is easy to clean so you can stay on top of this.
Looks – Seeing as the drying rack will spend a lot of time on your bench, it has to look good right? The baby drying rack market is quite diverse when it comes to looks so you're bound to find something that suits your tastes and kitchen style.
How long can you leave bottles on a drying rack?
Good question. Provided you are following a good baby bottle sterilization technique whether that be using a microwave steam sterilizer or even using the trusty boiling in hot water, your baby bottles will be fine to spend a few hours properly drying out on a drying rack.
Trying to completely rid yourself of bacteria is sometimes easier said than done.  There will always be a small amount of bacteria lingering around by the time you have assembled the baby bottle especially if it is receiving formula which has spent much of its life sitting on a supermarket shelf.  In fact a little bacteria is OK for your babies as it helps build their immune system.
It is recommended to clean your baby bottle drying rack at least once a month to avoid any residue or bacteria building up. This should also alleviate any concerns about the bottles picking up bacteria whilst they are drying on the drying rack.
If you do still have concerns then it is recommended to give the bottles a quick microwave after you have taken them off the drying rack to completely rid them of bacteria.
Philips Avent Baby Bottle Drying Rack
One of the real advantages of the compared to other racks reviewed in this article was the size. The Avent only occupies a small amount of bench space which is particularly useful if you're working with a small kitchen bench area.
The Avent is capable of holding glass and plastic bottles and accessories by all brands which was a huge plus for us.
We found with our Avent that occasionally water would leak from the removable drip tray onto the bench. This isn't the end of the world and we would just put a tea towel underneath the drying rack to capture any excess water.
Looking to buy?
Currently available on for .
Munchkin Sprout Baby Bottle Drying Rack

We're just putting it out there from the start – the   design is different and won't suit everyone. The green design is a bit funky but grew on us over time.
One thing we loved about the Munchkin Sprout was how compact the unit is which makes it particularly ideal for travel.  
However due to the compact nature of the stand, this affects its ability to hold some glass possibles due to their weight. 
Munchkin High Capacity Baby Bottle Drying Rack

The Munchkin High Capacity Bottle Dryer is the ultimate for people expecting multiple babies. The dryer is capable of being able to hold 16 bottles plus accessories (nipples, pacifiers, etc) at once.

The Munchkin is designed using two-tiers with retractable arms to hold bottles. This allows you to retract the arms and compact the unit down which makes it perfect if you'd prefer not to keep it permanently on your kitchen bench top.

One down side of the bottle dryer is that only the bottom tier is able to hold glass bottles. This can be quite limiting if you only have glass bottles.
Looking to buy?
Currently available on for .
OXO Tot Bottle Drying Rack
The OXO Tot Bottle Drying Rack was one of our favourites due to its great functionality and the design.
The Tot drying rack has been designed so bottles are stored upright whilst still having plenty of room for accessories like your baby nipple or pacifiers.
We also felt that the design isn't offensive and wouldn't look out of place on most kitchen bench tops.
One downside of the design was the ridges which securely hold the bottles in place can be difficult to get into and properly clean.  With that said though, we loved the removable water tray which makes removing excess water from the drying rack a breeze.
Looking to buy?
Currently available on for .
Boon Grass Baby Bottle Drying Rack
We loved the Boon Grass Baby Bottle Dryer as it doesn't look like a baby bottler drying rack! The grass design looks great in most kitchens which was a huge positive for us.
Plus the benefit of it not looking like a baby drying rack means you can use it for other purposes down the track and no one will be the wiser!
One of the downsides of the Boon Grass dryer was trying to keep it clean.  The grass isn't dishwater friendly so will need to be scrubbed by hand fro time to time to keep it clean.
The other thing we noticed was that there is no tray on the bottom of the unit to conveniently empty left over water residue.  Not a deal breaker as you can easily tip it upside down over your kitchen sink.
Looking to buy?
Currently available on for .
Affiliate Disclosure – This post may contain affiliate links where we may receive compensation if you purchase products linked below. As an Amazon Associate, I can earn from qualifying purchases. This doesn't cost you anything and helps keep our little blog running. Read our privacy policy for further information.
Affiliate Disclosure – This post may contain affiliate links where we may receive compensation if you purchase products linked below. As an Amazon Associate, I can earn from qualifying purchases. This doesn't cost you anything and helps keep our little blog running. Read our privacy policy for further information.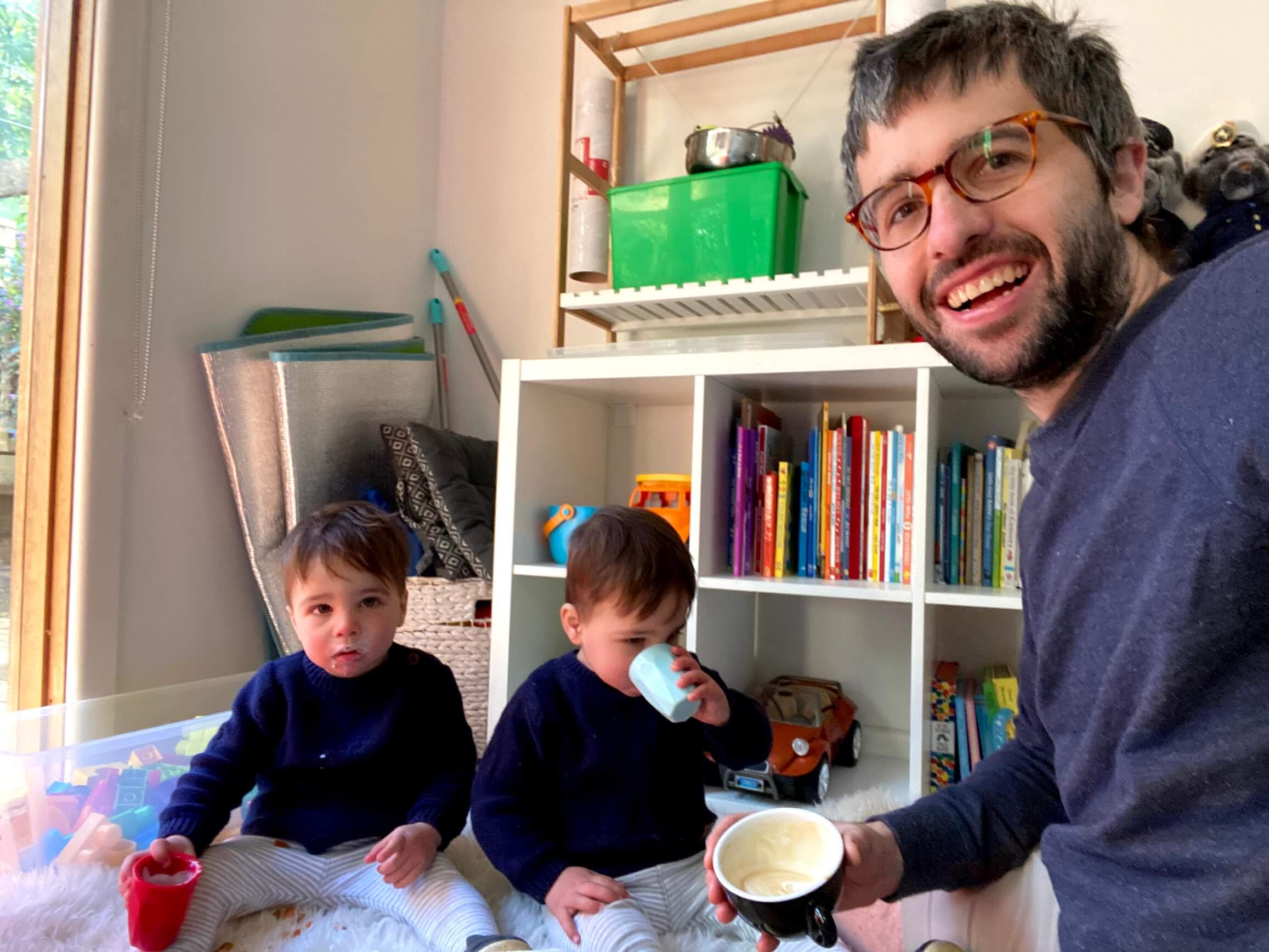 My name's Alex and I'm a husband, dad to beautiful identical twin boys, cyclist, photographer and connoisseur of great coffee!
Help I'm Having Twins has been created for me to share what I found useful as a new parent and dad to twins.