As your baby goes from enjoying to laying on their back to wanting be more active, you'll begin to wonder how you can best entertain them as they have this new found level of energy. For this reason we found investing in a jumperoo a great way to burn some energy and also help your baby begin to exercise their legs for physical development. 
We recommend the which is available from Amazon for . 
What is a Baby Jumperoo?
Baby jumperoos are an entertainment toy where your baby is suspended from the ground while having the ability to bounce up and down. As they bounce up and down, your baby is surrounded by toys, music and other forms of stimulation. 
You're probably wondering to yourself right now... How safe are baby jumperoos to use? You'll be pleased to know that they're safe thanks to using a seat which includes a harness to ensure your baby is securely in position without running the risk of bouncing out!  
Baby jumperoos are also helpful in physical development especially in the legs which is thought to be useful in preparing them for walking. 
What Are the Benefits of a Baby Jumperoo?
A baby jumperoo has a range of benefits from physical development to being entertaining. We share 5 of our favourite benefits of using baby jumperoos below: 
Strengthening and toning of muscles: Although studies have not conclusively determined whether a baby jumperoo helps in the development of hip and muscle strength, its thought that using a baby jumperoo can help strengthen and tone muscles. However like all things baby related, ensure you're only using a baby jumperoo in moderation to avoid stressing your babies muscles.
Pre-walking Skills: Although a baby jumperoo is not a walking tool, it helps the baby improve pre-motor skills in readiness for walking. As the baby uses their lower part of the body (mostly their hips), this helps improve their hip strength which is beneficial for when they begin walking.
Mental Growth: A baby jumperoo is a great item when it comes to helping the development of your babies eye-hand coordination as well as improving their eyesight. The different shapes and colors of toys on the jumperoo stimulate their visual senses while the music helps in developing their audio senses.
Comfort and safety: While we don't recommend leaving your child on your own, a baby jumperoo is a safe place to put your child while you attend to other duties like tidying up (while you're in the same room), folding clothes, etc. They offer a comfortable seat and protect your child against falling or any other threat.
Entertainment: Generally jumperoos come with a rotating seat which gives the baby the freedom to move around. As they spin around, they get the opportunity to engage with different toys, colours and shapes which help keep them amused and stimulated.
Are Baby Jumperoos Safe to Use? 
According to the Australian Competition & Consumer Commission (ACCC),  baby jumperoos are most dangerous when they are have not been properly secured or cannot properly support the tension of holding your baby.  
They recommend that when buying a baby jumperoo that you ensure the product has strong and secure latches that are sewn into the crotch strap which is then threaded through the waist strap to avoid them snapping under load. 
While the ACCC also goes on to say to ensure your baby is safe while using a jumperoo that they recommend you:
Moderation - Only use a baby jumperoo in moderation and never leave your child in one.
Good fit - Ensure your baby is securely fitted and strapped into the harness so your little one won't accidentally fall out while jumping.
Use under supervision - Never leave your child in a baby jumperoo and always be in the same room while your baby is using one.
Routinely check the unit - It helps to check the baby jumperoo from time to time to pick up on any signs of fraying on the materials which may snap under your baby's weight. 
When Can a Baby Use a Baby Jumperoo?
It's recommended that you begin to use a baby jumperoo around the age of 6 months and onwards. This is generally when babies are in a position to support their necks and hold their heads up.
Most manufacturers state their minimum weight and height recommendations on their baby jumpers, so it is essential to check this information before making any purchase.
When Does A Baby Outgrow a Jumperoo?
This one ultimately depends on your baby with every little baby different. Generally speaking though, it's recommended that once your baby begins to show signs of crawling and walking, it's likely they'll not be interested in being placed in a jumperoo and would prefer to be mobile. 
Also it's worth noting from a safety perspective, once your little one begins walking, placing them in a jumperoo can be quite dangerous. They may start to move and topple over.  
Can A Baby Sleep in A Jumperoo?
Short answer - No no no no no no no!
Never leave your child to sleep in a jumperoo. Ever. Baby jumperoos aren't designed for sleeping and have all sorts of risks associated if you leave your baby in one to sleep.  Some of these risks include:
Suffocation - As your baby nods off, chances are their head will begin to rest in an awkward angle which may restrict air flow interfering with the baby's breathing which could lead to suffocation.
Choking - If your baby is eating food while using the baby jumperoo (not really recommended) there's a risk that if they were to fall asleep that they could potentially choke on what food was in their mouth
Joints -  Leaving your baby in a jumperoo for prolonged periods is also a risk to placing unnecessary pressure and stress on your babies joints and muscles. 
Types of Baby Jumperoos
Baby jumperoos come in two types, the stationery jumper and the activity jumperoo. We share some details about each jumperoo below:
The Stationary Jumperoo
The stationary jumperoo is one where it can stand on its own frame, and it comes with a seat that contains an elastic cord which helps with creating a bouncing sensation . From what we've seen, stationary jumperoos are more focussed on bouncing and don't normally come with much entertainment in the form of toys to help keep your baby stimulated.
The Activity Jumperoo
The activity jumperoo comes with a stand-alone frame that holds a seat, tray, and toys. Similarly to the stationary jumper, the activity jumperoo uses an elastic cord to help create a bouncing sensation allowing your baby to jump up and down. ​
What makes the activity jumperoo different to the stationary jumperoo you may ask? An activity jumperoo comes with toys and other forms of entertainment like music, shapes and colours. From what we saw, stationary jumperoos are more for bouncing but lack the entertainment stimulation.
What to Look for When Buying A Baby Jumperoo
When you embark on finding the right jumperoo for your baby, the first thing you will notice is that there are numerous brands and designs in the market.  We get it, it can be a bit overwhelming with all the different jumperoos which makes it difficult to know which one is best for you.
We've put together this list of things we recommend looking for when buying a baby jumperoo to help with your buying decision.  Below is a list of the best factors to consider when making a purchase to help you make an informed decision:
Weight and height limit: Different jumperoos are designed to support different body sizes, age, and weight. This information is available on most products so we recommend checking before making your purchase to ensure that your baby will comfortably fit the jumperoo for now and months to come. 
Easy to clean: Babies spit and spill every so often, and cleaning that mess should always be easy. Look for a baby jumperoo which is made of easy-to-clean material, if it is machine washable, the better. A detachable seat makes it easier to clean as well. 
Suspension: The design of a baby jumperoo is a very crucial factor to consider. Different types of baby jumperoos have different ways of bouncing your baby. There those with single straps that can move to one side, causing severe injuries to the baby. We recommend buying a jumperoo that uses multiple straps as they generally hold the baby in place more securely. 
Adjustable height: A good jumperoo should be able to grow with your child. Look for one which has an adjustable height to accommodate your baby as they grow taller.
Brand and Design: All baby jumperoos are not made in the same design; neither are they made by one brand. Each brand has its own features, which may differ widely from one another. The well-recognized manufacturers tend to offer better quality however can be quite expensive compared to no name/less recognised brands.
Jumperoo Toys: You may want to consider the toys and forms of entertainment used in the jumperoo. Some are electronic, make sounds, and have flashing lights while others have different textures and make noise as they move.  All of this helps keep your baby stimulated while using the baby jumperoo. We recommend keeping in mind your child's safety and ensure that the toys do not have small loose parts.
Storage: A jumperoo s not used continuously and can take up space when not in use or you might want to save it for your next baby if you're planning on having another one. We recommend considering your space when buying a jumperoo as some can easily fold down while others require dissembling to store away.  If you're having to store it away frequently you may prefer one that simply folds away vs having to spend ages dissembling it each time.
---
Color Tree Baby Activity Jumper
Designed with a 360 degree rotating seat allowing your baby to swivel and bounce, the Color Tree Activity Jumper is bound to keep your baby amused.
The Color Tree Activity Jumper comes with 5 different clip on toys that include:
Soft plastic flowers
Rotating book
Lady bugs in a tree that can be moved around
Whirling pool
Musical piano (takes 3 x AAA batteries) to play music
In terms of storing the Colour Tree Activity Jumper, you'll be pleased to know that the unit easily folds down and is easy to assemble.
​

While the Color Tree Activity Jumper is easy to keep clean thanks to the machine washable seat pad which can be removed and put in the wash.
One criticism we had of the Color Tree Activity Jumper was that the toys don't light up like other jumperoos we reviewed.
Currently available on for .


---
Minnie Mouse Peek-A-Boo Jumperoo
Do you have a baby daughter and looking for something a bit more girly than some of the more neutral designs? Good news! We've managed to find one that fits the bill with the Minnie Mouse Peek-A-Boo Jumperoo which is Minnie Mouse themed. 
The Minnie Mouse Jumperoo comes with a 360 degree rotatable seat where your baby can move 360 degrees while bouncing up and down which also includes a machine washable cover.  Perfect for helping keep the seat cover nice and clean.
​

In terms of entertainment, the Minnie Mouse Peek-A-Boo Jumperoo comes with 12 different toys to help keep your baby entertained. We really loved that the toys light up and play sounds.
​

Our only criticism of the Minnie Mouse Peek-A-Boo Jumperoo is that it is quite big and high compared to other jumperoos. This can also be perceived as a positive as it may be able to fit your baby for longer compared to other jumperoos.
Currently available on for .


---
Fisher Price Rainforest Jumperoo
Looking for a rainforest themed jumperoo? Enter the Fisher Price Rainforest Jumperoo which comes with 5 different toys that light up and play music. These include:
Peek-a-boo tiger 
Bat-at money
Rattle lizard​
Bobby elephant​
Spinner drum
While the Fisher Price Rainforest Jumperoo is also capable of rotating 360 degrees while also allowing your baby to move, spin and bounce around. While the seat can be adjusted to 3 different height levels which is helpful as your baby grows.
In terms of keeping the Fisher Price Rainforest Jumperoo clean, the seat cover is removable and can easily be placed in the wash to help it keep it fresh.
One criticism we had of the Fisher Price Rainforest Jumperoo is that the seat padding wasn't as comfortable as others we reviewed.
Currently available on for .


---
Baby Einstein Neptune's Ocean Discovery Jumper
The Baby Einstein Neptune's Ocean Discovery Jumper is a sturdy nautical deep sea exploration themed jumperoo with toys that light up and make music for your little one. 
Included with the Baby Einstein Neptune Jumperoo is a 360 degree rotating seat with four different height positions. You'll be pleased to know that the seat includes a removable cover which can be taken off and easily washed.
While the Baby Einstein jumperoo has been designed for people with tight spaces thanks to its easy to assemble and fold down design which makes packing it away a breeze.
Our only criticisms of the Baby Einstein Neptune Jumperoo is that the toys don't move around much and it doesn't bounce as well as other jumperoos reviewed. 
Currently available on for .


Affiliate Disclosure – This post may contain affiliate links where we may receive compensation if you purchase products linked below. As an Amazon Associate, I can earn from qualifying purchases. This doesn't cost you anything and helps keep our little blog running. Read our privacy policy for further information.
Affiliate Disclosure – This post may contain affiliate links where we may receive compensation if you purchase products linked below. As an Amazon Associate, I can earn from qualifying purchases. This doesn't cost you anything and helps keep our little blog running. Read our privacy policy for further information.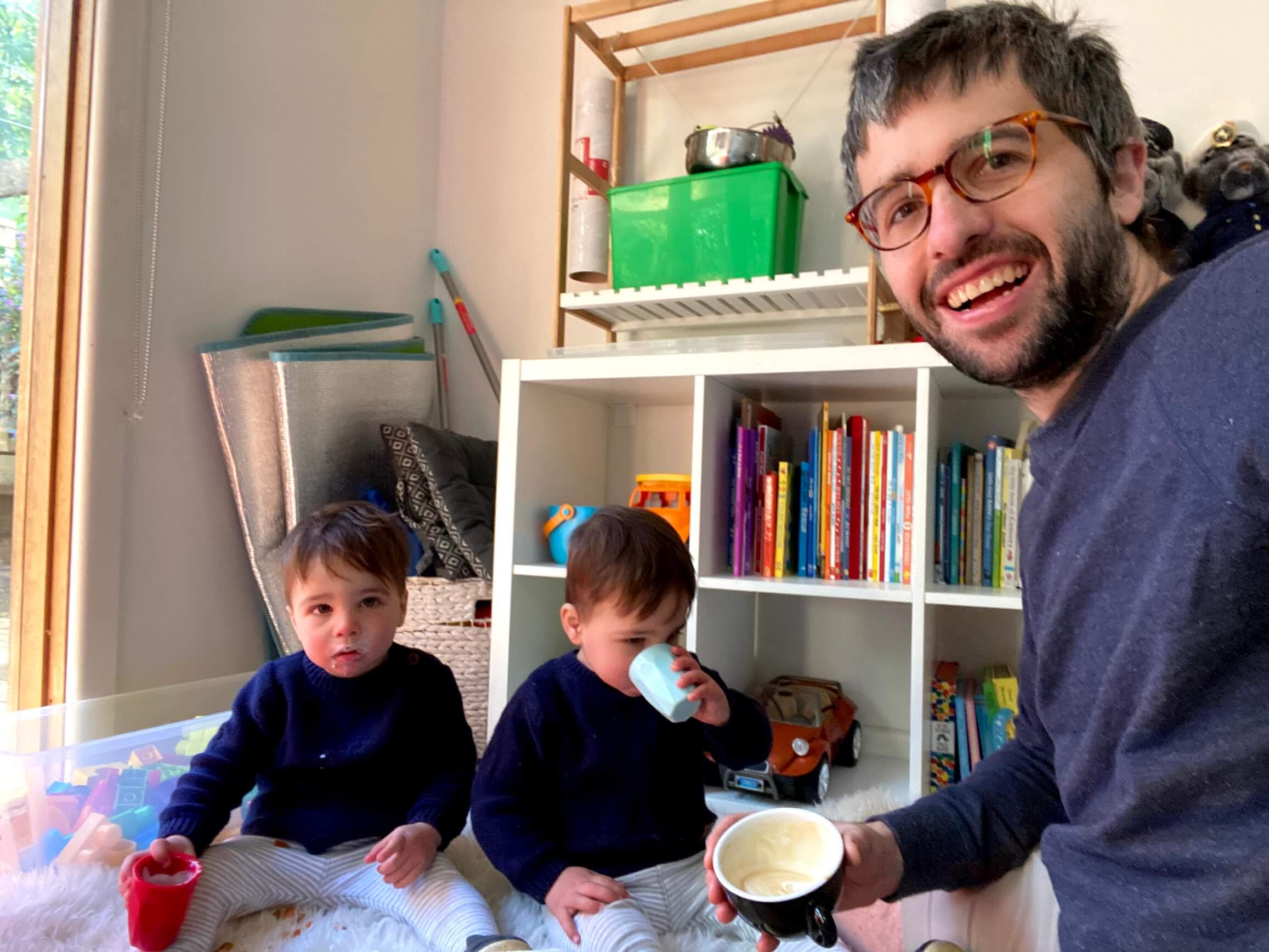 My name's Alex and I'm a husband, dad to beautiful identical twin boys, cyclist, photographer and connoisseur of great coffee!
Help I'm Having Twins has been created for me to share what I found useful as a new parent and dad to twins.