We put 7 of the best portable breast pumps to the test to find which pump is the best for the working mums out there.
Our findings found the IKARE Double Breast Pump to be the best portable breast pump on the market. Some of the features we rated about the IKARE include:
Hospital grade breast pump that comes with great suction
Multiple flange sizes (to ensure you find a comfortable fit!) ​
Holds 2 hours of charge before needing to be re-charged.
Coming in at $52.90 makes it an affordable unit
In case you're not sure what to look out for when looking at breast pumps, we have also included some tips on what to look for when buying a portable breast pump.
We hope this article helps you in your quest to finding a portable breast pump!
What to Look for When Buying a Portable Breast Pump
When it comes to portable breast pumps there's a few things you need to keep an eye out for when purchasing. This can range from the overall portability of the unit, suction power, battery length and more.
Below are some of our things to consider when purchasing a portable breast pump:
Portability of the Unit
Breast pumps come in three different forms:
Mains powered breast pumps
Battery powered breast pumps
Manual hand breast pumps
This is quite obvious but you need something that is portable and something you can easily carry around whether that be to work or to your local café.
From our experience, using a battery powered or manual hand breast pumps are best suited for when you're out and about. We've found that using a mains powered breast pump is both heavy and inconvenient as you will need to look for somewhere to plug it in to power the unit.
Carrying Case
Sure, you can put the breast pump in any old bag but having a bag which has been specifically designed for your breast pump. We'd recommend looking for a breast pump which comes with a pre-made carrying case customized to carry the breast pump.
By having a bag that is designed specifically for your breast pump means you have the convenience of having everything stored in once place which makes unpacking and packing it up every day a breeze.
Battery Capacity
There's no point buying a portable breast pump if the unit has a low battery capacity and requires you to always be charging the device.
We recommend looking for a portable breast pump that has around 5 hours of battery life.
Pumping Power
Are you planning on pumping occasionally when you get caught out and need to urgently pump? Or will you be pumping multiple times a day?
Not all pumps are designed for heavy use and you will generally find that cheaper pumps lack the durability for heavy duty pumping (6-10) per day/
How Loud is the Portable Breast Pump?
Keep an eye out in reviews to see how people rate the noise of the portable breast pump.
There's no point buying something that sounds like a plane taking off each time you go to pump in public. Instead look for something that is quiet and doesn't draw attention.
Both Breasts at Once?
Pumping breast milk one breast at a time can be time consuming especially when you're in a rush like at work.
Look for a pump that gives you the option of being able to pump both breasts when needed.
Price
Consider how often you will be using the pump when researching. Do you plan on breast pumping 3-4 times a day, 3 times a week for 6 months? That in itself is 288 times the pump will be used.
It's also worth noting that more expensive pumps generally have better re-sale value as they are both in demand and are easy to keep sanitary.
Adjustable Suction
No woman's breasts or milk supply is the same so look for a pump which allows you to control and adjust the suction yourself. Only you know how much suction is required. Not a pump!
How Easy is it to Clean?
When you're pumping on the move, you need something that is quick and easy to clean after each pump. We recommend checking how hard it is to assemble and dissemble the breast pump. You don't want something that's like a puzzle to put together each time you go to clean it.

Different Suction Levels?

Different Suction Levels?
Lansinoh Signature Pro Double Portable Electric Breast Pump
The is an affordable breast pump designed for pumping on the move. Including two suction cups gives you the ability to pump from both breasts when you're in a rush.
The Lansinoh Signature Pro Pumps comes with 3 pumping styles and 8 different suction levels. What does this mean exactly? The pump's suction is designed to mimic how a baby naturally would latch and feed by having an initial suction setting that is more of a rapid pumping motion to stimulate milk from the breast and then another slower based suction to keep a continual flow of milk from the breast. While the 8 different suction levels allow you to find a suction that works best for your breasts.
However being a portable pump, some people have noted that the suction level isn't strong enough even when set to its highest suction level. This can vary from person to person and your experience may be different based on factors such as your milk supply or how well your breast fits into the flange.
Using a hygienic closed loop system makes keeping the unit clean a breeze by not having to worry about breast milk pumping back towards the motor (and killing the unit) while also helps keep the tubes free of breast milk. Having a closed loop system is also great when it comes to resale due to being able to keep the unit clean.
When using the Lansinoh by battery, the unit requires 6 AAA batteries which cannot be recharged by the pump. Instead, you will either need to purchase new AAA batteries or charge them separately in a battery charger.
Looking to buy?
Currently available on for .
IKARE Double Breast Pump
The IKARE Double Breast Pump is one of the more affordable portable double breast pumps we reviewed, coming in at an affordable $52.90.
The IKARE double breast pump uses varying levels of suction motions to help maximise milk flow from the breast while providing comfort. The different modes include:
Massage - Uses lower intensity suction more constantly.
Bionics - Uses mid-level suction over a delayed interval.
Deep express - Uses high intensity suction over a delayed interval.
Being a hospital grade breast milk pump, the IKARE uses a closed loop system which keeps every drop of expressed milk away from the pumping unit which would otherwise leave milk residue in the pump and potentially clog the motor over time.
Comfort with some portable breast pumps can be difficult with most on the market only coming with one breast flange that is more of a 'one size fits all' style approach. Luckily the IKARE pump comes with three flange sizes (21, 24 and 27mm) which helps with finding a flange that best suits your breast.
Lastly, the IKARE Portable Breast Pump has enough charge to last 2 hours or 6 breast pumps and is rechargeable.
Medela Freestyle Mobile Double Electric Breast Pump
Medela are known as the premium breast pump makers in the market and the Medela Freestyle Mobile Double Electric Breast Pump is no exception.
Including a dual breast pump design, the Medela Freestyle is capable of pumping from both breasts at the same time with ease.
The Medela Freestyle is highly customizable and includes adjustable speed and vacuum thanks to the 2-phase expression technology. One down side of the unit is that it comes with only one breast flange size which differs to some of the other portable breast pumps we have reviewed in this article.
The Medela Freestyle double electric breast pump is rechargeable and capable of 3 hours of use before needing to be re-charged.
Spectra S1 Plus Premier
The Spectra S1 Plus Premier isn't the most smallest portable breast pumps on the market but sure does come with a lot of great features!
The Spectra S1 is a portable breast pump that's capable of holding 3 hours of charge when recharged. Included with the breast pump also includes a fashionable bag to help carry the breast pump around.
We really liked that the Spectra S1 comes with the ability to save your preferred suction of the 12 power settings so you're not constantly having to reset it before each use. Also included with the pump includes a timer mode and night light mode for those late night pumps.
The Spectra S1 Plus uses a hospital grade design that ensures your pump always remains hygienic thanks to using a closed loop system while providing you with strong suction levels at all times.
Unfortunately the Spectra S1 Plus only includes one breast flange size as a 'one size fits all' which can be limiting for some mum's. Another downside is that the pump is quite bulky compared to other pumps we've reviewed.
Haakaa Manual Breast Pump
The Haakaa Manual Breast Pump is quite different to other units we've reviewed in this article as it's a manual hand pump and not powered by a battery like others reviewed.
The Haakaa manual breast pump uses a BPA free food-grade silicone to provide a comfortable and soft fit on your breast while ensuring your baby is safe from nasty chemicals!
Where you will notice the most difference between a manual hand pump and an electric unit is the suction motion. The Haakaa relies on you gently squeezing the bottle to create a sucking motion whilst an electric unit relies on a motor to create this effect.
We recommend buying a Haakaa manual breast pump for those times that you don't want to carry around a battery operated unit and simply need a breast pump to do a quick pump to keep your supply levels up whilst you're out and about.
Bellababy Double Electric Breast Feeding Pump
Bellababy have made one of the more better looking breast pumps we reviewed with the Bellababy Double Electric Breast Feeding Pump.
The Bellababy is a hospital grade double breast pump that comes with hospital grade suction while providing a closed loop hygienic system to ensure your motor doesn't get blocked up from milk passing back through the system.
The Bellababy pump comes with 8 levels of suction power which users report has plenty of suction power with some even going as far to say the high suction can cause nipple bleeding if you're not careful!
Two downsides for the unit include:
Comfort - The pump doesn't include additional flange sizes and instead opts for a more one size fits all approach which may suit some mothers better than others.
Loud - The Bellababy Double Electric Breast Feeding Pump wasn't the most quietest unit we reviewed.
But with these downsides comes with some great positives such as the unit being capable of holding 2 hours of charge and easy to use thanks to the high definition touch screen display.
MOSFiATA Double Breast Pump
The MOSFiATA Double Breast Pump is another breast pump we reviewed that comes with a great design at an attractive price point (Price not available).
The MOSFiATA has been designed to use 3 different types of suction including Stimulate, Massage and Expression while also including 9 different suction levels of power.
Like other breast pumps reviewed in this article, the MOSFiATA double breast pump is rechargeable and capable of holding 2 hours of charge. One thing we loved about the MOSFiATA unit was the ability to charge it from the convenience of your car via cigarette lighter or at home with any USB capable charger.
Users have reported that the double breast pump of the MOSFiATA breast pump is quite misleading as the pump is only capable of pumping one breast at a time. Not great when you are trying to pump two breasts at once to save time.
Affiliate Disclosure – This post may contain affiliate links where we may receive compensation if you purchase products linked below. As an Amazon Associate, I can earn from qualifying purchases. This doesn't cost you anything and helps keep our little blog running. Read our privacy policy for further information.
Affiliate Disclosure – This post may contain affiliate links where we may receive compensation if you purchase products linked below. As an Amazon Associate, I can earn from qualifying purchases. This doesn't cost you anything and helps keep our little blog running. Read our privacy policy for further information.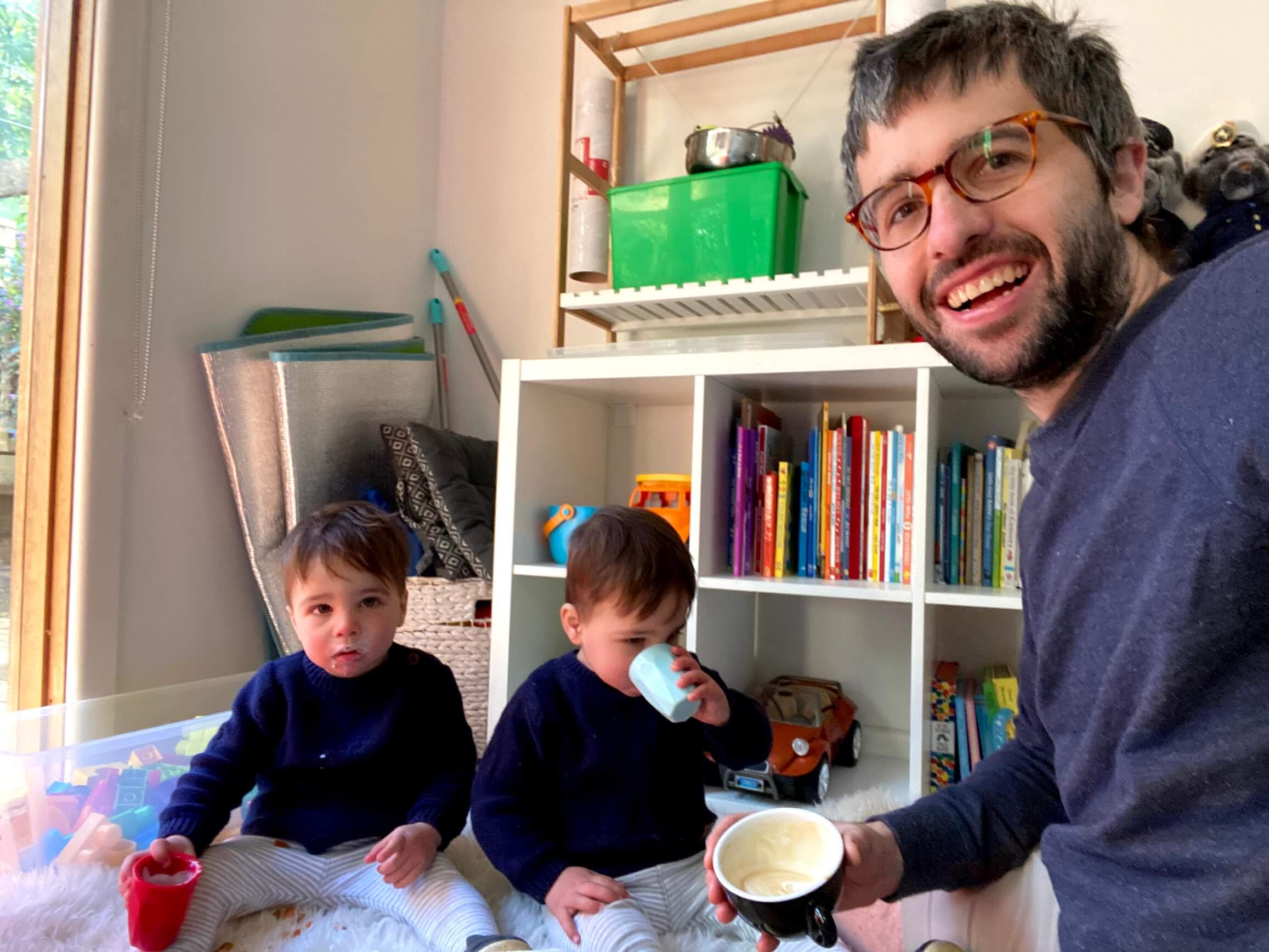 My name's Alex and I'm a husband, dad to beautiful identical twin boys, cyclist, photographer and connoisseur of great coffee!
Help I'm Having Twins has been created for me to share what I found useful as a new parent and dad to twins.