When our boys were around 11 months old we went for a summer holiday but decided to avoid staying in hotels and opted to stay in AirBnB's instead. With this came a need for us to buy portable high chairs for the boys.  
This post explores what you should look for when buying a portable high chair for your infant and some of the best portable baby high chairs on the market. 
Best Portable High Chairs for Travel Compared
Table could not be displayed.
What are Portable High Chairs
Going back to the basics for a moment, a high chair is something that's used to safely feed babies and infants. Generally they are a seat with a tray attach to them and used for feeding. They're recommended over using a normal chair as they include a safety strap where your little one can be securely placed in the chair.   Generally they're used from around the 6 month mark when your child is able to sit upright without any support.
Portable high chairs are what the name suggest and are a version of high chairs which is a lot more portable than your regular based baby high chairs.  They're designed for people who are short on space or perhaps like us, where they needed a portable high chair for travel and wanted something that was easy to assemble and disassemble. 
Types of Portable High Chairs
Portable high chairs come in a few different varieties. Below are the different types of portable high chairs out there:
Booster Seats
The best option if your travelling with slightly older infants and looking for something to set up in your hotel room. Booster seats work by being placed on a regular chair and then being strapped to the chair to securely stay in position.
Wrap Seats
The most simple and portable option is wraps. These are a piece of fabric which attaches your baby to a chair. They're easy to carry around (as they're only a piece of material) however aren't as secure as booster seats or hook on seats. 
Hook-on Seats
Hook on chairs work by securely mounting to a table using twist tight fasteners. These are a great option for when you're out and about as you can simply attach the seat to any table whether that be in a cafe, home or restaurant. The down side to hook-on chairs is that they have a lower weight carrying capacity to booster seats.
Generally hook-on seats are limited on what tables they can and can't be mounted on. Some of the constraints of a hook-on seat includes:
Edge shape: Circular and oval tables generally have a curved shape which from our experience can be problematic with some hook-on seats. It's best to check to whether your seat will be compatible before buying.
Level of thickness: Hook-on seats are able to support a certain amount of thickness on a table. Be sure to check whether the hook-on seat you're looking to buy is able to cope with tables of a decent width.
Being dangerous on certain tables: There' certain types of tables where you're going to have a hard time using a hook-on seat. Some of these tables are those with a glass surface, loose tabletops and card tables. In some cases this is due to the table not having enough support to properly hold your baby in the hook-on seat. 
Which Type of Portable Chair is Best You Ask? 
​It really depends on you as a person and how you're travelling. We think that if you're:
Travelling as light as possible then a wrap is best suited.
Maybe you're looking to eat out a bit at cafes and restaurants when you're on holidays or perhaps you just want something that's highly portable without standing out like some portable high chairs. In this case a hook-on seat is for you.
If you're looking to do all your main meals for your little one in your hotel/accommodation then we recommend a booster seat. These are most comfortable however are a bit more bulkier than the wrap and hook-on seats. 
What to Look for When Buying a Portable High Chair
Buying a portable high chair is a relatively straight forward process but we wanted to share some tips for things we looked out for when we were originally buying our chairs:
Ease of Cleaning
When it comes to feeding a toddler in a high chair, it's not exactly the most clean experience and you're bound to have a mess on your hands! For this reason we recommend looking to buy a chair that is easy to keep clean.
Things that make a chair easy to keep clean are limited cracks and bends for food scraps to make its way into. Try find a portable high chair that doesn't too much of either of these.
Weight Limit
All portable high chairs will come with a recommended carrying capacity. Be sure to check what this capacity is before buying and how this will work with the current weight of your infant. There's no point buying a seat they'll get limited use of so be sure to check this before buying. 
We recommend with hook-on seats to be aware of what the weight carrying capacity is. As the seat is mounted to a regular table, you'd hate to overload the seat with too much and potentially falling off the table.
How Well They Pack Away
If you're looking to buy a portable high chair for travelling then you're going to want something that is easy to travel with. From our experience, wrap and hook-on seats fold away easily while booster seats are sometimes a bit more obtrusive. 
Safety
Infants love to rock around when they're in a high chair and for this reason we recommend ensuring the seat has a 3 point safety harness.  While if you're opting to get a booster seat, ensure that the straps which mount the booster seat to the adult seat are secure and won't accidentally break.
Ease of Use
When buying a portable high chair for travel, you want something that's easy to use and setup. Check how much effort goes into having to assemble the seat before use.
Are Portable High Chairs Safe?
Definitely and are a much more safer option than using a regular adult chair for feeding your infants in.
Generally portable high chairs are only unsafe when you make them unsafe. For example, putting an infant in a hook-on seat where they exceed the weight carrying capacity or trying to mount it to a loose tabletop is just asking for trouble. 
---
Fisher-Price SpaceSaver High Chair
Fisher Price is known for their quality baby and children related products and the Fisher Price SpaceSaver High Chair is no exception. This is thanks to the seat coming with 2 levels of height adjustment and 3 different recliner positions. This is handy as it means you'll get more use out of the chair as your child grows. 
The seat itself comes with a good amount of cushioning while it can also be easily put in the wash to help keep it clean. While the tray on the seat has a deep dish design which helps keep food on the tray rather than on your floor!
From a safety perspective, you'll be pleased to know that the Fisher Price SpaceSaver High Chair comes with a 5 point safety harness guaranteed to make sure your baby stays safely secure in the seat.
The Fisher Price SpaceSaver High Chair is bound to have a colour for everyone with its 8 different colour options. From blue to pink to pacific pebble, there's something for everyone. 
Currently available on for .


---
Chicco Caddy Hook-On Chair
The Chicco Caddy Hook On Chair is a great option for anyone looking for a portable and lightweight chair. The chair uses a twist to tighten design mechanism to securely mount to your table of choice. While also using soft grip arms to avoid any unnecessary scratches to your table.
​

Our boys found the chair super comfortable thanks to its cushioned seat and back support. 
​

While keeping the Chicco Caddy Hook on Chair clean is pretty easy thanks to the removable seat cover which is machine washable. 
From a safety perspective, the Chicco Caddy Hook on Seat uses a seatbelt and crotch strap to ensure your little one is safely secure in the seat.
Our only criticism of the Chicco Caddy Hook On Chair is that it leaves quite a big gap between the seat and the table. This can result in a fair bit of food falling in your child's lap rather than on the table.
Currently available on for .


---
The First Years On-The-Go Booster Seat
The First Years On-The-Go Booster Seat is a great option for anyone looking for a booster seat that's both portable and lightweight.
The chair is a bit different to other booster seats where it self inflates and has the option of self inflating up to 4 inches with an easy inflating valve.
From a safety perspective, the First Years On-The-Go Booster Seat uses a T-restraint harness to securely mount your child in the seat. Our only complaint of the seat is that it doesn't have any side supports which means if your child tries hard enough, they could potentially slip out the side.
​

​When it comes to portability, the First Years On-The-Go Booster Seat is super portable thanks to slotting down into a suitcase like carry bag. Unfortunately the seat doesn't completely deflate due to there being padding inside the seat.


While keeping the First Years On-The-Go Booster Seat is easy to keep clean thanks to the fabric used working well with a quick wipe. Our only complaint when it comes to cleaning is that the chair does have a few crevices where food can get into however this easily comes out with some scrubbing. 
​

Currently available on for .


---
The Chicco 360 Hook-on Chair is a great option for anyone looking for a hook-on chair that rotates 360 degrees. The chair comes with 6 different seat positions where you're bound to find an angle that works for you. You might be wondering to why you'd want a chair that can rotate 360 degrees? Perhaps you're sitting in a cafe or restaurant with limited space, you're sitting next to your child and want them facing you. Having a 360 degrees seat means you can move the chair to face any angle.
From a bench mounting perspective, the Chicco 360 Hook-on Chair is capable of being mounted on benches of up to 5.25". Enough for most people. While using rubber grip clamps that securely mount to your table.
While keeping the seat clean is easy thanks to removable seat covers that are machine washable. 

We particularly loved how the table serving tray can easily be removed. This works great as it means that while your child is seated in the seat, you can remove the table tray to serve food on and then simply clip back on.  While we also really rated how portable the Chicco 360 Hook-on Chair is thanks to easily folding down and coming with a carry bag to lug it around.
Currently available on for .


---
Hosim Portable High Chair
Closing out this article on the best portable high chairs is the Hosim Portable High Chair. This is a wrap based portable high chair made from a nylon material and suitable for children aged 5 to 30 months. 
​

What makes the Hosim Portable High Chair great is the fact it's so portable! You can easily wrap the Hosim Portable High Chair up and it conveniently fits in your handbag (or pocket if they're big!).
One down side of the material being made from nylon means that it can be a bit slippery when using it.
From a cleaning perspective, the wrap is easily washable thanks to being machine washable which means you can keep it fresh.
Currently available on for .


Affiliate Disclosure – This post may contain affiliate links where we may receive compensation if you purchase products linked below. As an Amazon Associate, I can earn from qualifying purchases. This doesn't cost you anything and helps keep our little blog running. Read our privacy policy for further information.
Affiliate Disclosure – This post may contain affiliate links where we may receive compensation if you purchase products linked below. As an Amazon Associate, I can earn from qualifying purchases. This doesn't cost you anything and helps keep our little blog running. Read our privacy policy for further information.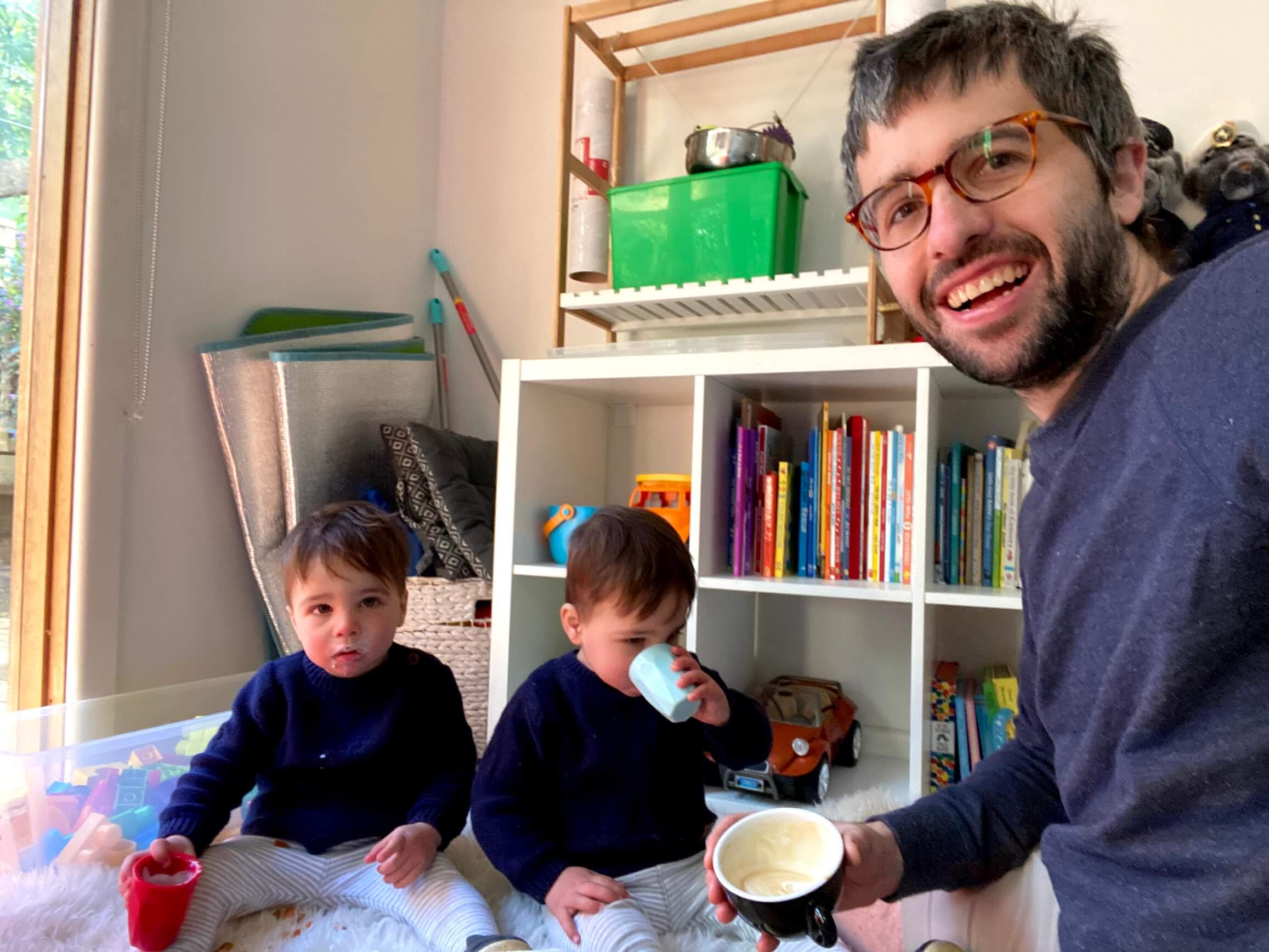 My name's Alex and I'm a husband, dad to beautiful identical twin boys, cyclist, photographer and connoisseur of great coffee!
Help I'm Having Twins has been created for me to share what I found useful as a new parent and dad to twins.