We found buying shoes for our twin boys the first time a bit daunting. We are so used to buying shoes for ourselves based on what size we are and can get away wearing shoes without good support. But what type of shoes are best for toddlers?
We decided to put this post together to share our experience of buying the best shoes for a child and pairs we recommend.
In case you don't have time to read the fully article, we recommend the Bobux Step Up range of shoes which are available from Amazon for Price not available.
Why Buy Shoes for your Toddler?
As your child becomes walking, it's important to find a comfortable pair of shoes that will help protect their feet from different surfaces they encounter while helping nurture their feet as they grow. 
We don't think any old shoe is good for your child and recommend further reading our guide to get some helpful tips on things to look out for when buying shoes for your toddler for the first time. Some shoes are only asking for trouble later in life while others are specifically designed with the input of podiatrists to ensure they are properly looking after your little one's feet. 
What to Look for When Buying Shoes for a Toddler?
Make sure they fit - The most important thing when buying a pair of shoes for your infant is ensuring they fit! Shoes that are too big will cause them to trip over while shoes that are too small will cause blisters. While a poor fit may also cause problems later in life whether it be developed hammer toes or bunions. 
Flexible - You want a shoe that is flexible and not too stiff. This is important as it gives your child's feet a chance to develop muscles to help them with their walking. Shoes that are too stiff don't allow muscles to properly develop.
Closed shoes - While we think open shoes and thongs can look great, they're also not so great for your child if you're looking for an ergonomic pair of shoes. Open shoes have been been found to cause children to 'toe grip' which is where they try to compensate for the shoes being open by gripping with their toes as they walk. This doesn't set them up for success later in life.
What to Avoid When Buying Shoes for a Toddler?
You want your child to enjoy wearing their first pair of shoes and not loathe them. If the shoes aren't comfortable they'll quickly develop negative associations with the shoes and never want to wear them. For this reason we've created a list of things to avoid when buying shoes for a toddler: 
Shoes with a sole that's too hard - Shoes that use a sole that's too hard and not flexible means that you're not giving your child's legs and feet muscles a change to develop. Instead look for something that's flexible so when you're buying the shoes, try to bend them in the middle and see how much they bend.
Avoid features you see in adult shoes - Your child doesn't need the features you'll find in adult shoes like high backs, special arches, reinforced heels, etc. These only create early problems for your child's feet.
Shoes designed for adults - Try not to avoid focusing too much on how the shoes look and instead how they feel in terms of having good padding, being flexible and most importantly, fitting your child properly.
Shoes that are too big - Buying new shoes for your child can result in your child's feet moving around too much which can cause blisters, risk them tripping over but also developing long-term problems whether it be hammertoes, claw toes or bunions.
Not checking whether the shoes fit a few months later - Shoes that are too small can restrict the growth of your child's foot so for this reason we recommend occasionally checking the shoes to see how they fit. 
Avoid open toed shoes - These are no good for children as it's thought children are more inclined to toe grip when they are walking which creates an unnatural walking style that may result in problems down the track.
Is Buying Used Shoes for My Toddler OK?
Avoid if can. Buying shoes that have already been worn can be problematic as the shoes have begun to develop a mould that suits the previous child's feet which may mean they will sit awkwardly on your child.
Obviously if you're strapped for cash and have no other choice then go for it! It sure beats your child walking around barefoot on rough surfaces. 
How to Tell Whether the Shoes Fit?
We recommend getting your child to stand straight on their feet with their knees slightly bent. While they are in this position, see whether you can fit the equivalent of a pinky finger into the heel of the shoe.  Ideally you're looking for enough gap to give their feet space to move around as needed. You don't want too much space though as this can cause instability and blisters. 
We recommend checking how the fit of the shoe is going on your child by checking for red marks on their feet from time to time. This will help you identify whether the shoes are too small and a bigger pair may be needed.
Should My Toddler Wear Socks?
Yes definitely. Socks are great as they help protect your child's foot from blisters while absorbing moisture and reducing friction between your child's feet and the shoe. All the while helping keep the shoe feel comfortable. 
Should My Toddler Still go Barefoot?
Yes from time to time. It's recommended that your child still go barefoot when they are walking indoors as this is a great way for them to develop motor skills on walking. While helping strengthen their leg and foot muscles.
---
Bobux Kids Unisex Step Up Shoes
Ahh! The first pair of shoes we bought our boys. Brings back fuzzy memories thinking about them! Bobux make a fantastic shoe with the Bobux Step Up range and are our pick of the bunch. 
Why are they so great you ask? We really like the fact that the Bobux range are made using real leather that's also breathable. Having leather that is breathable is particularly useful considering how active your child will be when wearing these shoes. You'll sometimes ask yourself to where they find all the energy. While the shoes come with rubber soles for long lasting durability that isn't too stiff. 
One thing we really liked about the Bobux Step Up range was how stylish they look! You can dress them up or down really well which makes them versatile for all situations.
In terms of fitting, the Bobux Step Up shoes use hook and loop straps which are effectively velcro straps that let you get a good fit on your child's ankle and heel to avoid unnecessary sleeping.
​

The Bobux Step Up Shoes come in a range of 4 different colours where you're bound to find a colour that suits your little one. 
---
Naturino Express Kids Pace Shoes
Another great option for anyone looking for a comfortable and great looking shoe for their little one is the Naturino Express Kids Pace Shoes. 
Made with a grip that is both flexible (without being too stiff) while providing great grip for your child makes these an appealing shoe.  This is particularly important in kids shoes as we said earlier in the post, you don't want something that is too firm as it means the shoes will better grip onto things while letting your child's muscles naturally develop.
While the 3 different colour options means you're bound to find a shoe that looks great and suits your child. We really like with these shoes that you can easily dress them up or down depending on where you're going. 
The shoes use an easy to use velcro strap mechanism which makes taking on and off the shoes a breeze all the while making adjusting the shoes to suit your child's feet size easy. 
---
The Simple Joys by Carter's shoe is a great option for anyone looking for a pair of shoes for their child from a reputable brand. The shoes come in a unisex design with two colour options (navy or pink) while having velcro straps to help with taking the shoes on and off with ease.
We chose these shoes because they feature a flexible sole made from rubber. Perfect for helping your child develop muscles in their legs and feet while also developing a good natural walk.
Like other shoes reviewed in this article, the shoes use a heel tab to help with taking the shoes on and off which is super helpful when you've got a wriggly child that just wants their shoes off! 
From a sizing perspective, the Simple Joys by Carter's shoes run a bit small than your average shoes. For this reason, we recommend sizing up one to ensure a good fit.
The tongue on the Simply Joys shoes is stitched onto the shoes. Why is this a problem you're probably wondering? It means you can't pull the tongue up and out all the way which can help with putting shoes on.  Instead the tongue is purely there for cosmetic reasons and doesn't provide the same functionality like a normal tongue would.
---
Closing out this article on the best shoes for 1 yearolds is the Dadawen Sneakers. These are a little different in the looks department to other shoes we've reviewed in this article thanks to their breathable synthetic mesh. The material is great as it's super breathable which helps stop your child's feet from getting too hot! ​
The shoes come in 8 different colours so you're bound to find something that works best for your child.
While the shoes use a rubber sole that's nice and flexible without being too stiff. Don't forget that this is important as a flexible sole helps your child develop their leg and feet muscles.
We really liked the closed loop on the back of the shoes that is designed to help with taking the shoes easily on and off. A great idea!
One down side of these shoes that we wanted to note was the fact that the sole can be quite hard compared to other shoes we recommended. For this reason, we'd opt to not use the shoes for long periods and go for something more comfortable. With that said though, they're fine for short bursts. 
Affiliate Disclosure – This post may contain affiliate links where we may receive compensation if you purchase products linked below. As an Amazon Associate, I can earn from qualifying purchases. This doesn't cost you anything and helps keep our little blog running. Read our privacy policy for further information.
Affiliate Disclosure – This post may contain affiliate links where we may receive compensation if you purchase products linked below. As an Amazon Associate, I can earn from qualifying purchases. This doesn't cost you anything and helps keep our little blog running. Read our privacy policy for further information.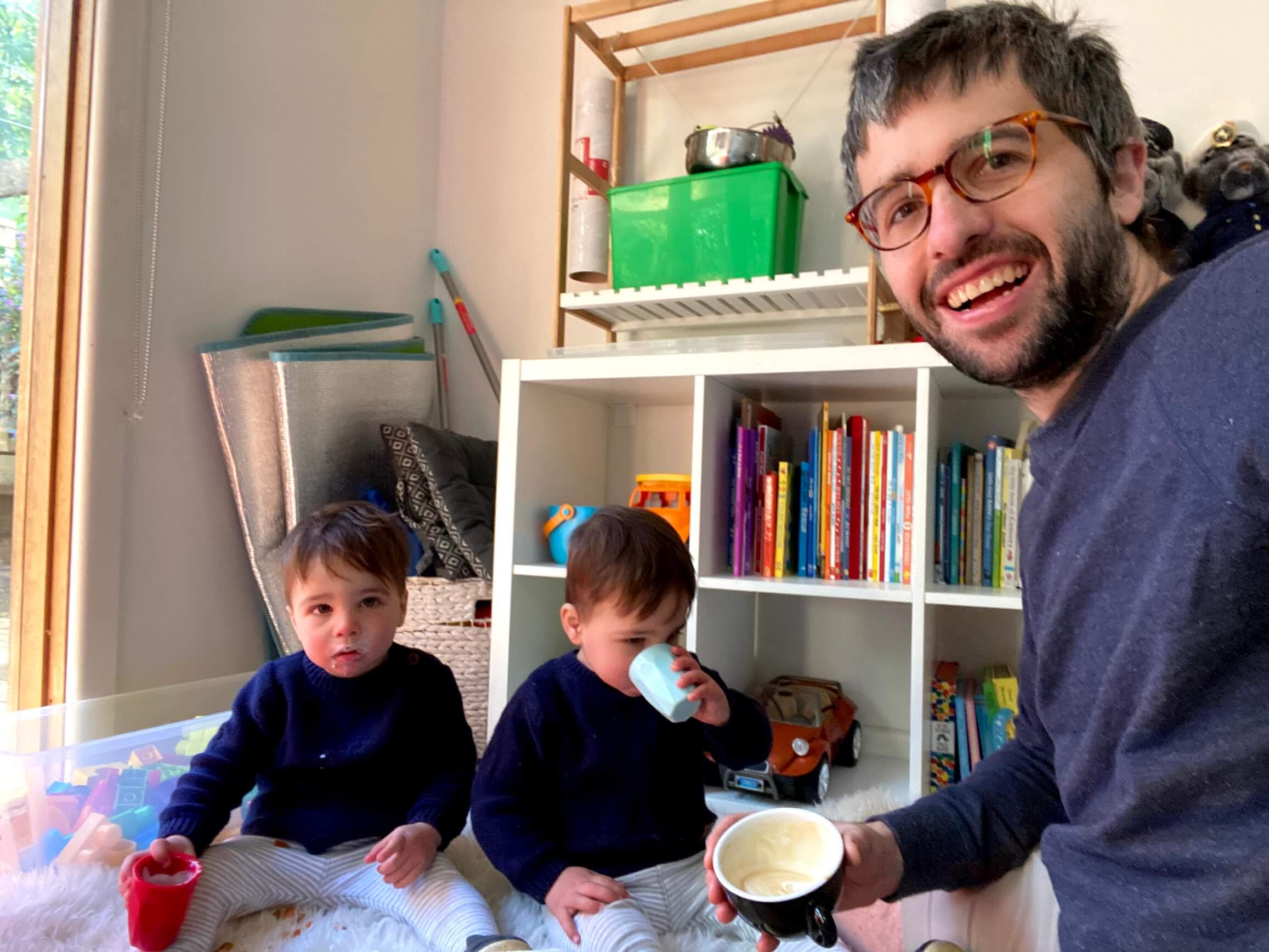 My name's Alex and I'm a husband, dad to beautiful identical twin boys, cyclist, photographer and connoisseur of great coffee!
Help I'm Having Twins has been created for me to share what I found useful as a new parent and dad to twins.