As your child begins to slowly wean off drinking milk they'll have a new found thirst for drinking water. Fortunately there's drink bottles out there known as sippy cups which are designed to make drinking from a bottle easy for your infant.
This article looks at the best sippy cups on the market. We personally recommend the  which is available from Amazon for .
When Should My Child Start Using a Sippy Cup?
From our experience, our twin boys begun using a sippy cup around the 8 month mark. But you may find your child may start earlier or be interested in trying it later. Don't stress if your child is late to use a sippy cup as they'll have better hand eye coordination the older they are.
Are Sippy Cups Bad for Teeth?
Colgate recommend not using sippy cups past the 18 month due to being potentially linked with early onset of tooth decay.
The best sippy cups will use a soft straw which is also nice and soft on their gums. Try to avoid cheap sippy cups as from our experience, they rely on a firm/hard style straw which only causes discomfort.
Things to Consider When Buying a Sippy Cup
Buying the best sippy cup is a relatively straight forward process but we wanted to share things we look for when buying new sippy cups based on our experience so far: 
Leak Free - We originally bought some sippy cups that leaked all the time. It was super frustrating coming across a bottle sitting on the floor in a puddle of water from slowly leaking out all the water. Generally your more reputable brands like b.box and others are great when it comes to not leaking.
Not Difficult to Clean - The last thing you want is a sippy cup that you need a fancy device to properly clean. Get something that's easy to clean with regular household cleaning equipment. We recommend getting a straw cleaner so you can keep the inside of the straw nice and clean.
Will Take a Few Knocks - Your toddler is going to throw the sippy cup on the floor from time to time so you want something that can withstand being thrown on the ground without breaking. 
Free of Harmful Nasties - Ensure the bottle you are buying is BPA free and also free of other nasties. You'll end up using the sippy cup for a while so the last thing you want is nasties making their way into the water.
Easy to Use - Last and most importantly is looking for a cup that is easy to use. By this we mean, how hard is it for your child to open the nozzle? How hard is it for them to drink from the cup? The first sippy cup we bought was garbage as it was difficult to open the nozzle and when they did manage to open the lid, the water flow was unregulated and would rush out. The good brands like b.box regulate the flow of water so your child doesn't choke from too much water coming out. 
What are the Different Types of Sippy Cups
Sippy cups can vary from cup to cup so for this reason we put together this list of the different types of sippy cups you'll come across. These include:
Spout - What kind of spout does the bottle use? Some bottles use soft straws while others use more harder plastic straws. We recommend bottles that use soft straws vs those that use more harder types.  The only down side to soft straws is that they do bend and move around a lot vs. a hard straw which doesn't flex around too much. 
Lid - Does the bottle come with a lid to stop water from accidentally coming out? The last thing you want is the bottle being in your bag and leaking through it. 
Valve - Does the sippy cup come with a valve that controls the flow of water to your little one? You don't want the water flowing too fast as this can cause them to choke.
Cup Material - What's the cup made from? Obviously plastic works best at taking falls on the floor. While you also want something that uses durable plastic that won't crack easy.
Handles - Your little one will need to be able to hold the bottle and for this reason, buying a bottle that comes with handles makes it a lot easier vs one that has no handles. 
Are Sippy Cups Hard to Clean?
This obviously depends on what sippy cup you end up buying but from our experience, yes they are and easier to clean than milk bottles. The best sippy cup will be one that's easy to keep clean. The last thing you want is a bottle that's difficult to keep clean seeing as how dirty it'll get!
We recommend buying a straw cleaner​ which will mean you can get into the straw and flush out any muck that's built up in the straw over time. 
---
After trialing different sippy cups, we ended up landing on the b.box Sippy Cup as our preferred choice and we'll share why.
Made using BPA, Phthalates and PVC free plastic, you'll need not worry about your little one getting nasties from prolonged use of the bottle. 
Cleaning the b.box sippy cup is a breeze thanks to the bottle easily dissembling and the bottle being dishwasher safe. You will need a straw cleaner if you want to get in and clean out any build up of any muck or the like that might build up over time in the straw.  While if your bottle gets too dirty, you can always buy a replacement straw if needed. 
Two thing we really liked about the b.box sippy cup is the weighted straw which means that your child can drink from the bottle from any angle. Say they're laying on the ground and have the bottle up on an awkward angle, water will still flow through to them. It's a great idea! 
We also really like how durable the bottle is compared to some of the other bottles we tried over time. Our boys constantly throw the bottles on the ground and they're still going strong 6 months after originally buying them. 
You're bound to find a colour that suits your child thanks to there being 9 different colour choices!
Currently available on for .


---
The Cambelbak Eddy Kids sippy cup was our runner up. One thing that was a no deal for us was the lack of handles for your little one to hold. This might be less of an issue for you though!
A must when buying a sippy cup is getting something that is durable and can take a few hits without breaking and leaking. The Cambelbak Eddy range uses a durable leak free plastic.
The Camelbak Eddy Kids range uses a spout that's different to other bottles we reviewed where it uses a 'bite valve' this relies on your child to bite down for the water to come through. It requires a bit more training than a sippy cup and may be better suited for older infants.  The idea of a bite valve helps regulate flow to stop too much water coming out which can cause your child to choke. While also helping avoid any water leaking when the bottle is in your bag, etc. 
​

While you'll be pleased to know that the Cambelbak Eddy Kids drink bottles come free of BPA and other nasties.


Coming in 43 different colour and pattern choices means you're bound to find something that suits your little one. Whether it be glitter rainbow themed or planets, we were really impressed with the range of patterns and colours.
Currently available on for .


---
Philips Avent My Bendy Straw Cup
The Philips Avent My Bendy Straw Cup is a great option for anyone who is slightly concerned about the risks to your little ones teeth. The Philips Avent My Bendy Straw Cup is recommended by US dentists thanks to its short straw which promotes healthy oral development.
Like other bottles we reviewed, the Philips Avent My Bendy Straw Cup is free from BPA and other chemical nasties.
From a cleaning perspective, the Philips Avent My Bendy Straw Cup is easy to keep clean thanks to all the parts disassembling and being dishwasher safe.
Two things we really like about the 
Philips Avent My Bendy Straw Cup is the fact the parts are interchangeable with other cups/parts in the Avent range. For example, say you already own a few Philips Avent range, you can use the drink bottle part from the Philips Avent My Bendy Straw range on top of the milk bottle. 
While we also really like that the bottle comes with a 30 day no leak guarantee!  Great if you've had a bad run with sippy cups in the past and worried this one might leak too. The 30 day will give you enough time to test the bottle and return it if it's not working out for you.
Currently available on for .


Affiliate Disclosure – This post may contain affiliate links where we may receive compensation if you purchase products linked below. As an Amazon Associate, I can earn from qualifying purchases. This doesn't cost you anything and helps keep our little blog running. Read our privacy policy for further information.
Affiliate Disclosure – This post may contain affiliate links where we may receive compensation if you purchase products linked below. As an Amazon Associate, I can earn from qualifying purchases. This doesn't cost you anything and helps keep our little blog running. Read our privacy policy for further information.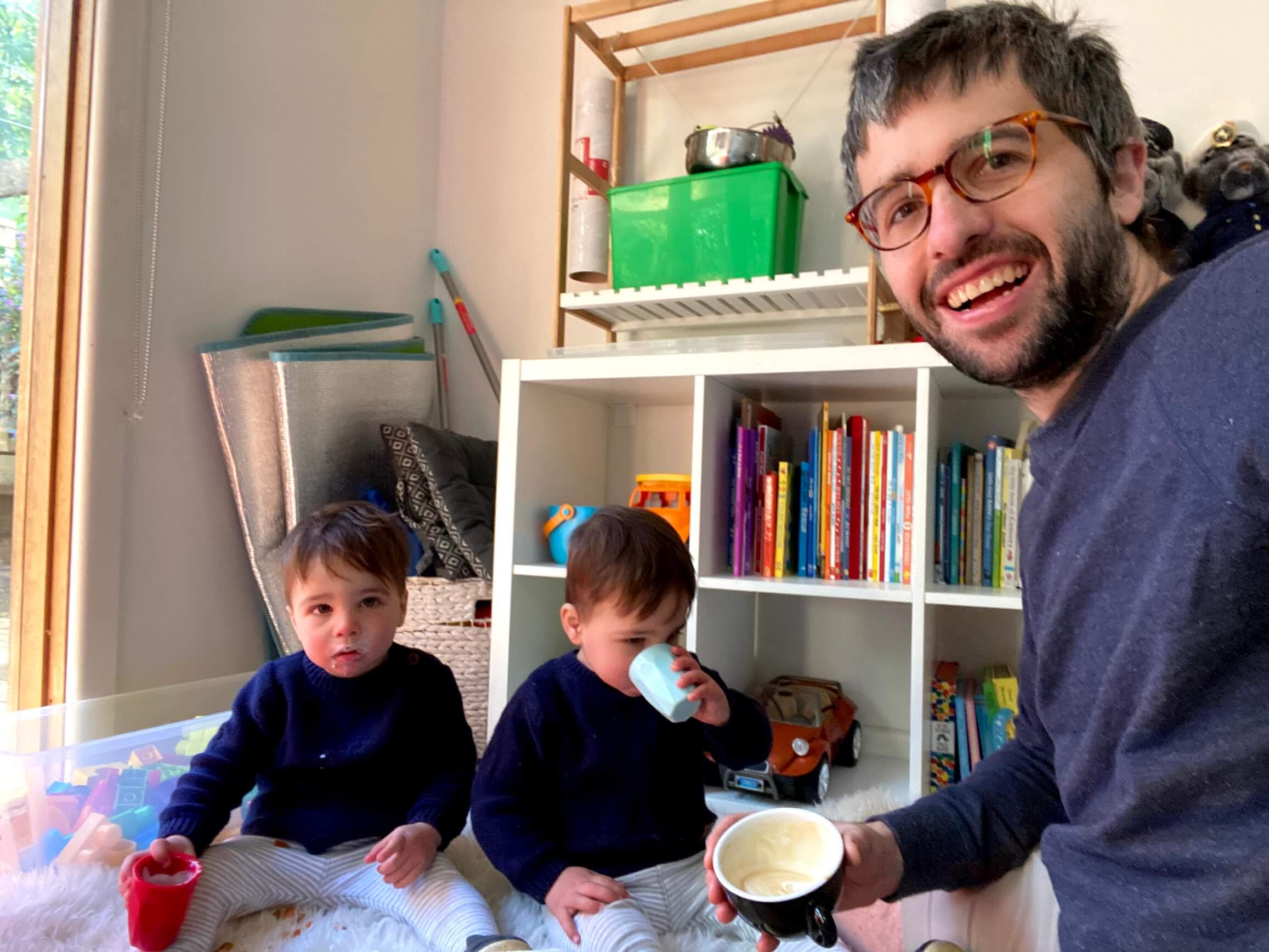 My name's Alex and I'm a husband, dad to beautiful identical twin boys, cyclist, photographer and connoisseur of great coffee!
Help I'm Having Twins has been created for me to share what I found useful as a new parent and dad to twins.