Travelling with babies is tough especially with how many different pieces of equipment that's needed. We travel a bit as my family are located in a different state to us in Australia. We made all attempts to reduce down on the size of everything to try help take the hassle out of travelling.
We limited our choices to 3 different types of products:
Best microwave sterilizer and our pick: Although it's a bit bulky, we love travelling with the Philips Avent Steam Sterilizer. The Avent is able to clean 4 bottles with accessories in 2 minutes to 99.99% sterilization.
Best UV sterilizer: The  is a super compact and lightweight product that uses UV to sterilize. A bit fiddly but good! 
Best sterilizer for just nipples and pacifier: If you're in a rush and just need to quickly clean the nipple of your babies bottle, the  is a great choice.
What to Look For
When planning your next trip away and deciding on which baby bottle sterilizer to take, there's a few things we'd recommend considering:
Compact – There's no point lugging around a 5 KG baby bottle sterilizer and using a decent chunk of your airline baggage allowance. Look for something that is small and lightweight that will easily store away when not in use.
Easy to use –  You want something that is quick and easy as hey, you're most likely away travelling for holidays and don't want something you have to fuss over.
Type of cleaner – Are you looking for an electric, microwave or UV baby bottle sterilizer? We quickly touch on what the different types are below. Generally from our experience, microwave sterilizers are the most compact and best suited for travel.
Will you have access to a kitchen of sorts – There's no point taking a microwave sterilizer if your holiday apartment doesn't have a microwave in the kitchen available.
What are the Different Types of Baby Sterilizers
There are 3 different methods for sterilizing baby bottles. Most importantly, they all guarantee that they will kill 99.9% of germs in the baby bottles. The rest comes down to personal preference. The difference between the 3 include:
Electric Sterilizers: Uses electricity to create steam and clean a baby bottle. These can generally be quite bulky however are quick to clean.
Microwave Sterilizers: Generally one of the quickest and most compact ways to clean a baby bottle, a microwave sterilizer uses steam generated from your microwave to clean.
UV Sterilizers: Uses a UV light to clean your baby bottles without the need for water. The travel often will only sterilize the nipple or require you to sterilize the bottle in parts.
What do we recommend? Ultimately it's your choice but we prefer the microwave variety as they are lightweight, don't include the bulk of a power cable and can clean the whole bottle in one hit.
Do I Need to Sterilize my Baby Bottles?
Yes! Especially if your child is under 6 weeks old when they are more prone to catching illness. The idea behind cleaning baby bottles is to remove the bacteria that can form when left over milk remains in the baby bottle. Some of the illnesses that can form from this bacteria includes:
Staphylococcus
Mild thrush
Salmonella which can in turn cause:
Influenza A
Fortunately there are plenty of compact and affordable travel baby bottle sterilizers on the market which we will have you covered and safe from the above.
Philips Avent Microwave Steam Sterilizer
We personally use the Philips Avent Steam Sterilizer  for all our travel and can't speak more highly enough of it.
Compared to other products we reviewed in this article, the Avent is a bit bigger but with this this can also be seen as a positive as it's able to clean more bottles and accessories.
Another plus for the Avent is its ability to clean bottles to 99.99% in 2 minutes and keep bottles clean for 24 hours if the lid remains unopened. Just be careful opening the lid after cleaning as the steam coming out of the unit can get quite hot.
Lil' Jumbl UV Sterilizer
The    is a great option if you're looking for something to clean your babies pacifiers and nipples while you're away. Unfortunately the unit doesn't clean bottles and you will be needing something else for bottle cleaning.
Due to the small size, we'd recommend partnering the Lil' Jumbl with a bottle cleaner that may not have the ability to clean pacifiers and nipples. The unit is incredibly small so you won't realise it's there.
As the device is a UV based sterilizer, it relies on power through 2 X AA batteries to clean and is able to clean in 5 minutes.
Would we recommend this baby bottle cleaner for travelling? Probably not. Best to get an all-in-one solution that is able to clean the bottle and nipples in one go.
Looking to buy?
Currently available on for .
HyGenie Portable Bottle Sterilizer
The is another UV cleaner which took our fancy. Luckily the HyGenie isn't limited to only being able to clean nipples and pacifiers like Lil ' Jumbl but can also clean the bottle too. HyGenie is able to clean your bottle, nipple and pacifier.
With the HyGenie being compact like the Lil' Jumbl, it does take a bit of mucking around to clean everything. Most reviews suggest it takes around 20 minutes to clean everything as you can only clean one at a time.
Looking to buy?
Currently available on for .
Best No Frills Option – Boiling Hot Water
If the accommodation you are staying in has a self contained kitchen, the other and free option is to clean the baby bottles on a stop top in a pot.
The below video provides a great overview on how to clean your baby bottles using boiling hot water.
Affiliate Disclosure – This post may contain affiliate links where we may receive compensation if you purchase products linked below. As an Amazon Associate, I can earn from qualifying purchases. This doesn't cost you anything and helps keep our little blog running. Read our privacy policy for further information.
Affiliate Disclosure – This post may contain affiliate links where we may receive compensation if you purchase products linked below. As an Amazon Associate, I can earn from qualifying purchases. This doesn't cost you anything and helps keep our little blog running. Read our privacy policy for further information.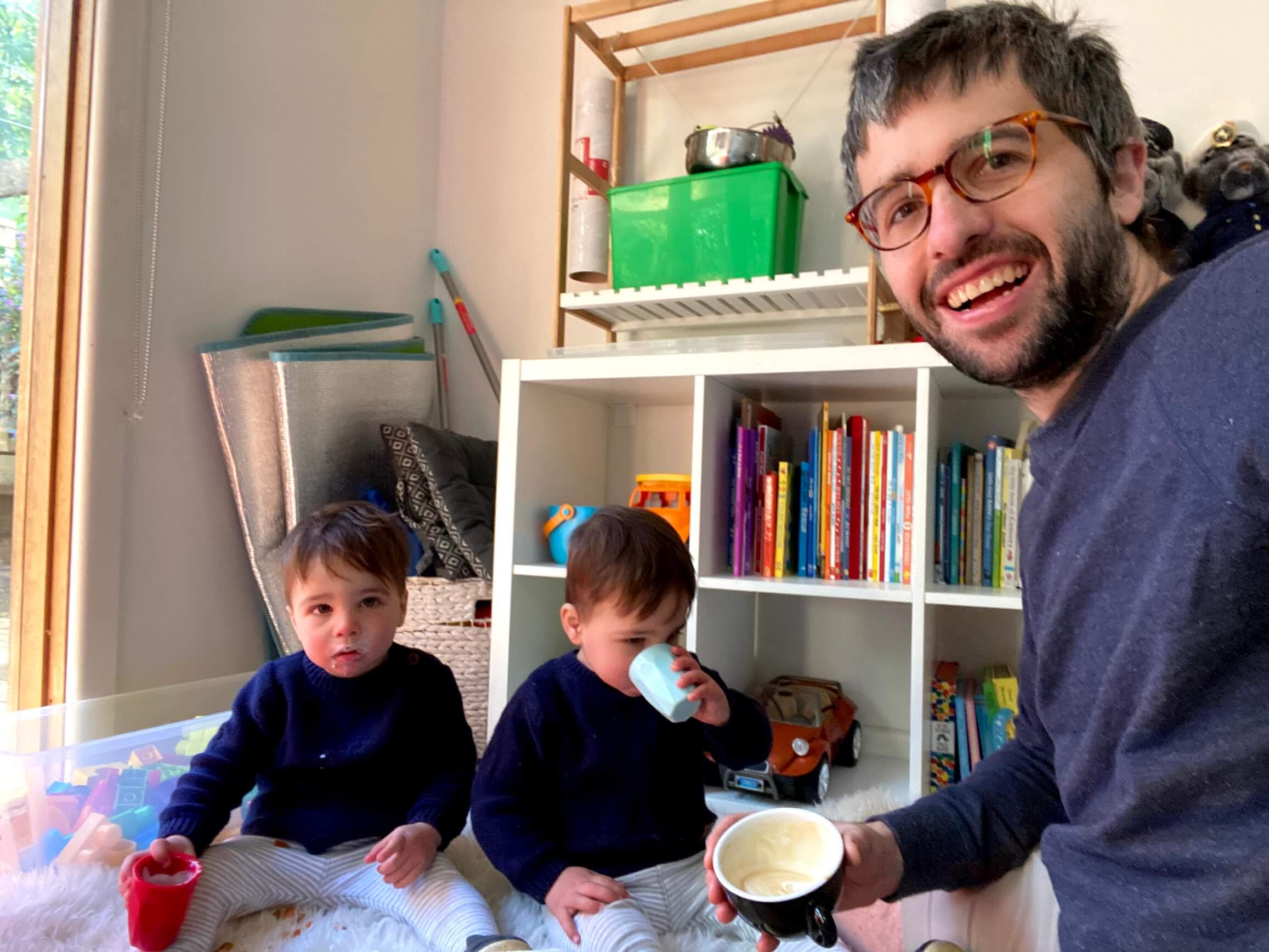 My name's Alex and I'm a husband, dad to beautiful identical twin boys, cyclist, photographer and connoisseur of great coffee!
Help I'm Having Twins has been created for me to share what I found useful as a new parent and dad to twins.