Affiliate Disclosure – This post may contain affiliate links where we may receive compensation if you purchase products linked below. As an Amazon Associate, I can earn from qualifying purchases. This doesn't cost you anything and helps keep our little blog running. Read our privacy policy for further information.
The first time we travelled interstate to visit my family with our new born twins, we did our best to plan for the trip but there was always going to be a few things we'd do better next time. For this reason we've put together 8 tips on what we recommend when travelling with your newborn baby.
1. Use a Baby Carrier
Wearing your newborn is much easier than using a stroller. You can move around faster and be more flexible. And what's the most adorable thing? Your baby loves to be so close to you! Babies usually sleep and feel better in the carrier, even if you are on the go or at restaurants. Besides that, wearing your baby works great for when you're in tight spaces!
2. Pack light
This one could be a quite challenging task but experience says the less the better. Take with you only whatever you think is absolutely necessary and avoid to pack things "just in case".  Travelling with a newborn will mean you're going to have a lot regardless but try avoid the unnecessary.
You can always buy anything extra you might need at your destination. Lighter luggage will help you move easier, especially if travelling by plane.
3. Take More Baby Clothes
While this might sound like a complete contradiction to our previous point of avoiding packing things you won't use, one area you can't avoid overpacking is baby clothes. Baby clothes are lightweight and compact, so you don't need to worry that your total luggage weight will increase drastically.
Blowouts are pretty common when you are away from home due to a combination of factors such as a higher share of dietary liquids, irregular sleep, travel by car, or in-flight conditions. You can always do laundry while on the go, especially if you'll travel for longer than a week. Many hotels offer a laundry service but you can also wash your baby clothes in the bathroom using baby detergent. With that said, washing clothes can be quite expensive so for this reason we recommend taking a few spares for any unexpected accidents!
4. Well Thought Out Baby Diaper Bag
We've written about the best baby diaper bags in the past and what we recommend to pack in them. But with that said, having a well thought out baby diaper is a must when it comes to travelling. We recommend packing just the essentials along the lines of wet wipes, extra clothes, diapers, and tissues to be accessible easily.  While we also recommend having small garbage bags for helping store soiled diapers to avoid these going through your bag.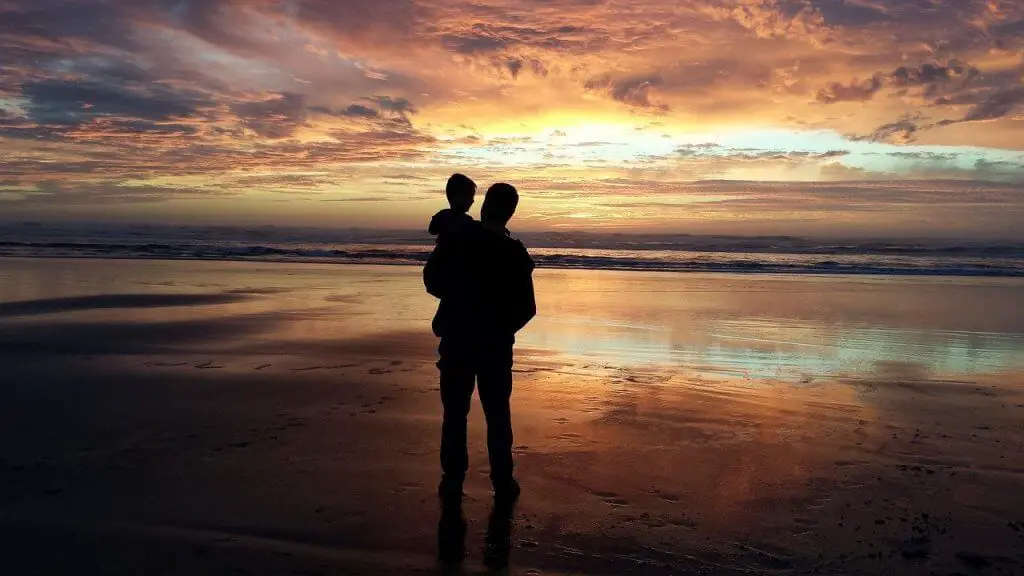 5. Prepare a First-Aid Kit Before Travelling For the First Time With Your Newborn
It might sound overkill but we also don't like taking any second chances so why not put together a well-stocked, baby first-aid kit to have peace of mind when on the go for the first time. Being a first aid kit for a newborn, it will differ slightly to what you'd pack for yourself as an adult. We recommend things like thermometer, liquid pain relief, antiseptics wipes are a few basic items you need to include in your newborn baby kit.
6. Check Airline and Accommodation Policies
When booking airline tickets for your next destination with your family, check the different airlines' policies for babies and free travel. Some airlines allow babies as early as two weeks old, while others allow children under 2 years free of charge.  It's worth checking before travelling to ensure you have the correct paperwork for your trip if it's in the early days!
Most pediatricians do not advise parents to travel with a baby one-month-old and under. The reason is that a newborn needs a safe and stable environment after birth because their immune system is still fragile and could be easily affected by the germs carried onto the airplane. Furthermore, conditions like cabin pressure and temperature, as well as noise, maybe pretty uncomfortable to a newborn. With that sid though, people do it all the time but just something to bear in mind! 🙂
7. Travelling by car
Taking a car trip for the first time with your baby can be quite stressful, especially if you decided to go on a long journey and haven't done it before.
When travelling with your newborn, you need to ensure you are using an approved, suitable car seat, correctly adjusted so your baby can travel comfortably and safely. It's recommended babies under 6 months must be seated in a rear-facing car seat, with an in-built harness for maximum safety.
We also recommend buying sunshade cloths for the car to keep your baby safe from the sun. While also buying mirrors for them to look at themselves is a great way to help keep them stimulated!
8. Hotel or AirBnB?
There are pros and cons to both hotels and AirBnB properties. Most parents tend to book with AirBnB because they can have access to a fully equipped kitchen and a washer. On the other side, hotels can provide a baby bed and other baby related items for a fee. Whatever you decide to book, make sure it'll be the most comfortable choice for your family.
When travelling ourselves, we opted to take our own portacots and that way meant we could easily travel and use AirBNB. If not travelling with portacots, we found most AirBNB's didn't hire them out and it was more hotels that had them readily available. Just something to bear in mind 🙂
Closing
There you have it, our 8 tips for travelling with a newborn baby. We hope these tips have been helpful and got you thinking of things you need to consider for your next trip away!
Thanks for reading.
Affiliate Disclosure – This post may contain affiliate links where we may receive compensation if you purchase products linked below. As an Amazon Associate, I can earn from qualifying purchases. This doesn't cost you anything and helps keep our little blog running. Read our privacy policy for further information.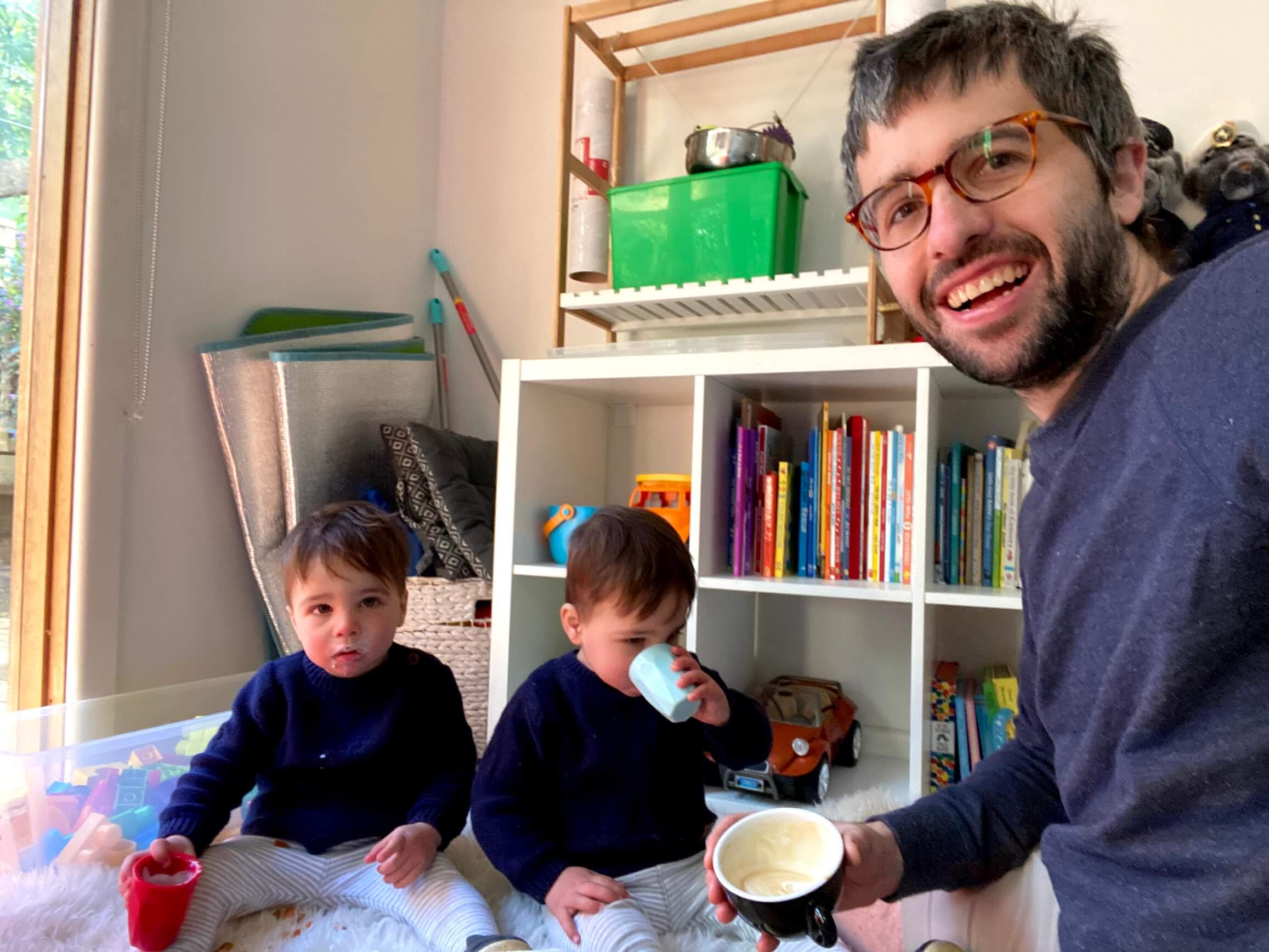 My name's Alex and I'm a husband, dad to beautiful identical twin boys, cyclist, photographer and connoisseur of great coffee!
Help I'm Having Twins has been created for me to share what I found useful as a new parent and dad to twins.