Expecting twins can bring both excitement and anxiety as the realisation sets in that you'll suddenly need two of everything. As a parent of twins, one of the essential items you'll need to purchase is a bigger diaper bag to store the additional diapers, changes of clothes and toys that your twins will need for when you're out and about.
We've put this guide together to help you with buying the best twin diaper bag that's suitable for having twins. If you're short on time, we personally recommend the 7Senses Diaper Bag which is available from Amazon for Price not available.
Twin Diaper Bags Compared



Product
BabyLove Large Diaper Bag Backpack
Amount of Pockets
17 (8 interior and 9 exterior)
Insulated Pocket for Milk Bottles

Product
BabyLove Large Diaper Bag Backpack
Insulated Pocket for Milk Bottles

Amount of Pockets
17 (8 interior and 9 exterior)
Insulated Pocket for Milk Bottles

Insulated Pocket for Milk Bottles
Why Buy A Twin Baby Diaper Bag?
Venturing out of the house when you have twins can be hard as not only are you moving two little people but also carrying two of everything! For this reason you need a twin diaper bag that's big enough to carry everything for those trips to the doctor, stroll down the street or visits to a friends place.
We love the idea of using a twin dedicated diaper bag over using a regular normal bag because it helps organise everything for you. Rather than just throwing everything into a bag like you would with a non diaper bag, a proper diaper bag comes with multiple pockets with some being velcro and zippered to store all your twins odds and ends.
What to Look for When Buying A Twin Diaper Bag
Diaper bags carry more than just diapers. They carry all your babies odds and ends (nappies, wipes, spare clothes, etc) while also being designed to carry your vitals like keys, mobile phones and wallet. From our experience not all diaper bags are made the same so we've put together this checklist of qualities that you should consider when purchasing a twin diaper bag.
Size
The most crucial factor to put into consideration is the size of the twin diaper bag. Although you may not need two of everything like wipes, having twins means you will inevitably have more staff to carry. We discuss what to pack in a twin diaper bag further into the post but consider what you'll be packing before buying a bag. 
We recommend sizing up if possible as there's nothing worse than having a bag that's bursting at the sesames. It means the zip will likely break eventually but also makes finding things difficult. 
Ability to Mount to Stroller
If you're planning a trip where you'll be walking a decent distance with the stroller, you may not have the luxury of being able to put the bag in the storage compartment of the stroller. For this reason, we recommend looking for a twin diaper bag which has clips to mount it to the stroller. Some bags come with clips, while for others, you will need to purchase the hooks separately.
Weight
While a large-sized diaper bag is ideal for twins, it should also be light in weight. Diaper bags that are made of heavy material can add a significant weight, which might make it too heavy when carrying staff for two babies. So, choose a diaper bag which is made of lightweight material as it will be easy to carry even with all the stuff in it.
Water Resistance
Choose a diaper bag that is water-resistant to avoid wetting the dry clothes inside. If possible, choose a diaper bag with a wet pouch where you can store dirty clothes and nappies if needed. This also means that your diaper bag should be easy to clean both inside and outside.
Insulation
While this one is more of a luxury and not a necessity, some twin diaper bags come with an insulated section to help keep milk bottles warm. Generally when we go out, we will pre-heat our milk bottles to a certain temperature based on how long it will be until the boys have their next feed. For example, if we are leaving the house and know they will need a feed 2 hours in to the outing, we pre-heat the milk quite a bit knowing it will have ample time to cool down.
Carry Straps
A diaper bag should have enough carrying straps to help distribute the load and be convenient to carry when you're out and about. If you go the backpack route, ensure that it has at least two sturdy carrying straps that are adjustable and includes a sternum strap. We find having a sternum strap which sits across the top of your chest helps better distribute the load and makes for a more comfortable experience for you. 
If you opt not to go the backpack route, ensure that the bag's straps are strong enough to bear heavy weight without breaking easily. They should also be comfortable to rest on the shoulder on hands with padding supports.
Carrying Capacity
The best diaper bag will be one that can fit all your things plus a bit more. We find having the extra space provides a good emergency storage for those times when you might need to carry something extra like a toy or additional food once your child starts progressing to solids. 
Buying a bag with a decent sized storage is useless if it's not properly organised. For this reason, we recommend looking for a bag that uses a mix of zips and velcro pockets to help better storage your belongings.
Price
Like anything in life, you get what you pay for and baby diaper bags are no different. We recommend trying to filter based on what's most important to you. For example, do you live somewhere where you're worried you might get caught out in the rain and owning a waterproof bag makes sense? Or perhaps you need a bag that has insulation to help keep your babies bottles warm.  Starting with what's most important to you will help you narrow the selection process and mean you don't over pay for things you don't need.
Design
Although what's important in a diaper bag is its functionality, choosing one with a good design will also ensure that you aren't embarrassed to lug it around. From our experience, twin diaper bags come in a variety of materials (leather, cotton, canvas, etc), patterns and colours which means you're bound to find something to your liking. 
What to Pack in a Twin Diaper Bag 
As parents of twins ourselves, what we carry in our twin diaper bag really depends on what we're doing that day and what we'll need. But generally we'll pack the below 12 items in our twin diaper bag:
Diapers - No surprises that a diaper bag will have... diapers. We generally carry 4-6 as they're small and lightweight. 
Wipes -  Similar to above, we carry a bag of disposable wipes and find one bag is enough.
Waste bags - If you're like us and your twin diaper bag doesn't have a wet area and not sure when you'll walk past a bin, we carry small waste bags designed for nappies to carry their soiled diapers. These are great as it means you don't run the risk of the dirty diaper going all through your bag.
Hand sanitiser - If you're changing a diaper somewhere unconventional away from a tap and hand washing basin, having hand sanitiser on hand is a must and a great way to clean your hands. We prefer the Dettol hand sanitiser ranger ourselves. 
Diaper rash cream - If your baby has an upset stomach or something else is bothering them, we find using diaper rash cream like Sudocream a great way to help protect their little bottoms from developing a rash. These come in all shapes and sizes and don't add too much weight/space to your bag. 
Portable change mat - We've touched on portable change mats in a previous post with our 'Portable Changing Pad Buying Guide' and think they're a great option for when you're out and need a clean and comfortable surface to place your baby on while you change their diaper.  
Toys - These are more used for distraction while we are changing diapers if anything but come in handy if our boys get a bit over it in the car or when we're out. 
Change of clothes - We've been there... That explosive accident that seeps out of their diaper and all over their clothes. For this reason, we generally recommend carrying two sets of clothes, one for each baby, in the event that they both have accidents. 
Snacks - Depending on what the boys are feeling at the time, we'll carry a range of snacks (mostly fruit) if they get hungry while we are out. 
Water bottles - While we also carry a water bottle for ourselves, we also carry two small water bottles (we love the B.Box range) for the boys if we're out and they begin to get thirsty.
Empty bottles with formula powder inside - As our twin boys are now on formula rather than breast milk, we'll carry around two of our empty Phillips Avent bottles with formula powder pre-loaded in the bottle ready if in the event we need to give them a milk top up. Generally it's not too hard to find some water to make up the bottles but you might need to carry around some extra water in case.
Blanket - If we're going somewhere that we know we'll be able to sit down and let the boys have a crawl around, we'll take a blanket to place on the ground for them to sit on. They'll eventually crawl off the blanket but we find it a good way to set up a 'home base' for feeding them, etc.
---
BabyLove Large Diaper Bag Backpack
The BabyLove Large Diaper Bag is one of the only backpacks we reviewed mostly due to wanting more of a over the shoulder style backpack. With that said, we were really impressed with the BabyLove bag thanks to its soft and durable shoulder straps and the 6 pockets which also include bottle mounts to help store your milk bottles.
In terms of other features, the BabyLove Large Diaper bag also includes a changing pad and stroller straps to help with storing this while you're on the move.
We really liked the inclusion of a USB charging cable with the BabyLove Large Diaper Bag. Although we did have a minor criticism which was that it doesn't include a charging power bank to help charge your phone when it's not in use. This isn't the end of the world as it would have only driven the cost up and you can easily add a powerbank yourself. Although it's worth nothing as a lot of people assumed it comes with a powerbank.
---
The Lekebaby Diaper Bag is a shoulder strap based bag and was one of the bigger bags we reviewed. Coming with 17 pockets (9 exterior and 8 interior) you're bound to have enough space to store everything you'll need for your twins.  The pockets use a mix of magnetic closure and zippers to help keep them securely closed at all times. 
While the interior of the bag uses waterproof material to ensure everything remains dry at all times and also includes insulated bottle pockets to help keep your baby milk bottles warm.
One thing we really liked about the Lekebaby Diaper Bag is that it can go from being an over the shoulder bag to a handbag with ease thanks to the adjustable straps.  While on the topic of the adjustable straps, these come with extra cushioning so you'll be able to go a while carrying the bag without causing too much discomfort on your shoulders. 
As you'd expect with a twin diaper bag, you'll be pleased to know that the Lekebaby Diaper Bag comes with a cushioned changing pad and stroller straps. 


---
The 7Senses Diaper Bag was a close second for us when it came to deciding on our bag.  We were quickly drawn into the stylish design thanks to the contrasting stripes with faux leather. ​
In terms of storage, the 7Senses Diaper Bag comes with 10 pockets which use a mix of zipper and magnetic closures to help keep all your things securely packed away. While also including an additional 2 external side pockets for storing your milk bottles. A great idea for helping keep your milk bottles isolated away from your dry clothes. With that said, the bag also includes 1 insulated pocket which is deal if you are looking to keep milk or food either warm or cold depending on the outside temperature 
Like other bags we reviewed, the 7Senses Diaper Bag comes with padded shoulder straps, stroller straps and also a padded changing pad to help keep your little one comfortable for those quick changes while you're out and about.
---
The Baby K'tan Weekender Bag was the bag we ultimately decided on getting for our twins. We were big on the contrasting stripe design and faux leather trim where it felt like we weren't carrying a baby bag and are just carrying a regular bag.  If the charcoal colour in the picture isn't to your liking then you'll be pleased to know that the bag also comes in a navy option with the similar contrasting stripe and faux leather trim. 
In terms of sizing, the Baby K'tan Weekender Bag comes with plenty of storage options including 9 different compartments. Included in the compartments is a 'wet bag' which basically means a waterproof section of the bag where you can put wet clothes, etc and not have to worry about other things in your bag getting damp.
Other features of the bag include a changing pad and bottle insulation to help keep your bottles at an ideal temperature. 
One thing we thought was cool with the Baby K'tan Weekender Bag was the inclusion of a pacifier pouch to help store your baby pacifiers/dummys. The pouch uses an antimicobial nylon lining which helps prevents germs from getting in. A great idea!
If you're someone that likes to carry a tablet or laptop with you from time to time (not us but we thought it was neat anyway!) you'll be pleased to know the Baby K'tan Weekender Bag also includes a 14" laptop compartment/sleeve to safely store your laptop or tablet. Neat!
All in all this is a fantastic bag for price when you consider the options and space available. 
Currently available on for .


Affiliate Disclosure – This post may contain affiliate links where we may receive compensation if you purchase products linked below. As an Amazon Associate, I can earn from qualifying purchases. This doesn't cost you anything and helps keep our little blog running. Read our privacy policy for further information.
Affiliate Disclosure – This post may contain affiliate links where we may receive compensation if you purchase products linked below. As an Amazon Associate, I can earn from qualifying purchases. This doesn't cost you anything and helps keep our little blog running. Read our privacy policy for further information.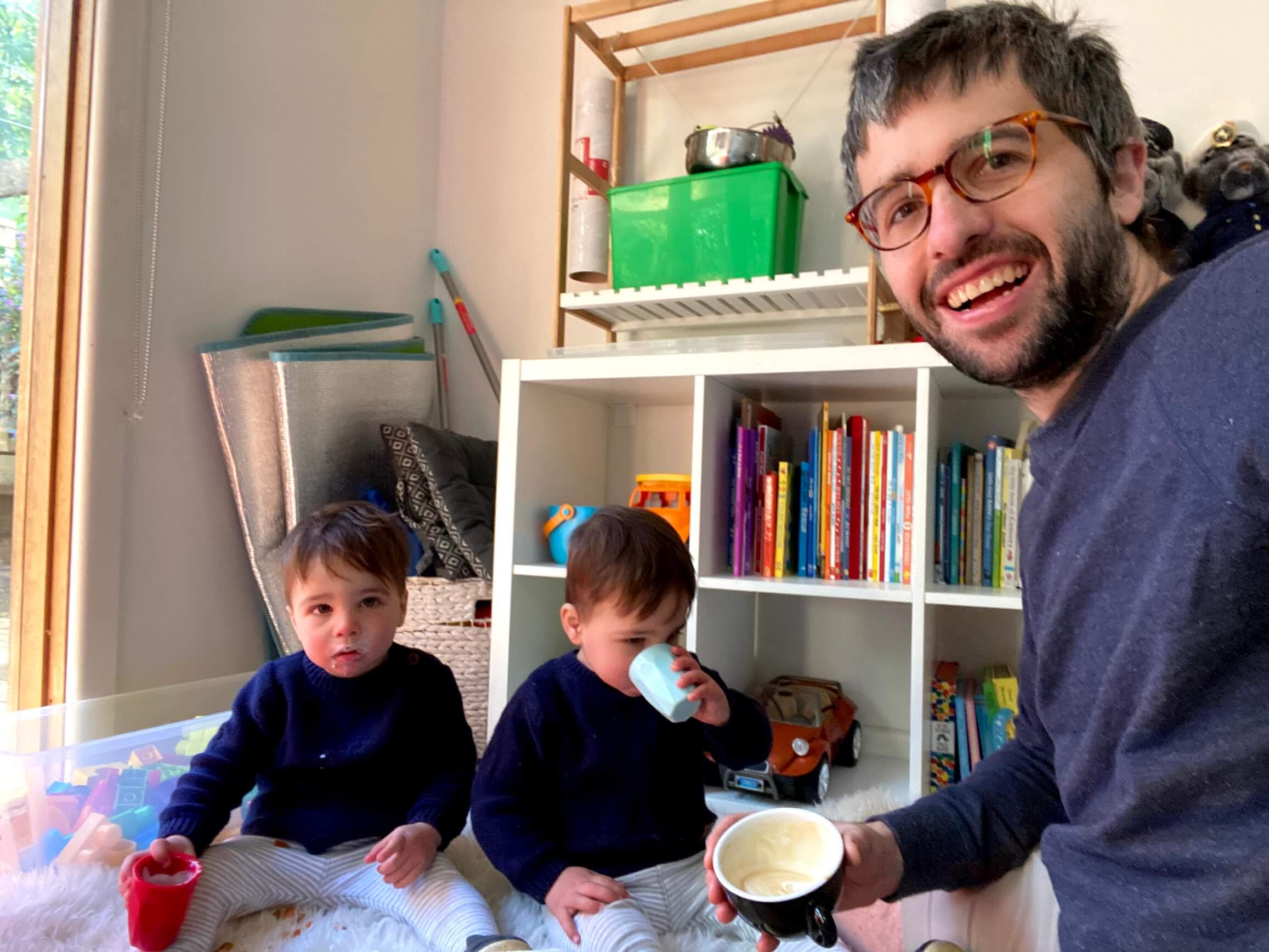 My name's Alex and I'm a husband, dad to beautiful identical twin boys, cyclist, photographer and connoisseur of great coffee!
Help I'm Having Twins has been created for me to share what I found useful as a new parent and dad to twins.