There are two milestones which I couldn't wait for our twin boys to hit - Being able to walk and being potty trained. The self independence for your child that comes with being potty trained is not only a relief for you but also for them as they have this new leaf of independence in their lives.
We recently researched potty training seats as our boys begun to transition away from diapers and wanted to share our findings with this article. We look at what is a potty seat, what to look for when buying one, how to use a potty seat and reviews of some of our favourite potty training seats we looked at when we were buying. 
We recommend the which is available from Amazon for .
Potty Training Seats Compared
Table could not be displayed.
What is a Potty Seat?
You're probably wondering to yourself... What's a potty seat and how's it different to a potty chair? Good question.
A potty seat is a small seat which is added to your existing adult toilet seat designed to suit your child. It reduces the size of the big toilet seat to a size that will fit your child without falling in. 
In terms of how they differ to potty chairs, a potty chair is a small chair which is normally about the height of your child and designed to be placed on the floor so they can easily walk over, sit on it and go to the toilet. Once they are finished, you need to empty the contents into a toilet. While a potty seat is a bit different where it attaches to the toilet seat and your your child simply sits on the toilet like you would without the need to clean up any mess (hopefully..!). 
Personally - We think potty training seats are a better option than potty chairs as it means you only have to buy one thing rather than firstly buying a potty training chair and then upgrading to a potty training seat when they begin to develop the confidence to sit on the adults toilet.  
The only downside with potty training seats is that they will require some assistance from you, the adult, to help get them onto the toilet seat. Some seats are designed with a stepping ladder/platform to help get them high enough to reach but This is where potty training chairs are a bit more flexible as your child can simply walk over and sit themselves on the chair as they are designed for their height.  We prefer the no mess of a potty training seat plus we think it helps better train them for using an adult toilet long-term.
You'll be pleased to know that potty seats come in various different types including padded potty seats, those with handles for extra security, those with built-in steps or the flip-up seats.  There's something for everyone and bound to suit your child.  
How to Use Potty Training Seat
Like anything with raising children, some children embrace things quicker than others and training your child to use a potty toilet seat is no exception. Below are a few things we recommend as you begin to introduce your child to using a potty training seat:
Positivity - Try to make the whole experience positive and be sure to recognise the small wins your child has while ignoring where they really got it wrong... Instead give them a confidence boost and try subtly hint at how they can be better next time. The last thing you want is them thinking they're useless at it.
Begin Introducing the Concept Early - Some parents have found introducing their children to the concept of a toilet early can help with the transition to using a potty training seat. By this we mean show your child how you empty their diaper into the toilet which will help them associate a toilet for that purpose.
Associate words with toilet -  Try to associate some positive words with going to the toilet. They may be wee, poo or even something like I need to go. 
Place nappies in the potty - This will help your child associate the contents of a nappy with the toilet. 
Try to create a routine - While needing to go to the toilet can be random and when you've gotta go, you've gotta go, we found having a schedule where we'd sit our boys on the toilet every 2 hours or so. We gave them no pressure and encouraged them to go to the toilet if they needed. We found doing this first thing in the morning and before/after naps a great way to have success.
Watch for early warning signs - From our experience, the boys will occasionally squirm, hold their genital area, squat and verbally express they need to go to the toilet. Quickly move them to the toilet when you get a sense they're about to go so you can associate going to the bathroom with the toilet rather than their diaper.  Over time, they'll begin to associate these early signs with going to the bath room and make their way to the toilet themselves.
Show them how to go to the toilet - Normalise the idea of going to the toilet for your child by letting them watch you go to the toilet. 
Teach good hygiene habits from day one - As a parent you have to lead by example and we suggest trying to encourage good hygiene habits from a young age. This includes washing hands after using the toilet, flushing the toilet, and wiping themselves. You can make washing hands fun by using colorful child-friendly soaps and sing their favorite songs.
Diet changes - Make sure your child has a healthy dose of fibre in the diet so they aren't battling constipation which in turn makes going to the toilet harder (pardon the pun!).
Lastly and just to repeat our first point remain positive - You'll have good days and bad days when it comes to training your child to use a toilet but be patient and try to ensure they associate the training potty in a positive way rather than viewing it negatively. 
Signs That Your Child is Ready for Potty Training
From our experience we found that the boys begun showing signs they were ready to start the process of potty training which we'd love to share.  We noticed the following signs that gave a sense that the boys were ready to begin potty training:
Pulling a wet or dirty diaper down or up
Hiding to poop or pee
Staying with a dry diaper for more extended periods
Tells you before, after or when going to pee or poop
More independent in completing tasks
Follows basic instructions
You don't need to observe all these signs to know that your child is ready for potty training, but if some of them are present, then your child is ready to begin the fun transition from diapers to using a toilet. 
 What Age Can a Child use a Potty-Training Seat?
All children are different and there's no hard and fast rule to when your child should start using a potty training seat.  Most children are ready for being potty trained between the ages of 18 - 24 months while others may wait longer until they are 3 years of age.  
It's thought that rushing your child when they're not ready can result in them negatively associating the putty training seat and making it difficult to get them on board. Instead, try to slowly introduce them to the idea like we mentioned earlier in the post by showing them how you empty their diaper into the toilet, washing your hands in the sink near the toilet and so on. 
What to Look for When Buying a Potty-Training Seat
Potty training seats are quite basic and essentially all provide the basic function of being placed over your toilet so your child can comfortably sit on the toilet.  There are some minor differences between seats which we'll look to share:
Age Compatibility: Before buying, be sure to buy a potty seat that's appropriate for your child's age and size. There's nothing worse than buying something that they'll soon grow out of.
Comfort: A potty seat with a high back lets your child sit comfortably and have their back supported well. Some potty seats will include a built-in footrest which help your child rest their feet while using the toilet and also get a place to push against. 
Functionality: You may find that access to the toilet roll for your child. Some units include a built in toilet paper holder which provides your child with easy access. While some potty seats also include a compartment for books and toys to help keep them busy. 
Safety: From a safety perspective, we recommend looking for a seat with a rubbery underside which acts to protect your child from slipping when they sits on the potty seat. Also it's worth considering a seat with handles which your child can use when they are getting on and off the seat. 
Easy to Clean: You want something that's easily to clean in the event that your child has an accident. For this reason, look for a potty seat that is free of cracks and complex curves where liquid may get in. 
---
In case you're in the market for a good potty chair rather than training seat, we have included this review of the Summer My Size Potty.

The Summer My Size Potty is designed to look and feel like an adult toilet when in fact it's a potty chair! Not only is the toilet designed to look like a normal toilet but also includes a fake flushing button which makes sound effects when pressed. Also included is a built in wipe compartment which acts to store toilet paper so you can begin to teach hygiene habits to your child at a young age. We really digged the design idea of pretending to be a normal adult toilet as it gives your child confidence and comfort when they eventually transition from the potty to a regular toilet.

In terms of keeping the Summer My Size Potty clean, the chair includes a removable and easy to clean bowl that sits at the bottom of the chair. Simply empty this into a toilet and mess gone.

The Summer My Size Potty is designed for children 18 months and onwards while being able to support weight of 50 lb.

One thing we really liked about this potty chair was the inclusion of a clip-on splash guard designed specifically for boys to help unwanted spray back/mess. We thought this is a great idea and helps contain any mess. Some reviewers highlighted that this can be quite flimsy and comes loose. We didn't experience this however just something to be mindful of...

While one thing we didn't like about the Summer My Size Potty is that it's quite light which means unless you have it stuck to the ground, it does have the tendency to move around. We'd suggest getting some double edged velcro straps to firmly attach it to the floor and keep it in position.
Currently available on for .


---
Skyroku Potty Training Seat with Step Stool Ladder
The Skyroku is our pick of the bunch for anyone looking for a potty training seat that includes a step stool ladder. The ladder is customisable to suit the height of your child which we thought was a great touch.
While the seat itself is designed to hold 75kg (or 165 lb) which you're probably thinking to yourself... I hope my child is able to master using a toilet before they hit 75 kg! No no. Being able to support this kind of weight is good as it means it is able to confidently support your child climbing up and down the ladder.

In terms of sizing, the Skyroku Potty Training Seat uses a rotating cushion design which essentially rotates to make the gap bigger or smaller depending on the size/age of your child. While the cushion itself easily removes from the unit which makes keeping things clean a breeze.

One thing we really liked about the Skyroku Potty training Seat was the inclusion of 4 non-slip pads on the bottom of the ladder legs and the another 4 non-grip pads on the seat itself. This helps avoid things sliding around and ensures the safety of your child.
Currently available on for .


---
 Fisher-Price The Perfect Potty Ring
The whole premises of the Fisher Price Potty is the 'ring' which is basically in non marketing speak is an adjustable ring which allows you to change the seat size. The ring is adjusted by a handle which sits at the back of the seat. This also doubles up as a back rest for your child.

Like other children's potty seats we reviewed earlier in this post, the Fisher-Price Potty Ring includes a spray shield purposefully designed to help shield your boys (and the floor!) from the inevitable spray that will come in those early days.

In terms of cleaning, the Fisher-Price Potty Ring is easy to keep clean.

The Fisher-Price Perfect Potty Ring uses non-slip mounts to help ensure that the seat also stays in position so your child does not have an accident.

One thing we really liked about the Fisher-Price Perfect Ring Potty Seat was the inclusion of an adaptor which fits on the side of your regular toilet basin to help storing the seat when not in use. This is essentially a hook that sits on the side of your toilet basin and allows you to easily clip on the potty seat when not in use meaning your toilet can be used by adults freely.
Currently available on for .


---
Angelbliss Potty Training Toilet Seat
The Angelbliss Potty Training Seat is another strong contender in the potty seat range thanks to its comfortable blue seat. Designed for oval based toilets (unfortunately it doesn't fit square based toilets), the Angelbliss Toilet Seat easily snaps onto your toilet. Once placed on the toilet, the Angelbliss Training Toilet Seat includes anti slip covers to help avoid any accidents to your little one while they are using the seat.

One thing we really liked about the Angelbliss Potty Training Seat was the inclusion of both a high back and handles which are designed to ensure your little one is comfortable while using the seat with suitable back support and grips to hold onto if needed.

Similar to the Fisher-Price Ring Potty Training Seat previously reviewed, the Angelbliss Potty Seat includes a hook which attaches to the basin of your toilet that makes storing the training seat when not in use a breeze. The seat simply clips onto the hook and hangs on the side of the toilet out of the way.

Other similarities with other seats we reviewed includes an anti-splashback to help avoid preventing spills outside of the toilet onto the floor.
Currently available on for .


---
Having owned two Babynjorn baby carriers and loved them, naturally we were curious what the Babybjorn Toilet Trainer would be like. I'm glad we did as we weren't disappointed!

Installing the Babybjorn Toilet Trainer on your toilet is a breeze. You simply place it over your toilet and rotate the adjustable dial to tighten it onto the toilet. This combined with the no slip design means the seat won't accidentally move while your child is using it.

The Babybjorn might not include flashy colours like others seats on the market but hey, that didn't bother us at all as it means it doesn't sit out like an eye sore and also feels 'normal' for your child.

Similar to other toilet trainers for your child, the Babybjorn Toilet Trainer includes an inward sloping splash guard. One thing we really liked about the splash guard was that it's a bit bigger than some of the others we reviewed. Having taller kids ourselves, this seemed to work better for us!

Removing and storing the Babybjorn Toilet Trainer seat is a breeze by simply unscrewing the adjustment ring, taking it off the toilet and using the built in handle to easily hang it on a nearby hook or rest it against a wall.
Currently available on for .


Affiliate Disclosure – This post may contain affiliate links where we may receive compensation if you purchase products linked below. As an Amazon Associate, I can earn from qualifying purchases. This doesn't cost you anything and helps keep our little blog running. Read our privacy policy for further information.
Affiliate Disclosure – This post may contain affiliate links where we may receive compensation if you purchase products linked below. As an Amazon Associate, I can earn from qualifying purchases. This doesn't cost you anything and helps keep our little blog running. Read our privacy policy for further information.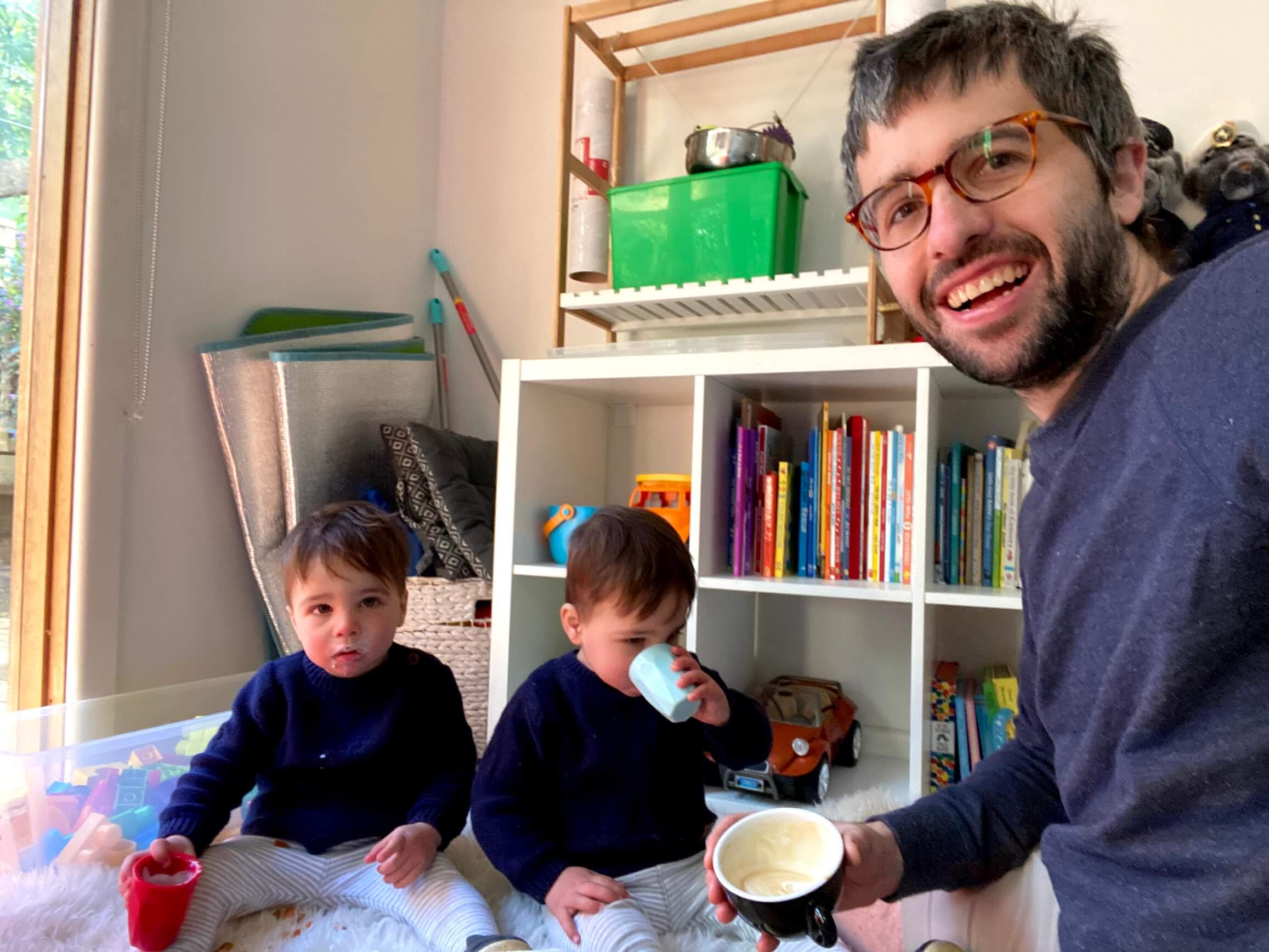 My name's Alex and I'm a husband, dad to beautiful identical twin boys, cyclist, photographer and connoisseur of great coffee!
Help I'm Having Twins has been created for me to share what I found useful as a new parent and dad to twins.