Getting a baby to sleep is an uphill task, and many new parents are completely exhausted by the time their babies close the eyes. The last you want is to have them wake up as soon as they go to sleep. Don't worry... We've been there!
The main reasons why babies wake up shortly after being put to sleep is often due to being uncomfortable (soiled nappy) or cold.  This can be caused by the baby kicking off the blanket and exposing themselves to cold.  
We found as a way to avoid this you can use wearable blankets like the Halo Sleep Sack instead of using a loose blanket. We found this helped keep our boys both warm and comfortable, leading to sound sleep throughout the night.
This article looks at Halo Sleep Sacks in more detail to understand what they are, how their sizing runs, how to use one, their safety record and a brief review. We hope this helps your research in buying a halo sleep sack.
In case you're curious, Amazon sell the Halo Sleep Sack Wearable Blanket for $29.99.

Buy on Amazon
What is a Halo Sleep sack?
Halo sleep sack is a wearable blanket that replaces the loose blankets in a baby's crib and acts to protect your baby from accidentally covering their faces and interfering with breathing. They are much safer than loose blankets, and they help the baby to sleep better. 
Founded with a mission to fight SIDS, the halo sleep sack is a leading choice of wearable blankets both by individuals and hospitals.
Halo sleep sack is made of 100% cotton fabric, and it is a little stretchy making it the perfect choice for transition from swaddling.
How to Use a Halo Sleep Sack
Using a Halo Sleep Sack is quite easily but we generally recommend the following steps:
Check the temperature of the room. If it's on the warmer side, we'd suggest getting a short sleeved body suit but if it's cold, we'd recommend a long sleeve bodysuit for underneath the sleep sack.
Slip the halo sleepsack wearable blanket over your baby's body suit to replace the loose blankets in the crib.
Fasten the halo sleep sack using the zipper and put your baby to sleep.
It's really that easy. We'd also recommend avoid using any beanies/hats as they may otherwise cause overheating issues. 
Is
a

Halo Sleep Sack Safe?

Halo Sleep sacks are a very safe alternative to loose blankets. Unlike loose blankets which the baby can kick around and pull with their hands, which can lead to suffocation, a Halo sleep sack snugs the baby well and covers the body leaving the head exposed. They have enough room for the baby's legs to kick around without restriction.

It also comes with an inverted zipper to ensure that you don't hurt your baby's neck and that you can easily change their diapers without exposing their entire body to cold. TOG has approved its thermal effectiveness, so it has an international standard of thermal insulation to ensure that your baby does not feel cold or get overheated.

The fabric and fibers used to make the Halo sleep sack are not chemically treated in any way, making them quite safe for the sensitive skin of the baby. It also meets the Consumer Products Safety Commission (CPSC) guidelines for flammability of clothing and textiles. They are breathable and wick moisture to avoid overheating and can adjust to a wide range of temperatures by just changing the clothing worn underneath. 
What Size Does a Halo Sleep Sack Fit?
The Halo Sleep Sack comes in a variety of sizes that fits babies from premature all the way through to 18-24 months of age. The sizes includes:
Preemie (Premature): Fits weight of birth to 2kg (5 lbs) and a height of 36 to 48cm (14 - 19 inch)
Newborn (0-3 months): Fits weight 2 to 4.5 kg (5-10 lbs) and a height of 48 to 58 cm (19 - 23 inch)
Small (0-6 months): Fits weight 4.5 to 8 kg (10-18 lbs) and height of 58 to 66 cm (23 - 26 inch)
Medium (6 to 12 months): Fits weight 7 to 11 kg (16-24 lbs) and height of 66 to 76 cm (26-30 inch)
Large (12 to 18 months): Fits weight 10 to 13 kg (22-28 lbs) and height of 76 to 89 cm (30-35 inch)
X-Large (18 to 24 months): Fits weight 12 to 16 kg (26-36 lbs) and height of 89 to 101 cm (35 to 40 inch)
Is a Halo Sleep Sack too Warm?
According to Halo who conducted a study with the American Academy of Pediatrics (AAP), parents should keep their children's room at a comfortable temperature and ensure that they don't get too hot when sleeping. Something you already knew no doubt.
But if we dig a bit deeper, the AAP report goes on to say that your baby should not wear more than one layer if using a Halo Sleep Sack to avoid overheating. 
Signs of Overheating 
The signs of overheating to look out for include:
Sweating profusely
Being very warm to the touch that is more than the baby's tummy temperature
Acting very tired
Extreme thirst
General lack of energy
You'll be pleased to know that the Halo sleep sack is designed with sleeveless arms to prevent the baby from overheating. While parents can also adjust the underclothing worn by the baby, depending on the room temperature. If for example, your baby's room has high temperatures, avoid using a fleece sleep sack and let your baby wear a diaper only under the sleep sack.
Are Halo Swaddle Sleep Sacks Fire Retardant?
So this is quite an interesting one and something we only understood as we begun researching the Halo Sleep Sack. 
For the sleep sack to be fire retardant, it will need to be treated with chemicals. These chemicals may react with the baby's sensitive skin and cause irritations. The Halo sleep sack is not treated with flame retardant chemicals or any other chemical, to keep your baby safe. 
However, the fabric that makes these sleep sacks is 100% flame-resistant by nature.
When to Stop Using a Halo Sleep Sack?
We love the Halo Sleep Sack and wearable blankets but there comes a time when your little one outgrows them and you begin to ask when to stop using a Halo Sleep Sack?
It's recommended to stop using a Halo Sleep Sack when you begin to see signs of your child rolling over onto their stomach and if your little one is standing up in the bed. You don't want them getting tangled! While you also may find they begin to find the sleep sack too warm which is another sign that it's time to stop using the Halo Sleep Sack.
---
HALO Sleepsack 100% Cotton Wearable Blanket
The Halo sleep sack is made of 100% breathable cotton material, and it perfectly replaces loose blankets in the baby's crib for a safer sleeping environment.  Being a wearable blanket, you'll be at ease knowing that your baby can't kick off this warm blanket ensuring that the baby does not expose himself to cold, hence sleeping the entire night soundly.
​​Rated by Hospital and Medical Associations
Interestingly, it is the number one choice for hospital nurseries used to promote safe sleep right from the start. It is trusted by individual parents as well as medical practitioners to protect the babies from SIDS. The HALO Sleepsack 100% Cotton Wearable Blanket has a unique, roomy sack design which gives the baby's legs enough room to move around ensuring proper hip development. The additional leg room gives the Halo Sleep Sack a "Hip Healthy" award by the International Hip Dysplasia Institute.
This sleep sack has embroidery at the back written "Back is Best" to remind caregivers to put the baby to sleep on her back. Its zipper is inverted to make diaper changes easier and prevent you from exposing the baby to cold temperatures during clothes and diaper changes. 
Preventing Overheating
To prevent your baby from overheating, it is designed with sleeveless arms. Its arm and neck openings are well-sized to fit the baby safely. In terms of what to wear underneath the Halo Sleep Sack, we suggest basing it off the temperature of their room and choosing either a bodysuit, pyjamas or even just a nappy if it's hot!​

TOG Rating

Another plus for the Halo Sleep Sack is the interlock fabric having TOG rating of 0.5. This means that it offers the right comfort for warmer seasons and you can use warmer underneath sleepwear during cold seasons. It comes with a double-knit construction of the cotton interlock fabric to make it incredibly soft and a little stretchy, a perfect combination for a baby's sleepwear. 
Affiliate Disclosure – This post may contain affiliate links where we may receive compensation if you purchase products linked below. As an Amazon Associate, I can earn from qualifying purchases. This doesn't cost you anything and helps keep our little blog running. Read our privacy policy for further information.
Affiliate Disclosure – This post may contain affiliate links where we may receive compensation if you purchase products linked below. As an Amazon Associate, I can earn from qualifying purchases. This doesn't cost you anything and helps keep our little blog running. Read our privacy policy for further information.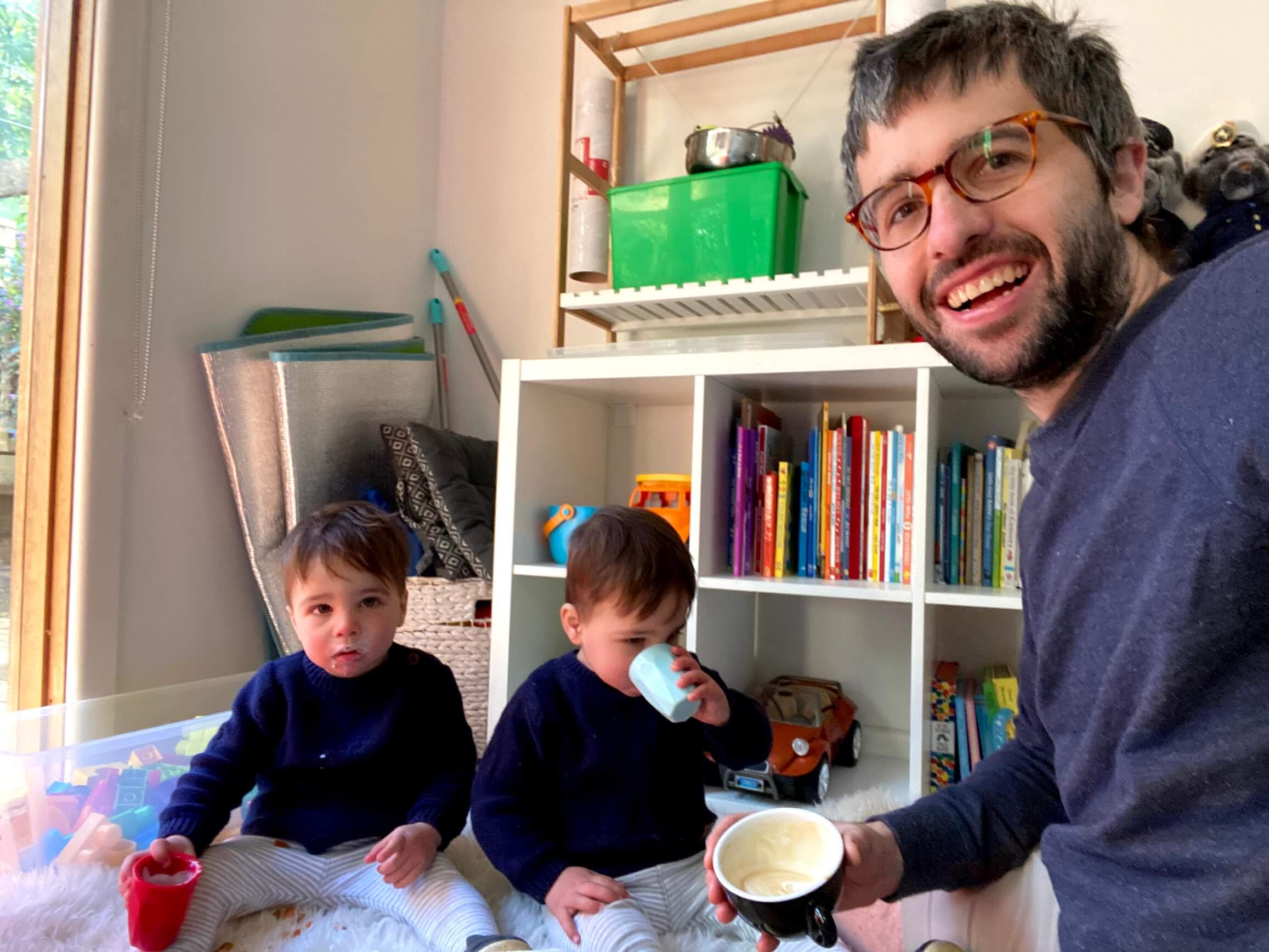 My name's Alex and I'm a husband, dad to beautiful identical twin boys, cyclist, photographer and connoisseur of great coffee!
Help I'm Having Twins has been created for me to share what I found useful as a new parent and dad to twins.