When our twins got their first cold it was incredibly hard as you're so limited in how you can help them. We read online that humidifiers are a great option to help relieve colds and we're glad we did. Humidifiers for your baby make the world of difference. This post explores what is a baby humidifier, how they help colds, 9 things to look for when buying a baby humidifier and some of our recommended baby humidifiers on the market.
We recommend the Nectar Baby Humidifier as it doubles up as an essential oil diffuser all the while operating at a whisper quiet sound level and providing a white noise generator. The Nectar Baby Humidifier is available from Amazon for Price not available.
Best Humidifiers Compared



Different Coloured Lights?
Doubles up as Essential Oil Diffuser
Auto Sleep Mode When Unit Runs out of Water

Different Coloured Lights?
Doubles up as Essential Oil Diffuser
Auto Sleep Mode When Unit Runs out of Water
What is a Baby Humidifier and Why Should I Buy One?
We've been there in those first few months when your baby gets a cold and you can't give them any medication or even a teaspoon of honey. It's a super tough time. You have to try your best to ease their discomfort as you wait for the body immunity to fight off the cold. One of the best ways to help reduce your baby's cold symptoms like cough and runny nose is by the use of a baby humidifier. 
Humidifiers work by adding moisture to the air to increase the internal humidity in dry climates to prevent dryness which we know can bring irritation to many parts of the body. Humidifiers emit water vapour or steam to increase humidity in the air. They are effective in treating dryness of nose, throat, skin and lips. By adding moisture to a room, a humidifier makes it easier to breath thereby helping to ease the symptoms of the common cold. 
You will get two main types of humidifiers, that is warm mist and cool mist. Healthcare providers recommend the cool mist humidifiers for children because they pose a lesser risk. There are three kinds of cool mist humidifiers which include:
Evaporative humidifiers use a fan to blow air over a water-soaked sponge-like cylinder
Impeller humidifiers use a rotating disk to produce mist
Ultrasonic humidifier produces mist through vibration (also the quietest option)
Why use Humidifier for a Babies Cold?
Humidifiers are excellent at alleviating cold-weather ailments by putting moisture back into the air.  Humidity hinders airborne viruses from travelling which protects your child from catching flu, colds and other airborne diseases. 
While a humidifier also helps keep the air in your baby's room clean and moist while protecting them against dry air. We found using a humidifier most useful during the winter months when the indoor air is mostly dry due to the increased use of the heating system.
By adding moisture to the air, the humidifier helps create just the right breathing conditions to help your baby sleep comfortably and prevent the buildup of mucus. It also helps to relieve the baby of irritated, dry skin which can cause red patches as well as tender chapped lips. 
You'll also find that some humidifiers also provides white noise when placed in a baby's room. They produces a rhythmic, comforting hum which resembles the whooshing sounds of the womb. This helps to drown other household noises and lull your baby to sleep. 
9 Things to Look for when Buying a Humidifier
When purchasing a humidifier for your baby, there are essential elements which you should consider. We recommend looking out for the following features when buying a humidifier:
Easy to clean: Ensure that your humidifiers emit clean and safe moisture, look for one which is easy to clean. Ensure that it is easy to drain, rinse, and dry as well as to keep it free from moulds so that your baby can breathe clean air every day.
Automatic shut-off: Choose a humidifier which comes with an automatic shut-off feature. It shuts itself up once the tank starts to become empty which will help avoid the unit from breaking.
The presence of a filter: Filters help trap mineral deposits in the water making the air emitted quite clean and free from impurities. We recommend cleaning the filters weekly to ensure that you do not compromise on the quality of air emitted.
Consider the size of the room: When shopping for a humidifier, look for the recommended square footage for the particular model you are buying. If you pick a very small humidifier, it will not help you while a very big one risks mould growth.
White noise generator:
Ambient lighting: 
Doubles up as essential oil diffuser:
Mist flow: Although it is not entirely necessary, a humidifier which comes with an option to change the direction of where the mist flows is a plus. This will help you achieve a more targeted room humidification.  
Price: Consider your budget when buying a humidifier. Most of the excellent models have an affordable price range which will not leave you feeling drained but there's no need to go overboard as most of the mid tier humidifiers offer great bang for back.
Where to Place a Humidifier Near a Baby
We recommend that you place a humidifier in an area where it can disperse quickly through the air and far from the baby's face. 
The moisture should not accumulate on surfaces like the baby's crib. This may lead to over-humidification, which is quite dangerous to your baby. Also, ensure that it is far from the baby's reach to avoid pulling it down on themselves. 
We also recommend ensuring that you don't have it too close to a door where it might otherwise leave the room and not be effective.
Are Humidifiers Safe for Babies?
If well maintained and not placed too close the baby as above, humidifiers are  safe for babies, and they provide the right humidity in the room's air to help them comfortable and avoid some common ailments like colds. 
Humidifiers also prevent dry skin and ease coughing and congestion. However, if not properly maintained, or if humidity levels stay too high, they can make your baby sick. Ensure that you monitor humidity levels and clean the humidifier daily. If your humidifier is fitted with a filter, clean it regularly and replace it frequently.
---
TaoTronics Cool Mist Humidifiers for Babies
TaoTronics Cool Mist Humidifiers for Babies is designed to save space thanks to its vertical oval shape which can fit on a bedroom nightstand or an office desk. Space isn't an issue with the TaoTronics Humidifier thanks to it fitting in narrow spaces to help you get the perfect humidity wherever you are. 

With an intelligent air inlet design, this humidifier has a ultra-quiet operation, making it perfect for a baby nursery. According to TaoTronics, their humidifier only produces 32dB at its lowest speed.
In terms of operation, the TaoTronics Humidifier produces cool mist without making noise, to help your baby get a comfortable sleep. It is also quite safe with an FCC certification and BPA-free. It gives you full control of the mist output to help you control the air you breathe, through the use of the Dial Knob Control. 
The TaoTronics Humidifier is easy to clean, using a brush and diluted vinegar. 

This lightweight humidifier, with a slim tank, is easy to refill using one hand. Additional features include a  a 360-degree nozzle, auto shut-off when the tank runs waterless, and smart LED indicator, to help you cover, bedrooms, offices and other small spaces with clean air safely. 
One downside we saw with the TaoTronics Humidifier was that it does not include a white noise generator like you may see with other baby humidifiers on the market. 
Currently available on for .


---
Homasy Cool Mist Humidifier Diffuser
Enjoy fresh and fragrant humidity with the Homasy Cool Mist Humidifier Diffuser. One great thing about the Homasy Humidifier is that it also compatible with essential oils meaning you'll be able to use it long after your baby has finished with it. ​
The Homasy Cool Mist Humidifier is designed with a convenient top-fill for an easier and mess-free refill. Instead of removing the water tank to refill, you twist the cover down and add water through the large top opening. 

The Homasy Cool Mist Humidifier Diffuser comes with 7-colour mood lights, from where you can select your favourite colour through pressing the button again. We found the colours quite calming without feeling like you're at a disco.

This humidifier comes with three working modes, the high mist mode, the low mist mode and the sleep mode. If you choose the sleep mode, the mood light and the indicator light will be turned off. You will also enjoy 360-degree uniform humidification even when you are away from the humidifier.
​

Similar to the TaoTronics humidifier, the Homasy Cool Mist Humidifier does not come with a white noise generator which may be a deal breaker for some.
Currently available on for .


---
The Nectar Baby Humidifier was our favourite humidifier for your baby. There's a few reasons why which we'll look to share.
Firstly and most importantly, the Nectar Baby Humidifier does as the name suggests, runs as a baby humidifier misting cool air. In terms of run time, the Nectar Baby Humidifier is capable of running for 5-6 hours thanks to its 200mL capacity reservoir. While using an ultra quiet design which is perfect if you're looking for something to place in your babies room that won't cause a lot of noise.
While this wasn't a huge selling point for us but it may be for others, the Nectar Baby Humidifier also doubles up as an essential oil diffuser which is particularly useful for when your children outgrow the need to use a humidifier to relieve their colds.
Other features we really liked about the Nectar Baby Humidifier was the inclusion of a white noise generator and mood lighting which can be controlled from a remote. A big plus from us was the fact you can pair your phone to the unit via Bluetooth and play music if the lullaby's and white noise aren't quite cutting it.
---
Kuuote Cool Mist Humidifier
The Kuuote Cool Mist Humidifier came in a close second to the Nectar Baby Humidifier previously reviewed with there not being much separating the two. Let's look into what makes the Kuuote Cool Mist Humdifier good and what it's lacking.
In terms of difference to the Nectar Baby Humidifier, the Kuuote Cool Mist Humidifier is lacking the ability to play white noise and lullaby. While also lacking the ability to pair your phone via Bluetooth to the device and play your own music using the inbuilt speaker. This may not be a deal breaker for some that may already have a wireless speaker in the baby's room like a Logitech Boom speaker.
In terms of similarity to other products, the Kuuote Cool Mist Humidifier is capable of running as both a cool mist humidifier and an essential oil diffuser.  While we also liked that the unit is capable of running as a night light with 7 different colour options. 
One thing we really liked about the Kuuote Humidifier and it's something that's also present in the Nectar Baby Humidifier is the inclusion of a remote. The remote allows you to control the humidifier settings and also change the night light. 
In terms of run time, the Kuuote Baby Humidifier is capable of running for 12-18 hours thanks to the super big 3L water reservoir. 
Currently available on for .


Affiliate Disclosure – This post may contain affiliate links where we may receive compensation if you purchase products linked below. As an Amazon Associate, I can earn from qualifying purchases. This doesn't cost you anything and helps keep our little blog running. Read our privacy policy for further information.
Affiliate Disclosure – This post may contain affiliate links where we may receive compensation if you purchase products linked below. As an Amazon Associate, I can earn from qualifying purchases. This doesn't cost you anything and helps keep our little blog running. Read our privacy policy for further information.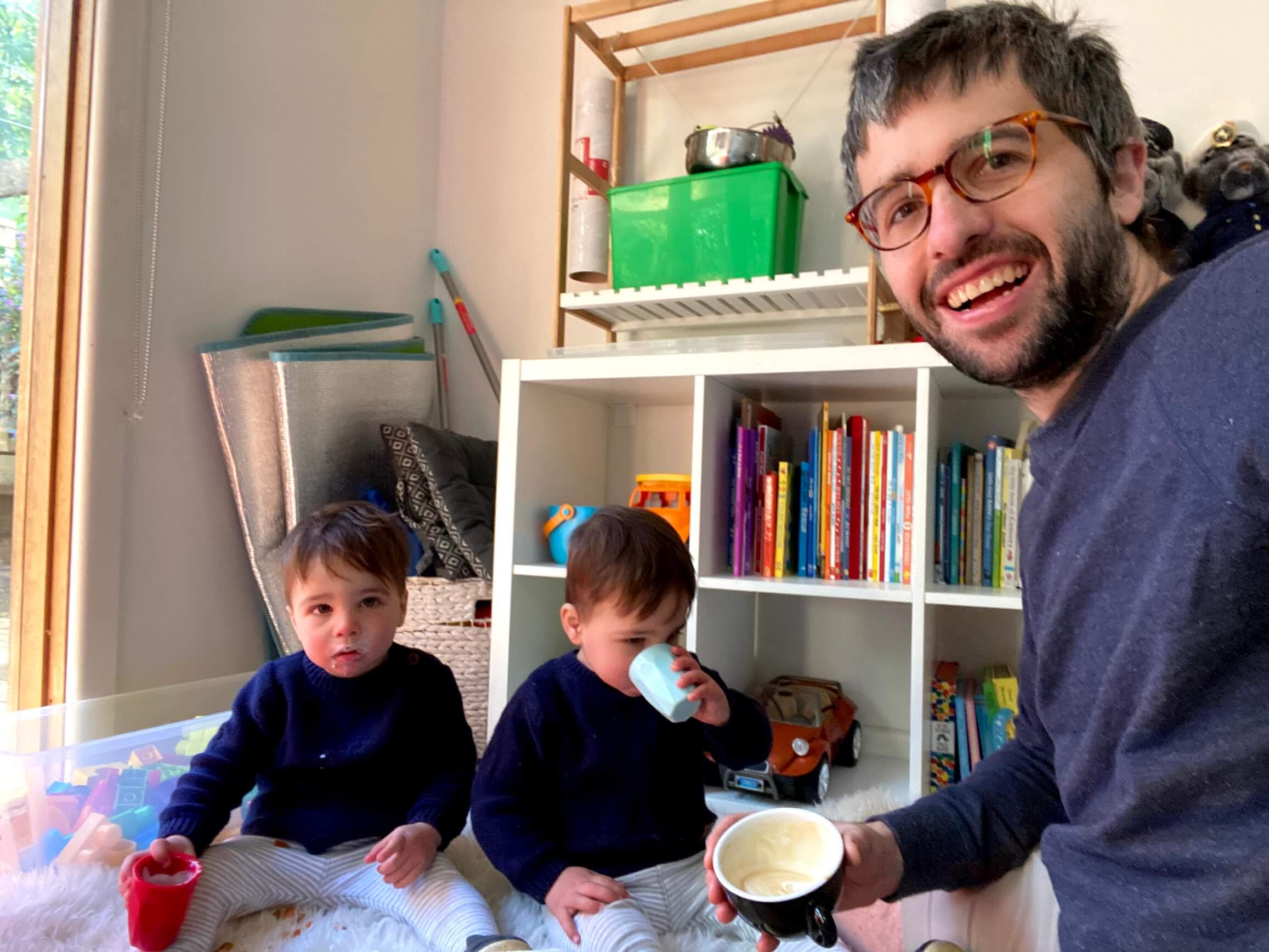 My name's Alex and I'm a husband, dad to beautiful identical twin boys, cyclist, photographer and connoisseur of great coffee!
Help I'm Having Twins has been created for me to share what I found useful as a new parent and dad to twins.