One of the more difficult things you'll encounter as a twin parent is venturing out of the house when it's just you and the twins. Sure, you can put them in a twin stroller but what about if you need to go somewhere that's not pram friendly?  Buying a twin baby carrier is great for helping in these situations where there's one of you and two of them!
When shopping for a twin baby carrier, it is essential to consider the weight of your twins. Some baby carriers are made for the tiniest and lightest twins who could be born underweight, while others are made for toddlers. 
Types of Twin Carriers
Twin baby carriers come in many different shapes and sizes so we've created this list of the various twin carriers on the market to help guide you on what's best for your needs:
Ring sling: This baby carrier is made of a wrap with a ring that allows you to adjust the size of the carrier with ease. Best suited for young babies.
Soft-structured carrier: These baby carriers come with padded shoulder straps and adjustable belts. Ideal from newborn all the way through to when your children become infants. Although you might be struggling to carry 2 x 10 kg when they get bigger!
Structured carrier: These carriers usually have an aluminum frame, and they are used when hiking or going for longer trips. While not specifically designed for twins, we wanted to share these as we think they're great. 
Why Use A Twin Baby Carrier?
Buying a twin sized stroller was one of the best purchased we made. In fact we wrote about the best twin strollers on the market in case you're interested. But one limitation that comes with twin sized prams is that they are bulky and aren't able to use all terrains (think steps or narrow areas). For this reason, buying a twin baby carrier is a must in our books!
One of the other reasons that using a twin baby carrier is great is that it make it easier to soothe the baby thanks to the close body to body contact it provides. While they're also good exercise too! Carrying two babies can be heavy and you'll get a good work out doing it.
7 Things to Consider When Buying A Baby Carrier for Twins
You can't really look at a twin baby carrier as you would for a regular baby carrier. You need to give extra consideration for things like comfort for your little ones, comfortable for you and what stage of your child's life they will support.  Shopping for a twin baby carrier can be quite overwhelming given the different shapes, sizes, designs and brands available in the market today. With that in mind, we've put together this checklist of 7 items we'd recommend considering if you're in the market for a twin baby carrier:
1. Ergonomic Design
The first thing and we think probably the most important thing, ensure you're buying a twin baby carrier that's comfortable for you. Carrying twins is not an easy feat, and it requires the right weight of the twins is spread out equally to reduce muscle or back injuries.
In terms of how do you find a carrier that is ergonomic? Make sure you're buying one that is rated based on the weight you will be carrying. We recommend going something that's rated for babies/infants slightly heavier than how heavy your baby/infant actually is. This will future proof you but also mean it's designed for heavier weights and will provide much better support and comfort.
2. Style
As mentioned in the start of our post, twin baby carriers are designed in many different styles.  Some of these different styles include single carriers to hold both babies or two single slings to carry both. 
Another style of a twin baby carrier is the soft structured carrier, which is made from a soft fabric. It is wrapped around to support the two babies well while providing optimum comfort to the caregivers. It requires plenty of practice to get it right, but in the end, it is worth it. As this uses a wrap style mechanism to keep your baby secure, we only recommend this for the first 0-6 months while your baby is relatively light. 
As your twins begin to get bigger and put on weight, we generally recommend against using a wrap style twin carrier due to the weight bearing of your twins. Instead look for a carrier that you essentially wear or a backpack style which relies on a more structured design and helps better distribute the weight of your little ones. 
3. Ease of Use
Plan your use of a twin baby carrier as if you'll be using it on your own. For this reason, it's important to consider how difficult it will be to take your twins in and out of the carrier when you're on your own. 
Some baby carriers are easier to put on than others, while yet others require assistance to put them on. The location of the buckles is one of the critical things to consider. If they are located at the back, they may be challenging to snap without help. If you will be carrying one child at the back and one in front, consider how easy it is to get the baby into the backside without needing the help of others.
4. Easy to Clean
Babies make a mess of things through throwing up, spit-ups, blow-outs and spills, which can make the baby carrier very dirty.
Look for a carrier that can easily be washed with either by hand or a washing machine. You can also purchase drool pads and other safety covers to cover the most dirtied areas. These covers are easy to remove and clean.
5. Price
Like anything baby related, all the types and styles of twin baby carriers come in different price points. What's most important is to find a reasonably priced, high-quality design suitable for your babies to where you're currently in life. There's no point buying a carrier that will only last a few months before you'll have a need to upgrade. Instead, try to buy something which perhaps your twins are a bit too small for so that way they can grow into it.
6. Safety
Safety is critical when it comes to twin baby carriers. Your baby carrier should be able to carry two babies safely without the risk of giving way, which may lead to the babies falling or leaning badly. But what's important here is that you're not overloading the bag with weight that it's not designed to support. Always check the recommended weight limit to ensure your twins aren't testing the bag to its limits. 
7. Babies' weight
Depending on what carrier you buy, some are made all the way through from newborn to toddler while others are specifically designed for the different phases of your child's life. Obviously those that are specifically designed generally fit your child better than those that are designed for multiple phases.
---
The TwinGo Twin Baby Carrier was designed by a twin mum, Krystal Workman, after having twins and quickly finding out there was limited options on the market for a baby carrier but for twins. 
The TwinGo Twin Baby Carrier works by holding your babies at the front and rear of the bag. We really liked that the bag has been designed for comfort thanks to the head support and shades which are designed to help shield your little one from the sun and also help when they are trying to sleep.
In terms of sizing, the TwinGo Twin Baby Carrier comes in 4 different sizes from Small all the way up to XL for those a bit taller. The sizing doesn't have any impact on carrying capacity of your child and is designed for adults.  Whilst the carrier also comes in a range of colour options.
Like the Stuff 4 Multiples Twin Carrier, the TwinGo Twin Baby Carrier also comes with a small storage bag which is on the waistband of the bag. This is particularly useful for carrying your phone and money. We don't think it's big enough to store your babies things like a nappy though unfortunately.
Whilst the TwinGo Baby Carrier is also designed to be used whilst you are on your own with your twins. This is great and a must if you ask us..!
---
Malishastik Twin Ring Sling
The Malishastik Twin Ring Sling is a great option for anyone that isn't so keen on a twin carrier you wear but more looking for something that is similar to that of a wrap baby carrier. 
The Malishastik Twin Ring Sling works by holding both your babies on the front of your body. We think this is great as it means they are both nice and close however can become quite hard on your back as your babies grow.
In terms of carrying capacity, the Malishastik Twin Ring Sling is rated to carry up to 27 kg/60 lbs. As per our point in the previous paragraph, we're a little dubious of carrying twins on your front when they begin to become quite heavy and would recommend going for a twin carrier which more evenly distributes the weight on your front and back as your twins become more heavier. 
While the Malishastik Twin Ring Sling is made of breathable materials (50% linen and 50% cotton) to ensure your babies remain nice and cool without over heating. 
Our major criticism of the Malishastik Twin Ring Sling is that it can be quite difficult to place on your own which is a massive deal breaker for us. We'll often be on our own with the boys and unfortunately don't have the luxury of always having someone around to help but you may be different. 
---
Stuff 4 Multiples Twin Carrier
Closing out this post on the best twin baby carriers is the Stuff 4 Multiples Twin Carrier which was our pick of the bunch.
The Stuff 4 Multiples Twin Carrier is similar to the TwinGo Twin Carrier where it relies on you wearing the carrier (rather than wrapping it around you) to carrier your twins. The bag is capable of carrying either one or two babies which is useful if you decide to have another baby in the future where you'll be able to also use this carrier.
In terms of carrying capacity, the Stuff 4 Multiples Twin Carrier is capable of holding up to 31 kg or 70 lbs. While also including a built-in diaper bag which is particularly useful for carrying odds and ends like your phone, a spare nappy and wipes. 
We really liked that the Multiples Twin Carrier is easy enough to work on your own which is great if you're isolated and need to get out with your twins on your own.
From a safety perspective, the Stuff 4 Multples Twin Carrier comes with strong stitching and backup buckles to ensure your baby is always safe.
As this twin carrier relies on your twins being positioned in the front and rear, we'd recommend putting your more heavier twin in the rear part of the bag whilst having your lighter twin in the front section. This helps better distribute the load which is far better for your back!
Affiliate Disclosure – This post may contain affiliate links where we may receive compensation if you purchase products linked below. As an Amazon Associate, I can earn from qualifying purchases. This doesn't cost you anything and helps keep our little blog running. Read our privacy policy for further information.
Affiliate Disclosure – This post may contain affiliate links where we may receive compensation if you purchase products linked below. As an Amazon Associate, I can earn from qualifying purchases. This doesn't cost you anything and helps keep our little blog running. Read our privacy policy for further information.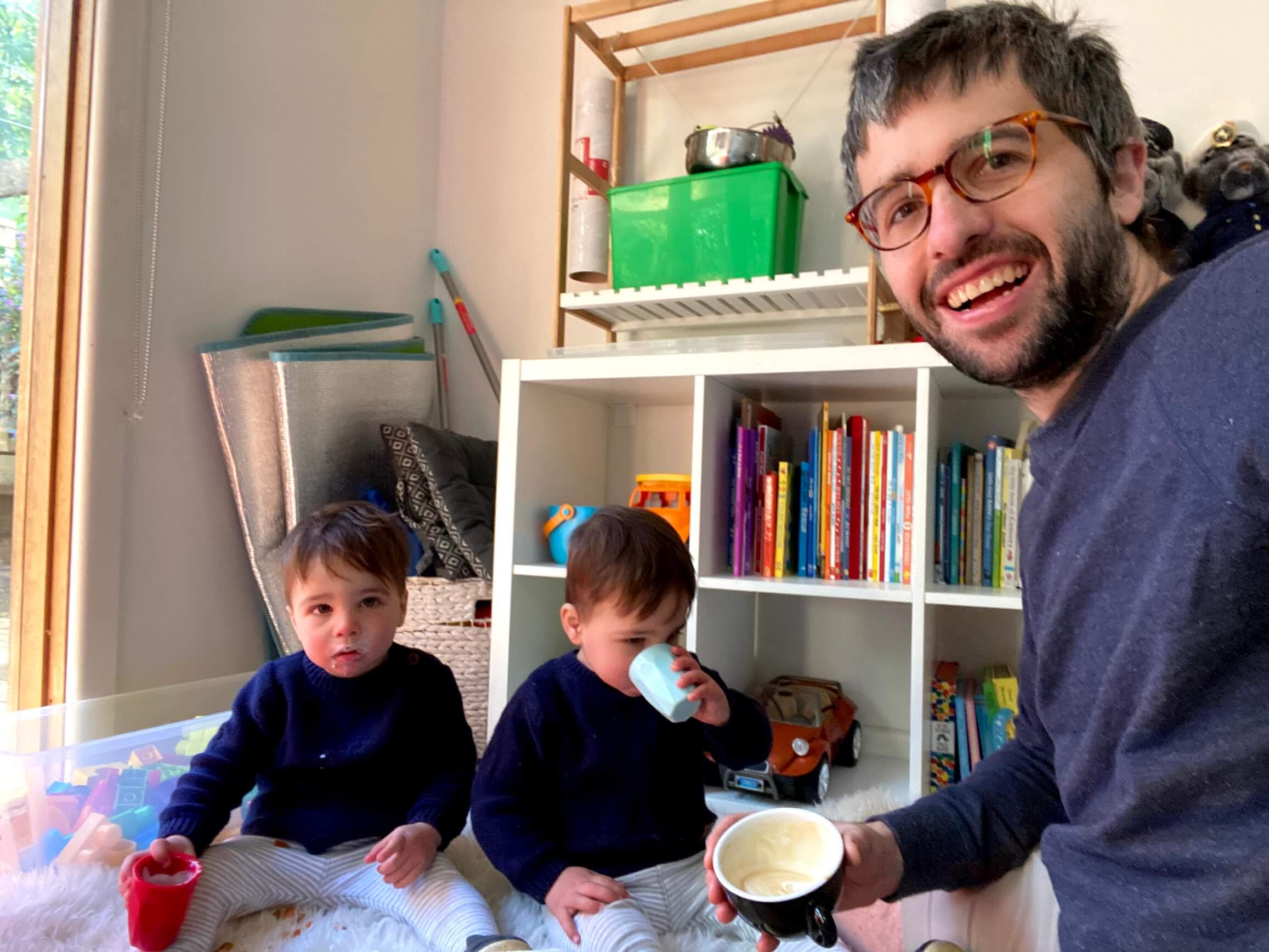 My name's Alex and I'm a husband, dad to beautiful identical twin boys, cyclist, photographer and connoisseur of great coffee!
Help I'm Having Twins has been created for me to share what I found useful as a new parent and dad to twins.