Best Portable Baby Changing Pad
When traveling with a baby, you need to pack a load of things, including food, clothing, diapers, bottles, and other must-haves. These are meant to ensure convenience and comfort, no matter how short your journey is. While some parents might overlook a changing pad when packing for the baby, we think they're a great option and worth the added bulk they might add to your luggage as they help provide a soft and secure place for your baby to lay while you change them.
This article is written for anyone that is looking for a baby changing pad for when they are travelling away from home and need somewhere to comfortably and securely change their babies diaper.
What is a Baby Changing Pad?
Changing a baby's diaper can be a difficult affair as you battle to contain the baby from moving around too much and the contents of the diaper going everywhere or your baby accidentally sliding off whatever you have them on as you change their diaper. 
This is where baby changing pads are worth their weight in gold by providing a secure place for you to place your baby as you change their diaper while being easy to keep clean in case there's any accidental spills. Baby changing pads are made using soft materials to provide a soft surface for your baby while having a plastic cover to help make keeping the pad clean a breeze.
Do I Really Need a  Portable Baby Changing Pad?
But you're probably thinking... Why can't I just change my baby on the floor or better yet, a bed?! You're right and that's definitely an option. But what do you do when you don't have somewhere clean and soft to place your baby on while you change them? Or perhaps you're worried you might accidentally have a spill on your friends bed? For this reason we found investing in a portable baby changing pad a great investment from both a cleanliness and safety perspective.
Can Babies Sleep on a Portable Changing Table
Short answer - No
From a breathability perspective, a changing pad is made of waterproof material, which in most cases is not breathable. If you leave your baby to sleep on it. They may turn their nose to the pad which will constrict air and lead to suffocation. It is therefore not advisable to let your child to sleep on a changing pad. If the baby falls asleep on it, carry them to their crib or a safer place.
How to Clean a Baby Changing Pad
Diaper changes can get very messy, especially if your baby is screaming and throwing their legs or their poo is particularly runny.  For reference - we find using toys as a distraction to stop them throwing their legs around is a great idea!
But how do you best clean a portable baby changing pad for those unfortunate events when the contents of the nappy end up on the baby changing pad? Good question. We'd recommend following the below steps on how to best regularly wash your baby changing pad to keep it clean:
Check for spills - Before washing the changing pad, check for any accidents that may still be on the surface of the changing pad. Clean up any visible stool and urine using a paper towel and wipe it as clean as possible. Place it on a flat surface to make it easy to clean. Most changing pads are made of water-resistant materials such as canvas, which makes them easy to clean.
Use disinfectant where possible - Read the care label on the pad before sanitizing it with a disinfectant. If a disinfectant is allowed, use it to clean and sanitize the surface of the changing pad. Air-dry it until it is completely dry to the touch and do not use it until the disinfectant has completely evaporated.
Using soap instead of chemical disinfectants - If you do not want to use harsh chemicals, wipe the surface using soap and water. You can do this by pouring a soap based detergent on a cloth, then rubbing it on the surface. Focus on the dirtiest areas so that you can sanitize it thoroughly.
Clean it with a machine wash if the above is too hard - If your changing pad is machine-washable, wipe any visible mess away with a paper towel and disinfect it. Check the care instructions to see the recommended cycle, whether standard, permanent press, or delicate.  
---
BlueSnail Bamboo Rayon Quilted Changing Pad
These modern liners which have a quilted design are made with an organic bamboo fiber, which is naturally round and smooth. This means that there are no sharp spurs that may irritate your baby's skin. The BlueSnail Quilted Changing Pad is made of four, highly absorbent layers and silky-like soft padding, making perfect for the sensitive skin of the baby.

The BlueSnail Bamboo Rayon Changing Pad is reusable, making it economical and environmentally friendly, as opposed to the disposable liners. It is also machine washable and dryer-friendly, making it quite easy to clean and dry. If you're worried that you might not be able to clean the changing pad while you're travelling, fear not, it also comes with liners to add extra protection during the messy diaper changes.

One thing we really liked about the BlueSnail Changing Pad was the longer liners which makes it useful to the baby for a longer time before they outgrow them. With a size of 13" x 27", it covers changing pads of all standard sizes. It also has a breathable and waterproof layer, which is made from TPU and which is vinyl-free.
Currently available on for .


---
Lil Fox Portable Diaper Changing Pad
The Lil Fox Portable Changing Pad is the perfect diaper changing pad for the busy moms and dads on the move. This is thanks to the Lil Fox changing pad being securely wrapped up using velcro. The changing pad has been designed so you are able to open the changing pad with one hand. We think this is a great idea as we previously owned a portable changing pad which relied on a plastic clasp to securely close the changing pad when not in use. We found trying to open/close this when you have a baby in your other arms quite painful and found using velcro instead far easier especially when you're trying to juggle a baby in your other hand/arm.
Made of high-quality waterproof material on the outside and a soft inner cotton layer that also includes a memory foam cushion for your baby on the inside, the Lil Fox Portable Changing Diaper has been designed well. The surfaces are quite easy to clean, requiring you to just wipe them clean.
One thing we really liked about the Lil Fox Portable Diaper Changing Pad was the pockets that sit either side of the changing pad with enough space to hold five diapers and a full bag of wipes.  While also including room to hold diaper cream and other items. The pockets simply zip close and remain securely closed when not in use. This is a great idea as it means you can simply grab the Lil Fox Changing Pad when you are n the run and it will have everything you need.
Currently available on for .


---
Babebay Portable Baby Changing Pad
Similar to other portable baby changing pads we reviewed, the Babebay Portable Changing Pad includes large open zippered pockets where you can put your baby wipes, creams, and other small items. It also has a mesh pocket where you can put up to five diapers. There's also a zippered pocket on the outside where you can place your keys, spare change, phone charger. 
In terms of material, the Babebay is made using waterproof material on the outer layer and PEVA material (polyethylene vinyl acetate or think of this as a soft BPA free and non toxic vinyl material) on the inner layer. Similar to the Lil Fox Changing Pad we reviewed, the Babebay also includes a comfortable cushioned pillow for your baby to rest their head on as though change their diaper.

The Babebay Portable Baby Changing Pad is designed with a fashionable arrow print making it quite attractive and can be used as a gift to new parents.
With an extended changing size of 27 x 22 inches and a total size of 43 x 22, this portable baby changing pad is quite long and gives your baby more extensive active space.
One thing we really liked about the Babebay Portable Changing Pad was the inclusion of an adjustable shoulder belt, which you can use to carry the pad when going out and a hand strap for attaching it to the stroller.
Currently available on for .


Affiliate Disclosure – This post may contain affiliate links where we may receive compensation if you purchase products linked below. As an Amazon Associate, I can earn from qualifying purchases. This doesn't cost you anything and helps keep our little blog running. Read our privacy policy for further information.
Affiliate Disclosure – This post may contain affiliate links where we may receive compensation if you purchase products linked below. As an Amazon Associate, I can earn from qualifying purchases. This doesn't cost you anything and helps keep our little blog running. Read our privacy policy for further information.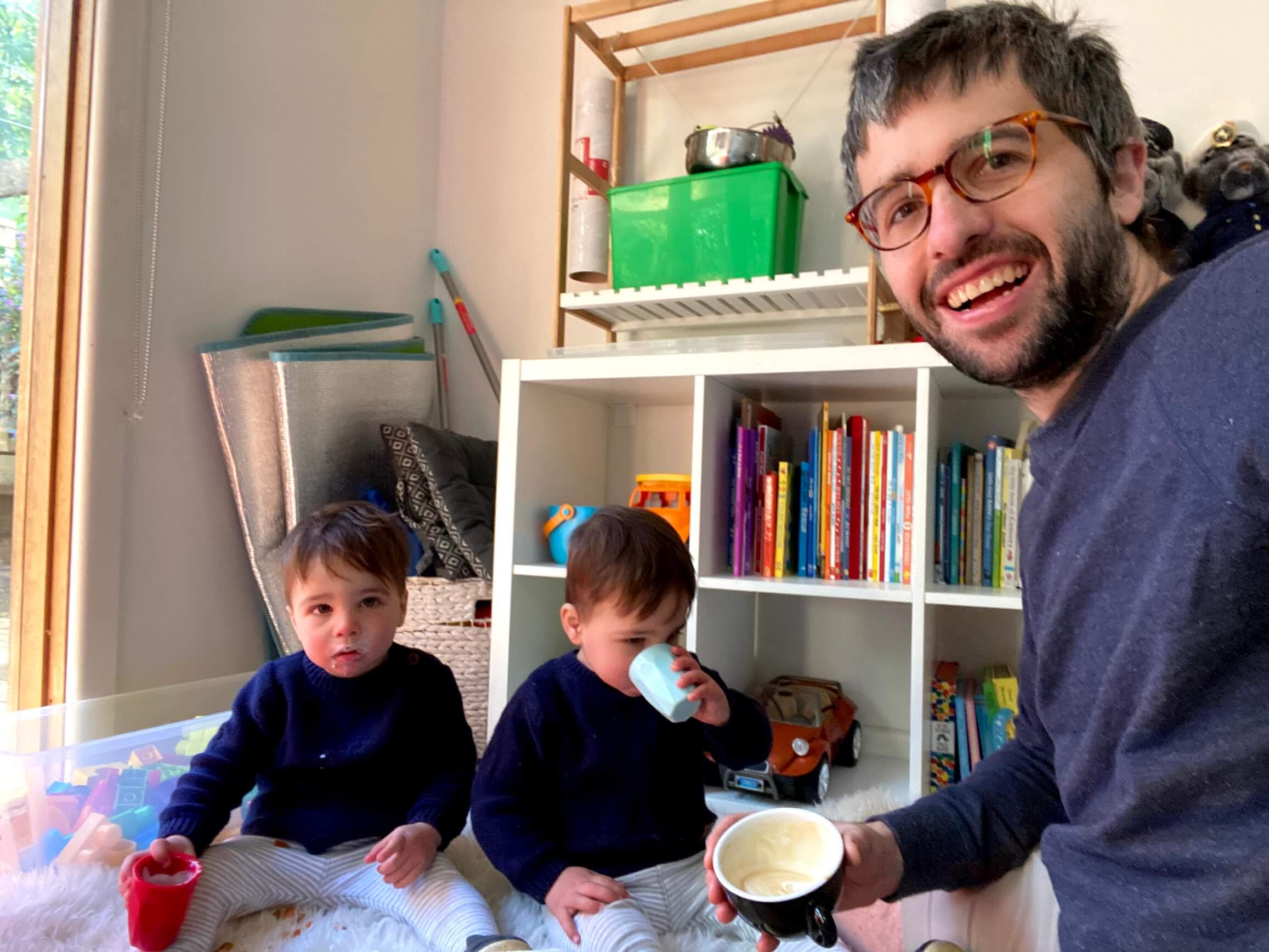 My name's Alex and I'm a husband, dad to beautiful identical twin boys, cyclist, photographer and connoisseur of great coffee!
Help I'm Having Twins has been created for me to share what I found useful as a new parent and dad to twins.