---
​

Boppy Original Nursing Pillow

​
If you're soon to be expecting (congrats!) then we couldn't recommend buying a boppy pillow enough. At the time of writing, our twin boys are just over a year old and we still use their boppy pillows infant pillows to this day.
Why do we still use them? Because they're great! But seriously caring for babies can take a toll on your back, neck, shoulders and hands, leaving you fatigued from the need to constantly hold them. For this reason, investing in a boppy pillow for when your body needs a break is a great option. 
What is a Boppy Pillow?
Boppy pillows also known as a nursing pillow, is a c-shaped pillow which can be used for a variety of different uses. Although boppy pillows are mainly used to support mothers and children during breastfeeding, they also have other uses. You can use them as an aid for sitting, during baby's tummy time, to support you during feeding.   Generally we used our boppy pillows as below:
Feeding (0+ months) - Used to help position your baby under the breast for feeding.
Propping (3+ months) - Used for when your baby isn't quite crawling and still enjoying time on their back. Great for securely positioning them.
Tummy Time (6+ months) -  Great for positioning your baby on their tummy over the pillow. The Boppy Pillow helps support your babies body and particularly their neck as they learn tummy time. From our experience, we placed the baby on the pillow, such that their upper body is on the pillow, while their legs are resting down, inside the pillow's C curve. Pay close attention to the baby and ensure that of their shoulders and arms fall from the top of the pillow.
Sitting (9+ months) - Perfect for when your baby is beginning to sit more upright but looking for something to help keep them balance. 
Boppy Pillow Covers
The Boppy Pillow has slipcovers which come in various colors and designs which are bound to suit everyone. The slipcovers are machine washable which works great if you have an accidental spill.
How Safe are Boppy Pillows?
In terms of safety, Boppy Pillows are safe as long as you use them for the intended purposes. To be on the safe side, never leave your baby to sleep on a Boppy Pillow. If they fall asleep there, move them to their crib or sleeping area. Babies left on the boppy pillow can turn into a dangerous position which may block their airwaves and cause death by choking.  We don't want that so be sure to always keep a watchful eye on your little one while you are using a Boppy Pillow.  
What are Boppy Pillows Made From?
Boppy pillows are made of quality materials, which are BPA-free, Phthalates-free, lead-free as well as latex-free, making them entirely safe for your baby.
The pillow itself is made with a virgin polyester fibrefill and upholstered in white fabric that is a mix of 90% polyester and 10% cotton.  You'll be happy to know that the pillow does not contain any harmful flame retardant chemicals.
While the slipcovers can vary with some covers being made some soft cotton blends to minky plush materials.
Can you Wash a Boppy Pillow?
As mentioned previously in this article, Boppy Infant Support Pillows come with various slipmat designs that zip over the top of the pillow.  This works great for protecting your Boppy Pillow from vomit, milk and other things it may pick up over time. In most cases, simply washing the slipmat cover should be enough without needing to wash the pillow itself. For this reason, we recommend purchasing two slipmat covers if in the event one needs to be washed.
In terms of cleaning the pillow itself, we recommend:
Removing the pillow from the slipcover
Press out all air from the pillow before placing in the washing machine
Use a gentle and scent-free detergent which is safe for both your baby and the pillow
Begin washing the pillow with a cold based washing cycle that doesn't spin the pillow too heavily
Once the pillow has completed its washing cycle, place the pillow somewhere in the shade to dry out
Place the pillow in the clean slipmat and you're away.
Closing Out...
Whether you're parents to be or parents that have recently had a baby (congratulations!!) we hope this article on boppy pillows has been useful.
​

As you've probably realised, we love our boppy pillows and still actively use them to this day where the boys are 11 months and won't be stopping any time soon...
Affiliate Disclosure – This post may contain affiliate links where we may receive compensation if you purchase products linked below. As an Amazon Associate, I can earn from qualifying purchases. This doesn't cost you anything and helps keep our little blog running. Read our privacy policy for further information.
Affiliate Disclosure – This post may contain affiliate links where we may receive compensation if you purchase products linked below. As an Amazon Associate, I can earn from qualifying purchases. This doesn't cost you anything and helps keep our little blog running. Read our privacy policy for further information.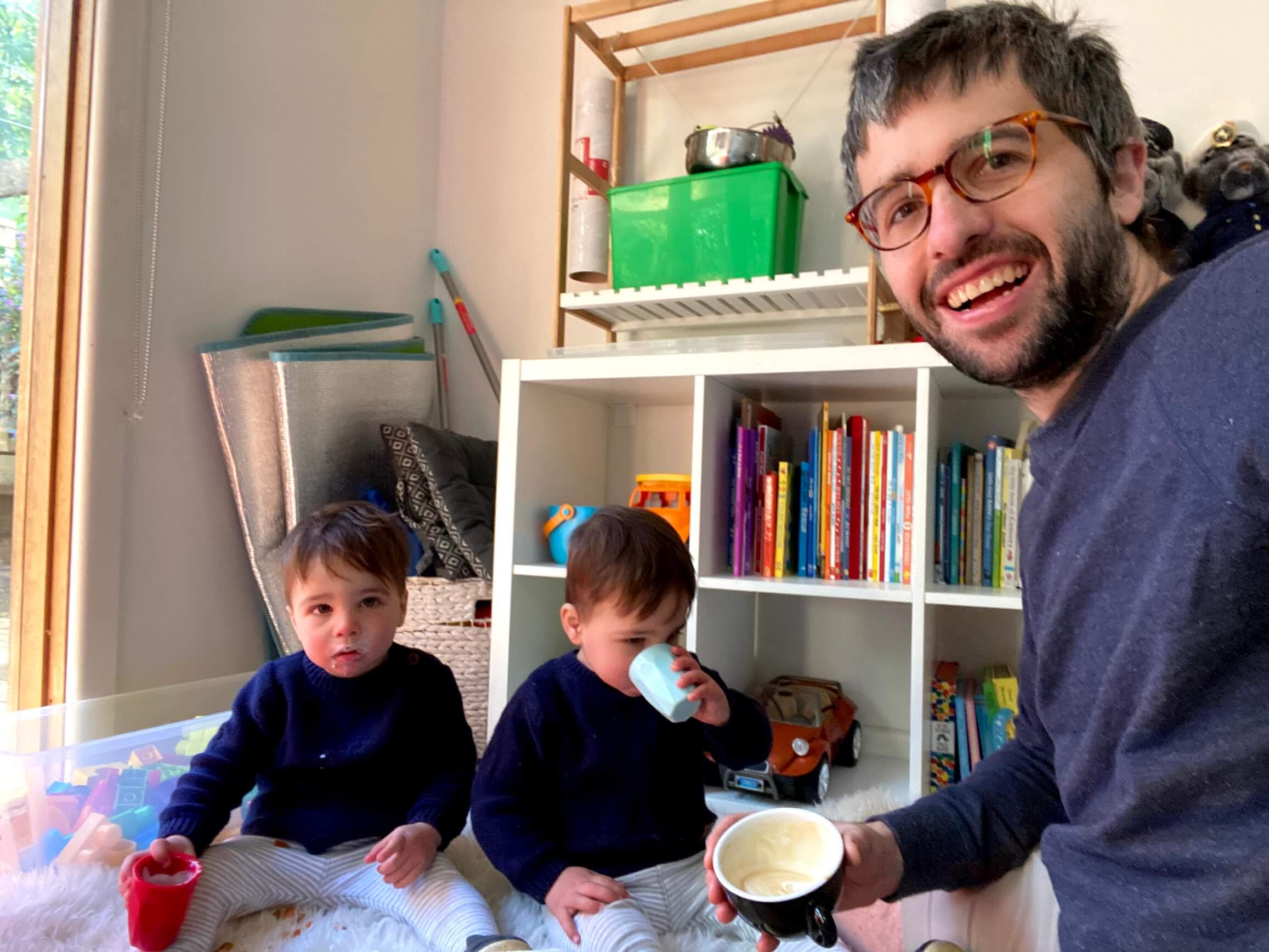 My name's Alex and I'm a husband, dad to beautiful identical twin boys, cyclist, photographer and connoisseur of great coffee!
Help I'm Having Twins has been created for me to share what I found useful as a new parent and dad to twins.