There's two ways to look at baby bottle sterilization, you can either do it manually using the stove-top boiling method (discussed later in this article) where you'll save money but it won't be as convenient or take the fuss away with a dedicated appliance to help.  We decided to purchase an appliance and couldn't be happier. Here's our findings:
Baby Bottle Sterilizer's Compared
Table could not be displayed.
Why Use a Sterilizer for your Baby Bottles?
During the first few weeks and months of your babies life, they are particularly prone to illnesses which may come from contact with bottles which haven't been sterilised correctly. Issues that may arise if your baby doesn't drink from a sterilised bottle include:
Staphylococcus
Mild thrush
Salmonella which can in turn cause:
Influenza A
Plus more nasties
The sterilisation is there to basically kill the harmful bacteria which can quickly grow in milk and find a home in your baby bottles. For this reason, you must stay on top of bottle hygiene to keep the nasties away from your little ones.
Luckily though! There's plenty of products on the market which make keeping your baby bottles clean a breeze!
Difference Between Market Offerings
Stove-top Boiling
No doubt you're probably wondering why do I need to buy a sterilizer for my baby bottles which my mum used to clean my bottles over the stove top in a pot with boiling water?
The stove top sterilizer method is still a great way to clean your baby bottles. We generally recommend for this method that you:
How to Sterilizer Baby Bottles with Boiling Water
The stove top sterilizer method is still a great way to clean your baby bottles. We generally recommend for this method that you:
Start by placing the bottles in a warm soapy water and give the inside and outside of bottles and teats a good scrub with a bottle brush.
Once you've given everything a good rush, place the bottles and teats in a separate stop top pot and bring it to the boil.
Place the bottles and teats in the pot for 5 minutes and let boil
Remove the bottles and teats and place in a container in the fridge if you're not planning on using them in a rush
While the above is an easy way to clean the bottles, it does require a bit more attention as you need to stand around, wait for the bottles to boil and potentially risk burning yourself! Plus who has time to stand around and watch a boiling pot when you have twin newborns!
Fortunately there are plenty of alternatives to the boiling stove top method for cleaning your baby bottles which are less of a hassle and can also be used to sterilise your breast pump.
Electric Steam Baby Bottle Sterilizer
Using an electric sterilizer is a quick and easy way to clean your baby bottles. The electric sterilizer takes about 5-10 minutes to clean and then some additional time to cool down. One of the more popular options is the Phillips Avent Electric Steam Cleaner.
One of the great things about electric steam sterilizers is that once the cleaning process is completed you can simply leave the bottles in the sterilizer with the lid closed. The bottles will remain sterilised until opened.
Microwave Steam Baby Bottle Sterilizer
The quickest way to clean your baby drink bottles is through using a microwave steam cleaner such as the Phillips Avent Microwave Steam Cleaner.
Be careful with microwave steam bottle cleaners not to open the lid directly after microwaving as the steam coming out can be pretty intense!
UV Light Baby Bottle Sterilizer
Using a UV lamp to clean your baby bottles is a less common and more expensive way to clean your baby bottles but does come with its benefits. One of the better UV cleaners in the market is the Wabi Baby Touch Panel Cleaner.
The pro's of cleaning with a UV light based cleaner include:
Able to hold a large (16) amount of bottles in the bigger cleaners and makes a great way to store your bottles.
99.9% sterilisation
Safe
Although there are some con's of cleaning with a UV light based cleaner which include:
Requires changing the UV lamp every 12 months or so. $$$.
Can take up a bit of counter space depending on the unit size
Things to Consider when Looking at Bottle Cleaners
Bluetooth integration – Handy if you are looking for a reminder/alarm when the bottle cleaning process is complete. This feature comes at a cost however and is mostly only found in more expensive ($450~) machines.
Continuous sterilisation – Forget to take your bottles out and worried they may lose sterilization? Some cleaners come with the ability to continually sterilize whilst they are sitting in the machine.
Holds decent amount of bottles – If cleaning babies for twins and multiples, consider how many bottles the machine can sterilizer at once.
Safety warnings – Warning lights on the machine to show when the machine has heated up and is too hot to touch. Useful for when your operating on not much sleep and not thinking properly..!
Water filtering – Consider what filtering is available with the filter you are looking to purchase with some coming with limestone filtering.
Accessories – Some machines come with additional accessories such as brushes for giving bottles a quick pre-clean and tongs for removing the bottles after they've been cleaned. Personally I'm happy using cooking tongs we've designated especially for bottle cleaning.
Best UV Sterilizer: Haenim UV Sterilizer
The uses safe UV sterilizing techniques to clean your baby bottles to 99.99%. We loved that the Haenim has a huge capacity of being able to clean and store 16 bottles. When not cleaning, the Haenim runs a continious cycle of cleaning the bottles to ensure they remain sterilized and ready to use.
One thing that may turn people off at first glance is the 30 minutes clean time of the Haenim UV sterilizer for your baby bottles. While this feels like a long time compared to other sterilizers mentioned in this article, you need to remember that there is no drying involved with UV sterilizers! For this reason the run time of the Haenim is comparable to other cleaners we reviewed in this article once you include drying time.
While the bluetooth mode won't be used by most, it is actually quite useful allowing you to kick start cleans when you're not in the same room or even just check in on how long is remaining on a clean. We also liked that the machine included a timer to illustrate how long was remaining for a clean.
Looking to buy?
Currently available on for .
Best Microwave Sterilizer: Phillips Avent Microwave Steam Sterilizer
We personally use the and was our pick for when it came to microwave sterilizers. So much so we bought an extra one for when we travel!
We loved with the Avent that it is able to sterilize a bottle to 99.99% in only 2 minutes. Combine this with the fact that bottles remain clean for 24 hours if you leave the lid closed, makes this a great baby bottle cleaner for your twins.
One downside of the Phillips Avent Microwave Steam Sterilizer is that it can only clean 4 bottles and accessories at once. We found ways of working around this such as having more spare bottles available but it was challenging at times especially with twins.
Looking to buy?
Currently available on for .
Best Electrical Sterilizer:
Philips Avent 3-in-1 Electric Steam Sterilizer
The is super easy to use and only requires you to put 100ml of water in the base, push the button and after 5 minutes you have clean bottles, teats and dummies ready to use.
The design of the Avent is quite compact which means it won't be taking up much bench space. Due to the compact nature, this does mean you are limited with how many bottles you can clean at once. The Avent is only able to clean 6 bottles at once which is on the lower side when you are cleaning bottles for twin babies!
The Avent 3-in-1 is a great and affordable cleaner for anyone looking to buy an electric cleaner for their kitchen bench top.
Looking to buy?
Currently available on for .
Best Sterilizer & Dryer: Wabi Baby Steam Sanitize and Dryer Plus
The  means no more waiting for your baby bottles to dry like the other products we reviewed in this article. The Wabi takes 8 minutes to clean and then takes a further 50 minutes to dry
The Wabi is able to hold 8 bottles, 3 nipples, 2 pacifies and pumping valves easily. Some people have found loading everything into the Wabi can be time consuming but is one of those things that becomes quicker once you get the hang of it.
It's recommended to de-scale the vinegar every 3 months with vinegar to keep it clean and extend the lifespan of the device.
Looking to buy?
Currently available on for .
Biggest Sterilizer: Papabilic Baby Bottle Sterilizer
Having twins ourselves, we loved the ability to clean a lot (11!!) bottles at once. Even better for people with more than two little ones!
The Papabilic doesn't just clean but also dries your bottles and accessories after being cleaned. The process of cleaning takes 48 minutes with it taking 8 minutes to clean and a further 40 minutes to dry.
Due to the ability of the sterilizer to clean a large amount of bottles at once, this does come at a cost and means the unit is a bit bigger than those that we reviewed.
We would recommend the Papabilic Baby Bottle Sterilizer for anyone with multiple babies coming with its ability to clean and dry 11 bottles at once.
Looking to buy?
Currently available on for .
Affiliate Disclosure – This post may contain affiliate links where we may receive compensation if you purchase products linked below. As an Amazon Associate, I can earn from qualifying purchases. This doesn't cost you anything and helps keep our little blog running. Read our privacy policy for further information.
Affiliate Disclosure – This post may contain affiliate links where we may receive compensation if you purchase products linked below. As an Amazon Associate, I can earn from qualifying purchases. This doesn't cost you anything and helps keep our little blog running. Read our privacy policy for further information.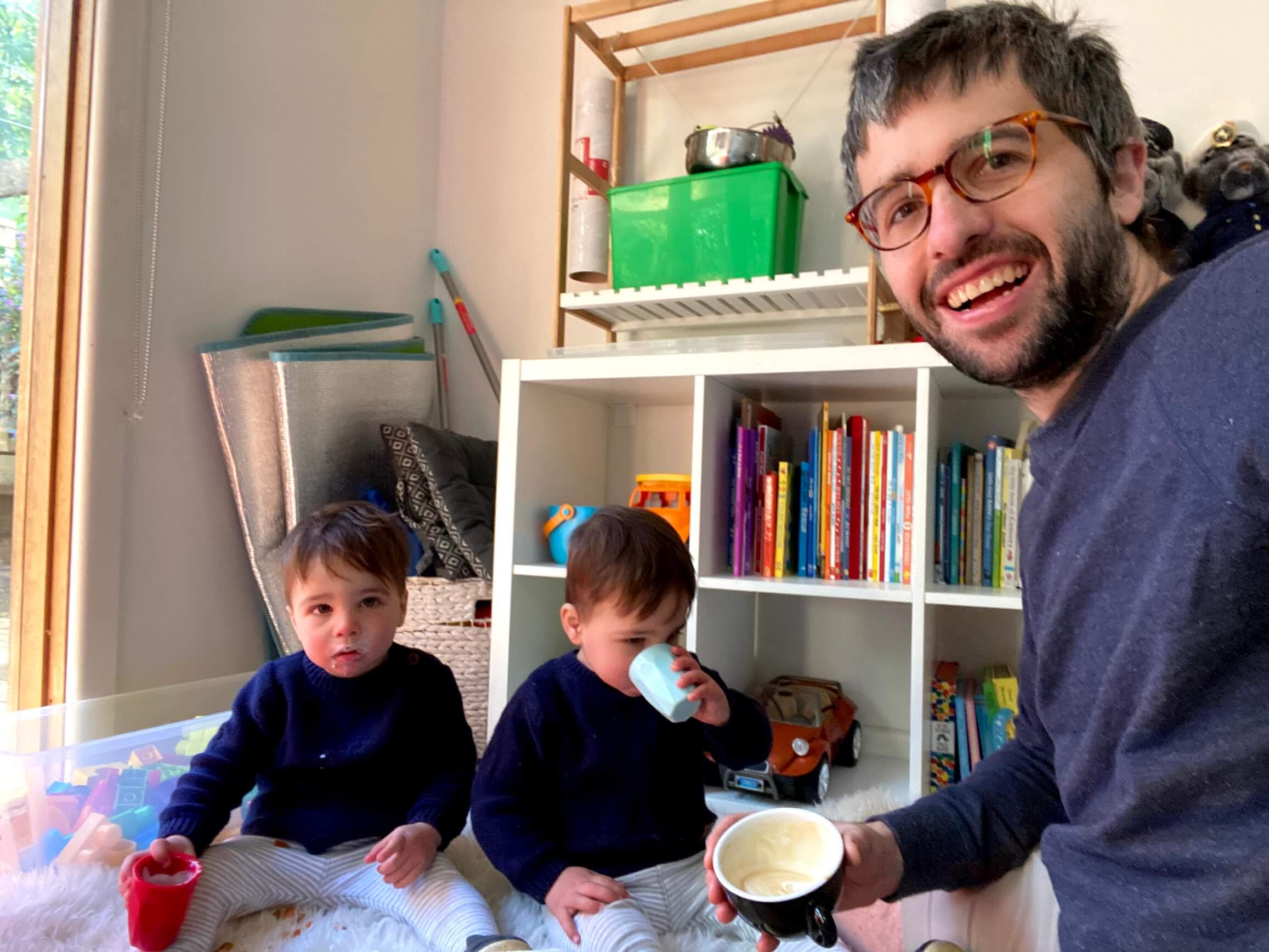 My name's Alex and I'm a husband, dad to beautiful identical twin boys, cyclist, photographer and connoisseur of great coffee!
Help I'm Having Twins has been created for me to share what I found useful as a new parent and dad to twins.