One thing that many parents often aren't prepared for when it comes to welcoming a new baby into their homes, is just how much their new little child will want to snuggle up to them and sleep in their arms. We all have grand plans of getting our newborns to sleep in their bed and of getting so much done while they nap during the day (such as napping ourselves!).
Think about it, when you have spent nine months curled in close to your mum, it is a big adjustment to step out into the world. It is only natural for a newborn to want to feel the comfort and warmth of a mother's touch day in and day out.
This doesn't mean there aren't ways to encourage your little one to separate from you so you can get your hands back. In fact, there is a whole parenting market out there, dedicated to helping you find what works for you and your baby, and one of the magic devices that exists is the baby bouncer.
Baby Bouncers Compared

Name
Fisher-Price Colourful Carnival Take-Along Swing & Seat

Name
Fisher-Price Colourful Carnival Take-Along Swing & Seat
What Exactly is a Baby Bouncer?
This is one of those useful parenting products that has been around for decades – although they have certainly become fancier with time. In plain terms, it is a piece of material that is fitted over a frame that bounces with movement.
You can strap your baby into them, which provides a nice and safe environment for them, and they are often fitted with toys to offer stimulation and mental development.
When to Use a Bouncer
Most baby bouncers can be used from birth, however it is important to check the manufacturer's guidelines. Many will have a weight limit (such as 3.5kg), so you may not be able to use it straight away.
Likewise, they will often have a weight restriction for when your baby gets older, so it is important to make sure you stick to this.
In general, bouncers are often used from newborn through to about six months of age. After this, babies tend to get more mobile and can get around for themselves and are unlikely to want to sit still. However, many bouncers do convert into seats for older kids, which means you get years of use.
Benefits of Baby Bouncers
Here are just some of the great benefits that come from using a bouncer:
Movement
Unlike placing your baby on a mat on the floor, a bouncer allows them to enjoy some movement, which can help them settle when they can't be in your arms. If your little one isn't keen on sitting in the bouncer, you can get them used to it gradually. Pop them in and stay with them, gently rocking the bouncer and talking to them the whole time. It may take some time for your baby to warm up to it, so don't be worried that you can't plonk them in and wander off. They still want to know where you are and feel that connection.
Develop muscles
Another huge benefit to a bouncer is that it helps your little one develop their muscles. The act of getting their bouncer to move is great for their little legs and can help get them off the ground and crawling.
Off the ground
This one is especially important if you have any animals or other children in the home. We all know both children and animals can get a little carried away around a baby, so it's an added peace of mind to have your little one up and off the ground away from them.
Stimulation
Many bouncers have toys attached to them, or you can simply attach some yourself. This gives your little one plenty to look at and will stimulate them while they are sitting in there.
Separation
Let's not forget the big bonus – a bouncer helps you be able to put your baby down and out of your arms for a break. As they are sitting up and can see around, they will be more content watching you and what you are doing.
Portable
A bouncer is generally fairly lightweight and portable, which makes it easy to cart around the home. Bring your little one with you as you get jobs done. They will love the interaction and enjoy having you close by. Let them watch you do the laundry, cleaning and folding.
Safety
It's important to note that a bouncer is not a substitute bed and your little one should never be left in it for long periods of time.
Always keep a watchful eye on them while they are in it, and it you are wanting to nap while they do, opt for the cot instead.
If your baby does fall asleep in the bouncer, simply pick them up and transfer them to a safe sleeping space.
Features
So what exactly should you be looking out for when it comes to purchasing a bouncer for your little one? Below are some of the main features to look out for when shopping for a baby bouncer.
Bouncers can be as interactive or as simple as you like, so it's important to work out what you are looking for before you go on the hunt.
Battery operated: Are you looking for something more than just self-made movement? Many bouncers these days also offer vibration movements, rocking movements and white noise with their battery operation. These can come in handy in helping to settle your little one, especially when they are too small to bounce themselves.
Toys: Some bouncers come with a hanging bar with toys dangling off it, this can give your child something to play with and stimulate them. Of course, you can also attach your own toys to the bouncer as well.
Safety harness: Some bouncers only offer a three-point harness, while others have a five-point harness you can strap your little one into. Work out which one best suits your needs.
Frame: The weight of the frame can vary significantly, depending what other features you are after. If you are wanting something lightweight and easily portable, go for the non-battery operated option.
Removable and washable seat cover: This is especially handy for the poonamis and milk spews that are inevitable with a young baby.
Price: Finally, it all comes down to price. Once again, this can vary significantly, depending on whether you are looking for a very basic bouncer, or one with all the features. It is important to shop around.
Fisher Price Colourful Carnival Bouncer
We personally use the Fisher-Price Colourful Carnival Bouncer  at home and love it! The 2-in-1 to act as either a bouncer or seat is a super useful!
The Fisher Price Colourful Carnival Swing is an affordable option for anyone looking to get a bouncer. We purchased two for our twins and have found the ability to make the bouncer a dedicated seat a really great feature for bottle feeding times.
The bouncer comes with the ability to automatically bounce whilst playing music or vibrating by using batteries.  We also liked that the bouncer comes with two toys (lion and elephant) for your baby to watch while bouncing around.
If you're like us and have two of these for your twins, you will be happy to know that the unit packs down nicely to store away.
One negative we've found with the Fisher Price Carnival Bouncer is the battery use from the automated bouncing and music playback can be really high. As a result you will find yourself burning through the batteries really fast. Do what we did and buy some quality rechargeable batteries such as Eneloop's so you're not having to buy fresh batteries every time.
Key features: 
Age: 0-2 years (3.5kg to 13kg)
Fabric: 100% cotton
Harness: three-point harness
Reclining positions: three
Baby Bjorn Bouncer Bliss
The Baby Bjorn Bouncer Bliss is one of the more simple designs on the market, yet also one of the most stylish that is guaranteed to fit in with your home décor (which can be a huge plus!). It features an ergonomically shaped seat that encourages rocking, with three different positions for you to choose from to support your little one's head and neck.
 This bouncer folds flat, which is great for storage, especially between kids, and means it is extremely portable as well. Once your child outgrows it, you can also turn the fabric around and make it into a chair for them – so you are guaranteed years of use. There are no toys or battery features available with this one, it relies on your little one learning to bounce themselves (or you helping out).
Key features: 
Age: 0-2 years (3.5kg to 13kg)
Fabric: 100% cotton
Harness: three-point harness
Reclining positions: three
Looking to buy?
Currently available on for .
Nuna LEAF Bouncer
The Nuna LEAF Blower is your go-to bouncer when you have a little bub who just doesn't want to be put down. With a gentle push of your hand, it starts rocking your little one from side to side (just like you would in your arms), with a detachable toy bar to offer stimulation. One of the biggest bonuses is that this rocker doesn't need any batteries to get it going, it just relies on the touch of your hand and the swinging motion will last for up to two minutes. You can also lock it stationary for those times you don't need the movement.
 It is, however, on the heavier side, which makes it slightly less portable around the rest of the home. And while the base does pop out for easy storage, it is still rather bulky.
Key features:
Age: 0- 50kg
Fabric: organic cotton
Harness: three-point harness
Reclining positions: one
Looking to buy?
Currently available on for .
Ingenuity SmartBounce Automatic Bouncer
If you're after automation, you have it with the Ingenuity SmartBounce. You can switch on 20 minutes of continuous bouncing with up to 12 different tunes, 3 nature sounds and white noise to comfort your little one. There are two different speed settings for you to choose from, so you can find what suits your needs, as well as a pivoting toy bar that can be adjusted. The infant insert is machine washable, which is handy for those bodily fluids.
 You will need to make sure you stay stocked up on batteries with this one, and it isn't ideal to be carting it around the home either. It doesn't fold up at all, which isn't very handy for storage, so ensure you have the space.
Key features:
Age: 0-6 months
Fabric: N/A
Harness: three-point harness
Reclining positions: one
Looking to buy?
Currently available on for .
Love N Care Baby Bounce Wire Bouncer
Get back to basics with this very simple option for your bub. This style bouncer has been around for decades and offers exactly what you need when it comes to helping soothe your baby. The mesh is nice and breathable, and your little one will be able to rock themselves through their own movement.
The cover can be completely removed and washed, and the harness has no unnecessary buckles, just slip your bub in and they won't go anywhere. The bouncer is nice and light and can be moved with ease, and the frame can be dismantled for storage as well. There are no toys or battery rocking features, so if you are looking for the added stimulation, you won't find it here.
Key features:
Age: birth-9kg
Fabric: Cotton
Harness: three-point harness
Reclining positions: one
Chicco Pocket Relax Bouncer
The Chicco Pocket Relax Bouncer is the ultimate travel bouncer that can not only be carried around your home, but packed away and taken with you when you travel. It snaps closed and fits into its own zipped bag for easy transport, and is super lightweight at just 2kg. All the cushioning is fully washable, and there is plenty of support for a little one's head and neck with three different reclining positions.
 Once again, there are no toys, sounds or movements for added stimulation, your baby simply learns to bounce themselves over time.
Key features:
Age: birth-9kg
Fabric: Cotton
Harness: three-point harness
Reclining positions: 3
Looking to buy?
Currently available on for .
Affiliate Disclosure – This post may contain affiliate links where we may receive compensation if you purchase products linked below. As an Amazon Associate, I can earn from qualifying purchases. This doesn't cost you anything and helps keep our little blog running. Read our privacy policy for further information.
Affiliate Disclosure – This post may contain affiliate links where we may receive compensation if you purchase products linked below. As an Amazon Associate, I can earn from qualifying purchases. This doesn't cost you anything and helps keep our little blog running. Read our privacy policy for further information.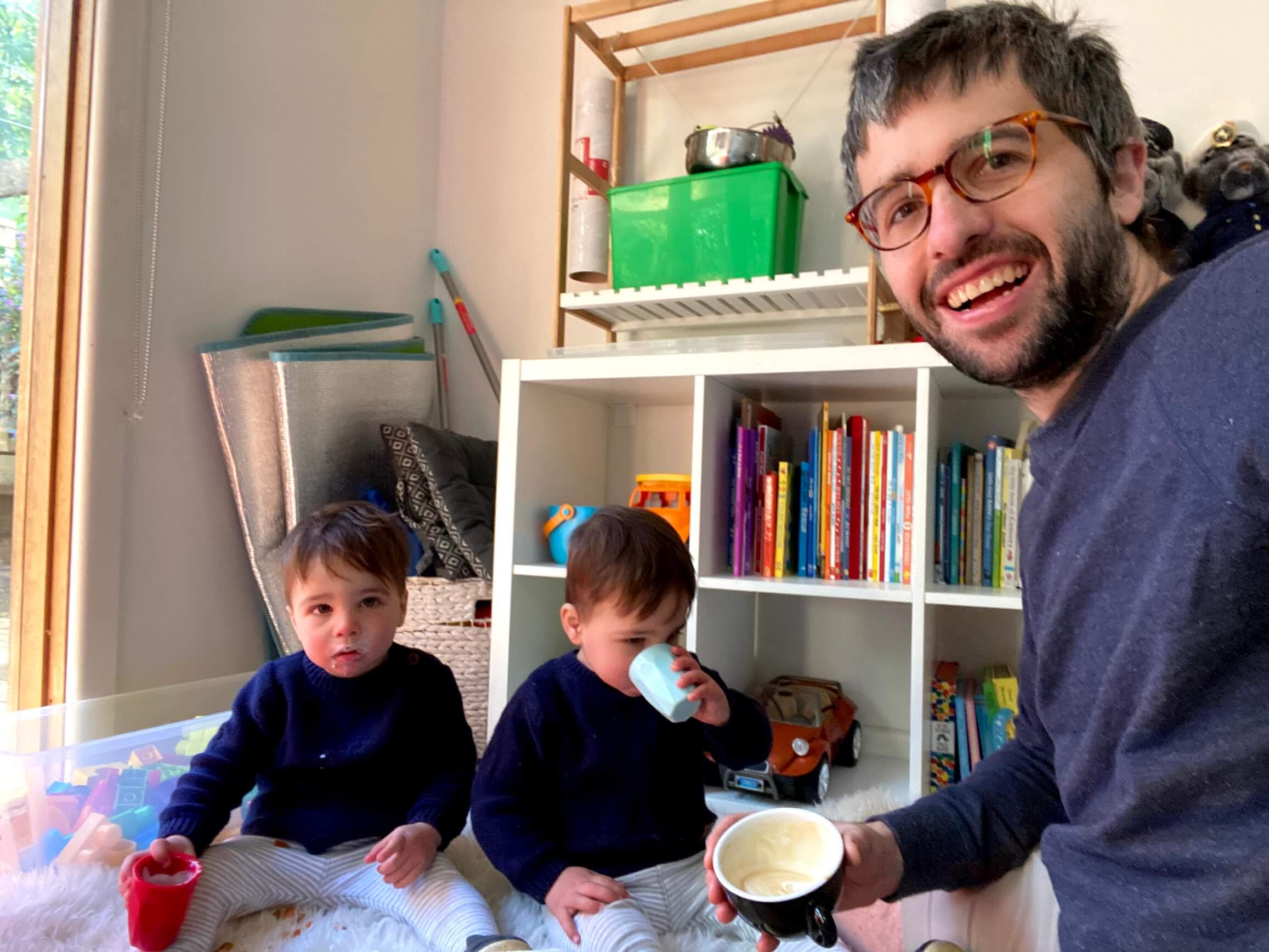 My name's Alex and I'm a husband, dad to beautiful identical twin boys, cyclist, photographer and connoisseur of great coffee!
Help I'm Having Twins has been created for me to share what I found useful as a new parent and dad to twins.