Those first few years are some of the best as you watch your baby go from crawling to walking. But it doesn't happen overnight and there's ways to help them build their confidence and strength in hitting those milestones. One of these is a baby doorway jumper. 
We recommend the  Available from Amazon for .
What is a Baby Doorway Jumper?
As the name suggests, a baby doorway jumper is a bouncer which attaches to your door that allows your baby to practice their bouncing skills. The best baby jumper will keep your baby occupied while at the same time helping them work on their early motoring skills.
Doorway vs. Free Standing Jumpers
Baby jumpers come in two types, the doorway jumper and the free-standing jumper. The doorway jumpers come with straps to clamp to the top of the doorway. They consume less space and are very convenient, especially if you are using the same door frequently or travel often. The second type is more of a free-standing baby jumper that basically looks like a large play centre. Free standing baby jumpers are portable and you can place them anywhere however it's worth noting that they do take up more space than a doorway jumper.
---
The Jolly Jumper Exerciser was one of the more expensive options we reviewed but we think it's well worth the additional cost and we'll look to share why. 
Quality & Comfort
Made using quality materials, the Jolly Jumper includes a deep pouch at the front which helps hold your babies chest high and properly supported.  While the bouncer uses two forms of securing your baby (velcro and a plastic buckle) to ensure that your baby is safe at all sounds. 
While the Jolly Jumper also uses a door clamp so you'll have peace of mind knowing that the jumper is securely mounted to the door and you need not worry about them bouncing off the door.
Cleaning
Keeping the Jolly Jumper clean is a breeze thanks to the seat being machine washable in a cold wash cycle.
Weight Limit
In terms of weight limits, the Jolly Jumper has a weight rating of 28 lbs or 13 kg. Basically for babies up to around 1-1.5 years old obviously depending on your babies weight at the time. 
The Jolly Jumper also includes adjustable straps for getting your baby into a comfortable and secure position based on their height. 
Door Frame Compatibility
While in terms of capability with different door frames and heights, the Jolly Jumper is best suited for door ways with a maximum thickness of 6 inches and struggles with non-conventional height doors.
For example, if you have a bigger door that's 8 foot (or 2.4m), the Jolly Jumper will struggle due to there not being enough chain. Some people recommend going and buying additional chain but if you're doing that then perhaps this isn't the jumper for you.
Criticism
One criticism we had with the Jolly Jumper was how difficult it can be to take your baby in and out of the unit. This is largely due to the hanger bar getting in the way. For this reason, we recommend that you lay your baby down on a bed, slide them into the harness and then connect the harness to the jumper.
This can be a bit frustrating as it means you're continually taking the harness off rather than simply sliding them into the harness that's already hanging off the door. It might not bother you but we just wanted to call it out.
Currently available on for .


---
Evenflo Exersaucer Door Jumper
The Evenflo Exersaucer Door Jumper is a great option for anyone looking for an easy to install door jumper that also packs away well for travelling. 
Door Mount & Installation
The Evenflo Exersaucer Door Jumper relies on a door clamp mechanism that attaches to most doorways. You'll feel confident knowing that your baby is safely secure to the door when in use thanks to the secure door mount.  While installing the jumper is a breeze and doesn't require any special tools. 
Colour Options 
We really loved the 6 different colours and patterns that the Evenflo Door Jumper comes in. These include:
Owl themed
Bumbly themed
Kangaroo themed
Marianne themed (think flowers)
Pink star power themed
Star power themed
Height Adjustability 
In terms of adjustability, the Evenflo Door Jumper includes adjustable straps to adjust the height of the jumper to suit the height of your baby. We find this is key if you want to ensure a comfortable but also secure fit for your baby. 
Weight Limit
While in terms of weight limit, the Evenflo Exersaucer Door Jumper is rated for 24 lbs or 10.8 kg. Obviously depending on the baby but basically for babies up to around 1 years of age. 
Cleaning
Cleaning the Evenflo Jumper is a breeze thanks to the seat pad being machine washable on a cold wash cycle while the rest of the jumper cleans well with a damp cloth and detergent applied. 
Criticisms
We had a few and slightly minor criticisms of the Evenflo Door Jumper. These included:
Spring can be quite noisey when your baby is bouncing
Some people suggest that the jumper has a tendency of bouncing outwards towards the door mount. We'd recommend watching closely or placing pillows near the door mount to be extra careful
Crotch area is quite wide which has a tendency of pushing your babies legs outwards rather than directly down. Why's this a problem? It means that it can be a little harder for your babies feet to hit the floor and bounce. 
You may not be bothered by some of these issues we experienced but just wanted to call them out in case they become deal breakers for you. 
Currently available on for .


---
The Grace Doorway Jumper is a great option for anyone looking for a doorway jumper to suit bigger door archways while also having the option to attach toys to the jumper. 
Door Compatibility 
One of the short comings of other jumpers we reviewed was how compatible they were with more smaller door heights.  Luckily the Grace Doorway Jumper is compatible with normal door heights as well as non-conventional door heights.
While the jumper uses a no mark clamp which securely mounts to your door without leaving any marks. 
Adjustable Heights
Similar to other baby doorway jumpers we reviewed, the Grace Doorway Jumper is easily adjustable to suit your babies height.
Weight Limit 
The Grace Doorway Jumper is designed for babies up to 29 lbs or 13 kg. Depending on your babies weight, this should suit most babies up to around 1-1.5 years of age. 
Toy Tray
We really loved the inclusion of a toy tray on the Grace Doorway Jumper. This works great for helping keep your baby entertained while bouncing about. We'd recommend using toys that have suction mounts so they stay stuck to the toy tray while your baby is jumping about. 
Cleaning
Like other baby doorway jumpers we reviewed, the Grace Doorway Jumper is easy to keep clean thanks to the machine washable seat covers. These are best washed on a cold cycle.
Criticism
One downside of the Grace Doorway Jumper is that it can be quite awkward to take your baby in and out of due to the 3 strap safety system. With that said, we'll take safety over convenience and didn't rate this as a major issue.
Currently available on for .


---
Bright Starts Zig Zag Zebra Door Jumper 
The Bright Stars Door Jumper is an easy to assemble baby door jumper. One point of difference between this baby door jumper and others we reviewed was the inclusion of a padded seat. While not amazing (we'll discuss this later) we thought it was a nice touch. 
While your baby is using the jumper you'll be comforted knowing they are securely in position thanks to the security strap which helps keep them firmly in position. 
Adjustable 
Like other baby door jumpers we reviewed, the Bright Stars Door Jumper comes with adjustable straps allowing you to dial in the fit of the seat to your little one. 
While the seat also includes a door clamp to easily mount onto doors of up to 5 inches in width.
Easy to Clean
The Bright Stars Zig Zag Zebra Door Jumper is easy to clean thanks to the removable seats cover easily coming off. We'd recommend using a cold wash cycle when washing the seat cover.
Criticism
While the Bright Stars Door Jumper comes with a padded seat, it doesn't offer much in the way of support of your little one unfortunately. For this reason some owners found placing a blanket on the seat created more neck support for their babies.
Another criticism of the Bright Stars Door Jumper is that it does have a tendency to sway towards the door when in use. Basically this means your baby may bounce against the door frame if they're not careful. This isn't the world though as you have a few options to counter against it including placing pillows against the door frame, buying bumpers which help soften the blow or just standing close by.
Currently available on for .


4 Benefits of Using a Baby Jumper
Baby jumpers provide a range of benefits for your little one whether it be helping develop strength in their legs to help prepare them for walking to keeping them busy with lots of giggling.
1. Improved Muscle Tone and Strength
Baby jumpers are a great way to help build your babies leg muscles which contributes to improved motor skills of your little one. 
While we're big advocates of baby doorway jumpers, we'd recommend using them in moderation to avoid stressing muscles from repetitive use.  At this stage according to Healthy Hips Australia there's no linkage between your baby developing hip dysplasia due to using baby jumpers but it's worth taking a safe approach by only using them in moderation.
2. Pre-Walking Skill Development
According to experts from Essential Baby, using a baby jumper can help a baby to develop their motor skills from an early age. How you may ask? As your baby jumps and bounces around, they are engaging their lower half and learning to control their feet which helps improve the functionality of the lower part of their body while also beginning to teach them balancing skills.  
Like we mentioned in the previous point, everything in moderation though and be sure not to over do your baby spending time in a jumper as it may stress their little limbs.
3. Provides Safety and Comfort
Baby jumpers are a stationary area where your baby can't move away or accidentally roll down stairs while you're not watching. While we never recommend leaving your baby in a jumper attended, they're a great option if you need to quickly fold some clothes or do other chores (while obviously keeping a close eye on them!).
4. Provides Visual Stimulation and Interactivity
Baby jumpers aren't just about bouncing and come with a range of visual and sound stimulation to help entertain your baby while they are in the jumper. Whether it be playing music while they bounce or being able to grab toys, there's plenty of options and are great for helping keep your baby engaged.
When Can a Baby Use a Doorway Baby Jumper?
There's no hard rule to what age is suitable for your baby to start using a doorway jumper. Instead it;'s more driven by their development. We recommend that your baby is able to comfortably support their own head. For most babies this is roughly around the 4-6 month mark but will vary from baby to baby.  
While it's also worth noting that your baby should be able to fit the jumper comfortably. For example, if your babies legs hang in the air and can't touch the floor then they are too small still.
Your baby can also be too big for a jumper too. If you're finding that your baby cannot straighten their legs completely while being in a jumper, we'd suggest they are probably getting too big and to explore other forms of exercise. 
Like we've mentioned previously in this article, using a baby jumper comes down to moderation and shouldn't be forced at a young age. The folks at LittleBigLearning write about this in greater detail  and why it's best in moderation.
How to Safely use a Baby Jumper
Studies like this one from the AAP (American Academy of Pediatrics) shows that jumpers are a significant cause of hospital visits for babies. Combining this data with findings from the Australian Competition & Consumer Comission (ACCC) they warn about some of the following dangers:
Babies injuring themselves trying to crawl out of the jumper
Parents accidentally dropping them as they remove them from the jumper (ouch!)
Fingers getting caught/pinched from springs or chains in the jumper
Delays in transitioning to walking if they spend more than 15 minutes per day in the jumper
Higher risk of injury if another child is pushing them in the jumper
Straps breaking under pressure of a bouncing baby
A lot of these things shouldn't be deal breakers against you from buying a baby jumper. In fact we think most of them are easily mitigated against. Here's some tips from us on ensuring your baby is safe while using a baby doorway jumper.
Observe Weight and Height Limits
It goes without saying but be sure to check the recommended weight and height limit of your unit before working. While some brands also recommend that if your baby is able to sit upright on their own then it's probably time to stop using the jumper as they may tip over.
Keep a Mindful Eye on the Straps
Baby doorway jumpers rely on straps to help keep your baby suspended from the door way. For this reason, they play a vital role in ensuring your baby remains safe while using a doorway jumper. 
For this reason we recommend checking the straps from time to time for any signs of fraying while also checking to make sure that they are firmly in place.
Don't Carry Your Baby in the Jumper
This may come as a surprise to some but some parents have been known to carry their baby in the jumper. No no no. Don't do that for the safety of your baby. Take them out of the jumper before transporting them anywhere. 
Supervise at All Times
As we've said a few times in this post, be sure to use baby jumpers in moderation and always keep a watchful eye on your little one whilst they are using the jumper. Babies have been known to develop whip lash from the feeling of their head jolting back and forth. For this reason, it's worth keeping a watchful eye to quickly stop anything.
What to Consider When Buying a Doorway Baby Jumper
Like anything baby related, baby doorway jumpers come in different styles and price points.  For this reason, we've tried to create a checklist of things to consider when buying one for the first time. 
Weight Limit
Depending on the model, doorway jumpers are designed with different weight limits. For this reason, we'd recommend double checking the product information to ensure your baby is at a suitable weight for the jumper. This is particularly important as the jumper must be able to support the load of your baby from jumping up and down. Failing to choose the right model could result in the support bands breaking and causing injury to your baby.
Seat
Seats on doorway baby jumpers can vary from model to model. From what we've seen, seats come in many different styles including:
Different height adjustments
Seats with plush padding for comfort
Removable and washable seats
Before buying be sure to check what kind of seat comes with the baby jumper you are looking at to ensure it meets your needs.
Ease of Cleaning
When looking for a baby jumper, you want something that cleans easily from all the marks and stains you'll accumulate over time. For this reason, we've only included baby jumpers that are washable in a machine.
Jumper Suspender
The best doorway baby jumpers should have two or more elastic straps to keep the baby safe. The straps are used to keep the baby in place when moving up and down. We've seen some bouncers that come with one strap but from a safety perspective, we'd recommend opting for a jumper that comes with at least two straps.
Adjustability
Babies grow very fast, and they are bound to outgrow their jumpers in no time. For this reason, choose a doorway baby jumper which allows you to adjust the height as the baby grows. This is great as it helps avoid additional cost down the track.
Toys
Some baby jumpers come with toys which are designed to bounce and make noises as your baby jumps up and down. Toys great as they basically provide an additional layer of entertainment for your little one by keeping them engaged for longer. 
From what we've seen, toys on baby doorway jumpers come in various types including electronic toys with flickering lights, those with sounds when you press the toy and others which make noises as the bouncer is moved around.
Storage
One of the biggest battles we found as new parents is how much stuff you accumulate and how quick this happens! For this reason, we recommend looking for a baby jumper that is easy to store away. This is also helpful if you're travelling and looking to take it away with you.
Look for something which you can dismantle into smaller pieces for easier storage.
Budget
Like all things baby related, there's a range of different options available at all price points.  At the end of the day, safety should be your number one consideration when buying a baby jumper and for this reason, we recommend not going too cheap where you may run into quality issues where the jumper may break easy and injure your baby.
For this reason, look for something that's made by a reputable brand and provides a safe way for your baby to jump around.
Closing
We hope this article on baby doorway jumpers has been useful and answered some questions you've had about what they are, the safety of using them and what to look for when buying one for your baby. 
If you have any questions, feel free to leave a comment and we'd be glad to help!
Affiliate Disclosure – This post may contain affiliate links where we may receive compensation if you purchase products linked below. As an Amazon Associate, I can earn from qualifying purchases. This doesn't cost you anything and helps keep our little blog running. Read our privacy policy for further information.
Affiliate Disclosure – This post may contain affiliate links where we may receive compensation if you purchase products linked below. As an Amazon Associate, I can earn from qualifying purchases. This doesn't cost you anything and helps keep our little blog running. Read our privacy policy for further information.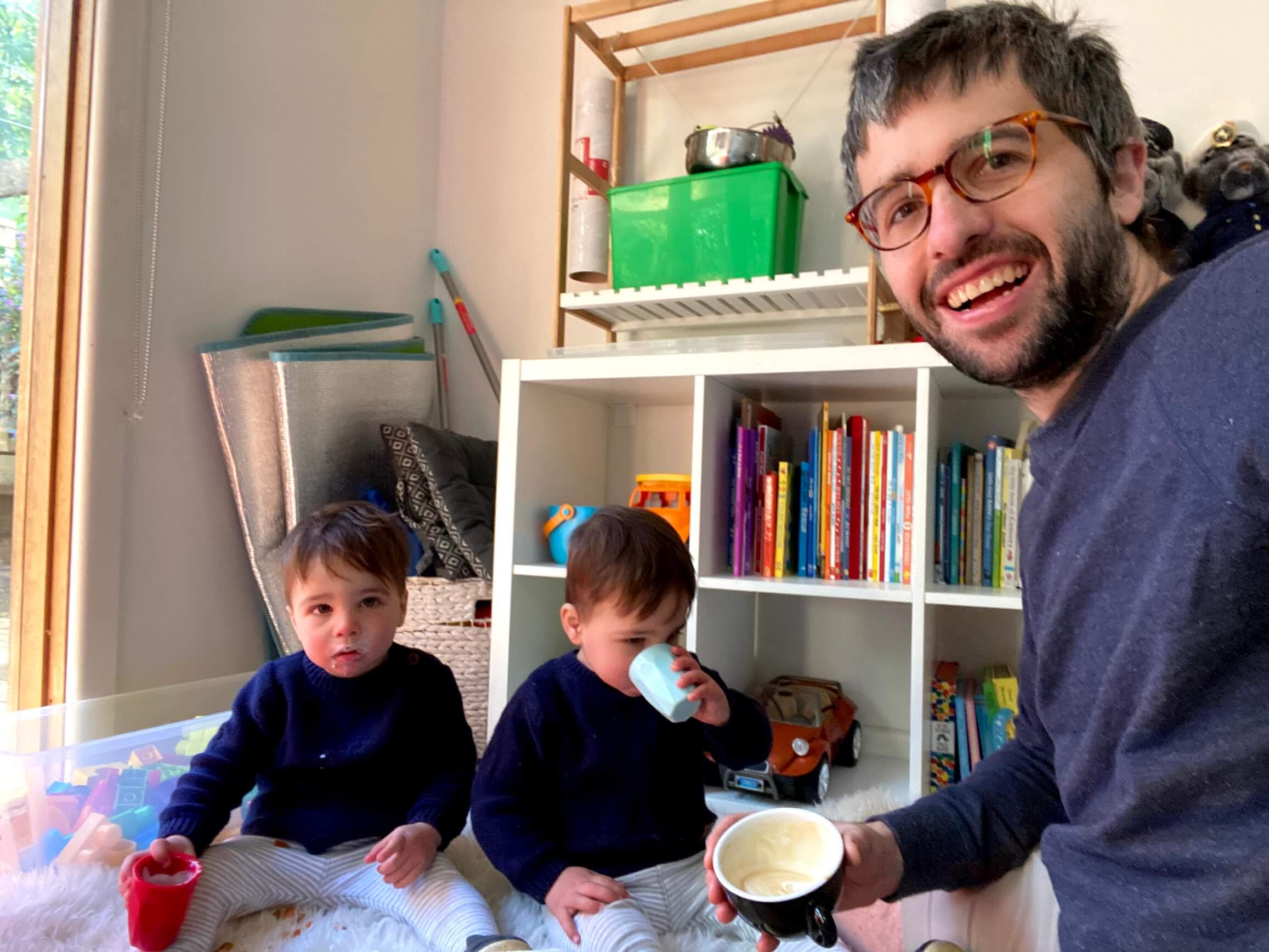 My name's Alex and I'm a husband, dad to beautiful identical twin boys, cyclist, photographer and connoisseur of great coffee!
Help I'm Having Twins has been created for me to share what I found useful as a new parent and dad to twins.