Those first few months of being a parent can be tough. You'll spend countless hours trying to rock your baby back to sleep to help calm them. We'd often do this either standing up or sitting on a bed. We'll be honest though - this is only comfortable for so long before you eventually getting a sore back from the awkward seated position. 
Enter nursery gliders or nursery chairs as they're also known.  We look at these comfortable seats which are designed to help you rock your little one back to sleep while also providing comfort and support for you, the parent.  This article looks at what is a nursery glider, what to consider when buying one and some of the best nursery chairs on the market. 
If you don't have time to read this article, we really recommend the Naomi Home Odelia Swivel Rocker for Price not available. 
Best Nursery Chairs Compared




Name
Angle Line Monterey Ii Glider & Ottoman
Giantex Glider Recliner with Ottoman
Naomi Home Odelia Swivel Rocker
Suitable for Parents of Multiples
Different Colour Options?

Name
Angle Line Monterey Ii Glider & Ottoman
Suitable for Parents of Multiples
Different Colour Options?

Name
Giantex Glider Recliner with Ottoman
Suitable for Parents of Multiples
Different Colour Options?

Name
Naomi Home Odelia Swivel Rocker
Suitable for Parents of Multiples
Different Colour Options?

Suitable for Parents of Multiples
Different Colour Options?
What is a Nursery Glider?
A nursery glider is simply a rocking chair with added features designed for parents including:
Padded armrests for comfort
Washable covers​
Storage pockets whether that be to hold your baby related odds and ends or even a water bottle for you.
Leg rests​
Locking mechanisms to help keep the chair in the one position 
As a parent of a newborn, you will spend plenty of time in the nursery for feedings, book reading, and many other activities, both day and night. This means that the nursery glider should be comfortable for both you and the baby. Considering how much time you will spend in the chair, we recommend not cheaping out too much as you want something that's comfortable and something you'll look forward to sitting in rather than associating it with a negative frame of mind.
Different Types of Nursery Chairs
As nursery chairs have evolved over the years, we've begun to see chairs with different mechanisms (basically how the chair moves) enter the market. Some of these include:
Reclining Mechanism
Similar to what you'd find in your lounge room, a reclining based nursery chair uses a reclining mechanism which will often include different reclining settings. From what we've seen, some chairs now come with electrical motors to help put the chair into position without requiring you to do much. While also including rocking and/or gliding mechanisms to help sooth your child.
Rocker Mechanism
Rocking mechanism chairs use a rocking motion to help sooth your child. These chairs will often include a lock on them to avoid you sitting in the car and the chair rocking back.
This type of chair is generally most popular on the market.
Gliding Mechanism
Gliding nursery chairs are designed with a platform where the chair can smoothly glide back and forth which in turn helps provide a comfortable soothing sensation for your child.
Standard Seat
Not all chairs include a different mechanism and some are just designed to look pretty in your baby nursery. For this reason, be sure to check the product listing detail and make sure you know what type of chair you're getting.
What's the Difference Between a Glider and a Rocker?
Good question! 
Generally rockers use wooden curved mounts at the bottom of the chair which is designed for the chair to rock back and forth. While gliders are designed for you to move back and forth.  Both work equally well at calming your baby and really comes down to personal preference to what you as the parent finds more comfortable. 
11 Things to Consider When Choosing a Nursery Glider
Like anything baby related, nursery gliding chairs can be basic $50 chairs all the way up to costing a $500. We'd recommend reading our below buying tips and prioritising what's most important for you. You might not need all the bells and whistles but just one or two features are most important for you. Let's take a look at what we'd recommend considering when buying a baby nursery chair:
1. Comfort
We'll start with what we think is the most important consideration when it comes to buying a nursery glider - Comfort.
You will be spending many hours in the chair gliding and trying to sooth your child so why buy something that's only uncomfortable for you? While comfort may seem like an obvious feature to consider, you may be surprised by how many parents overlook comfort and go for style.
In terms of things to look for when buying a comfortable chair, we recommend:
Choose a nursery glider that comfortably supports your back and offers excellent head support
Consider also the size of your body so that you can get a chair that has plenty of room to enable you to change positions easily
Ensure that the glider allows your feet to reach the ground well​
The pockets that hold the baby gear should be located in a place where you can easily reach them.
2. Electrical Assistance
If you're willing to spend the cash, some chairs come with an electric remote to help recline into position or if you're lucky, massage your back. 
3. Padded Armrests
Your arms need to be supported as you hold your baby as it helps absorbs some of the weight to avoid you getting sore.
Try choose a nursery glider which comes with thick padding and are wide enough to accomodate your arm. They should be spacious, soft, and have enough room to allow your arm and baby's head to rest.
4. Locking Mechanism
When choosing a nursery glider, we'd recommend selecting one which locks in place to ensure safety for you and your child. A locking mechanism is vital in preventing the chair from moving when you don't want it to move. It works by locking the seat in place when you're no longer rocking the baby to sleep, and you want to get them out of the chair.
5. Easy to Clean
Over time your nursery glider will take lots of spills which means you want something that is easy to keep clean. 
We'd recommend ensuring the fabric of the chair is easy to clean, and if possible, machine washable because it will make work easier for you. 
6. Storage Pockets
We found when using our nursery chair, it was easy to get stuck there without being able to get up and get things you need. For this reason, we think storage pockets are a must when buying a nursery glider. They're normally big enough to hold your television remote, magazines and a drink bottle. 
7. Leg Rests
One of the rising trends with nursery gliders is the inclusion of a leg rest. Normally this is through a seperate foot ottoman which is designed to help support your legs and provide comfort.
While others chairs will use a leg rest that simply pops out of the chair when reclining back. These work equally as well as ottoman's.
We'd recommend checking whether the chair comes with an ottoman or footrest as this may come as an additional expense.
8. Safety
Our second most important part - safety. Having a chair that is safe is critical for both you and your baby. We'd recommend checking the weight limit of the chair to ensure it's able to comfortably hold both you and your baby (or babies if you have multiples!)
We also recommend looking for a chair that includes a locking mechanism to avoid any accidents when you're sitting in the chair holding your baby.
9. Size
Nursery gliders come in all different sizes with some naturally favouring taller people more than others. While some chairs are quite wide and favour people who are trying to feed twins.
10. Recline, Swivel or Glide? Or All? 
From what we've seen, some chairs are capable of reclining, swiveling and gliding while others are more one trick ponies and only capable of doing one. 
We favour swivel based chairs that rock back and forth. The reason being is they allow you 360 degrees movement while being able to rock and comfort your baby. This is particularly useful if someone enters the room and you want to swivel the chair to look in their direction. 
11. Good Reviews
If you're purchasing your nursery glider online, the chances are that you may not see it in person before purchasing. For you to make the right choice, it is good to read reviews like this one on what other users have to say about the product.  Sometimes it's the experience of someone that has used the product for a year to know the quirks that come with the product which you may not notice when you're looking at the product either online or in the store.
How to Clean Baby Glider Cushions?
Depending on the glider chair you buy, you'll generally have a couple of different options for cleaning the chair. These include:
If you're able to take the covers off the cushions, remove the covers and place in the washing machine on a warm gentle wash cycle. We recommend spraying stain remover on any stubborn stains prior to washing.
If you're not able to remove covers off the cushions, we recommend getting some warm soapy water and giving stained areas a gentle wipe without aggravating the fabric.
---
Angel Line Monterey Glider & Ottoman
The Angel Line Monterey Glider & Ottoman combo was one of the more comfortable glider seats we reviewed. This is largely due to the seat's comfortable soft cushioning, ottoman and bonus throw pillow which is designed to specifically support the middle of your back.
Colours
In terms of colours, the Angel Line Monterey Glider comes in 5 different colour options which includes: 
Beige cushion
Dark gray cushion
Espresso/Grey cushion​
Grey confusion​
Grey chevron 
Cleaning
From a cleaning perspective, the Angel Line Monterey uses cushions with covers that can be easily removed and put in the wash.
Durability
One thing we noticed when reading other reviews to check whether our experience was the same as others was that some users have had durability issues with the product.  Some people have found their springs begun squeaking over time and the material begun to fray/rip. Just something to bear in mind...
Additional Features
While one thing we really liked about the Angel Line Monterey Glider Chair was the idea of a side pocket. This is super useful for storing a water bottle, a book or whatever takes your fancy.
---
Best Choice Products Rocking Accent Chair
The Best Choice Products Rocking Accent Chair is designed using sturdy wooden rails and using high quality fabric with a button-tufted back rest. It's thought that the button-tufted back rest provides more comfort over a regular cushion. We'll let you be the judge of that!
Colours
One thing we really liked about this chair was the overall style and look. This chair looks great and will work well in most people's baby nurseries. The colour options of the Best Choice Products Rocking Accent Chair includes the following colours:
Cleaning
In terms of keeping the chair clean, the Best Choice Products Rocking Accent Chair is easy to keep clean thanks to the pillows being removable. It's recommended by Best Choice Products to give the rub the pillows with warm soapy water to remove any marks.
Durability
One criticism of the product is its rocking ability which may not be an issue for some people. If you're expecting a seat that rocks like play equipment you'd find in a kids park, you're going to be disappointed with most reviews highlighting how conservative the rocking motion is on this chair. It's also worth noting that the rocking motion is thought to be worse if you're using the chair on carpet. 
---
Naomi Home Odelia Swivel Rocker
Key Features
The Naomi House Odelia Swivel Rocker is our pick of the chairs we reviewed for this article. This is largely thanks to the chair being a jack of all trades capable of swivelling allowing you to move 360 degrees while also allowing you to recline 135 degrees. If that's not enough for you, the Naomi House Odelia Swivel Rocker also comes with the ability to rock and includes a foot rest!
Colours
In terms of colours, the Naomi House Odelia Chair comes in 6 different colours where there's bound to be something for everyone. These colours include: 
Black
Bright White
Cream
Gray
Mocha
Navy
Comfort
Similar to the Best Choice Products Rocking Accent Chair we previously reviewed, the Naomi House Odelia Chair uses button tufting on the backrest while also providing spring core foam in the seats to provide greater comfort. 
​

Durability
While one thing we noticed when reading reviews of this chair to see how other people's experience was, we noticed that some people reported that the durability of this chair long-term is questionable with the arms becoming loose over time. Just something to bear in mind...
---
Giantex Glider Recliner with Ottoman
While not specifically designed for a baby nursery, the Giantex Glider Recliner with Ottoman combination chair is a great choice for anyone that wants a chair that does a little bit more than your average nursery glider.
Key Features
The Giantex chair is a gliding and reclining chair which comes with a comfortable ottoman while being capable of swivelling. In terms of reclining and swivelling capability, the Giantex Glider Chair is capable of reclining to 125 degrees while being capable of swivelling 360 degrees.
Colours
Coming in brown or black the Giantex won't look out of place in most baby nurseries.
Massaging
What makes the Giantex Glider different to other chairs we reviewed is the inclusion of massage functionality in the chair. How cool is that? Massaging by the chair is controlled by a remote which allows you to choose between 4 different massage and vibration settings. Unfortunately it doesn't allow you to recline the seat from the remote control.
Comfort
While in terms of comfort levels, the Giantex Glider comes with plenty of comfort thanks to the thickened padded seat which uses high density and soft sponge cushioning to provide support and comfort. 
Criticism
One criticism we had about the Giantex Reclining Glider Chair was the fact the seat does not stay in place when you get out of the chair. By this we mean, say you recline the seat back and need to quickly get up and get something. The chair will go back to its normal upright position and not hold the recline position. This can be a bit annoying when you've got a baby in your arm where reclining is more difficult than normal. This might not be a deal breaker for you but we found it a bit annoying.
---
Closing out this review article on the best baby nursery glider and rocking chairs is the Esright Rocking Chair. This was our pick for anyone that is looking for a super wide chair that is suited for having multiple babies on the chair at any one time.
Amazing Chair for Multiples
The Esright Rocking Chair is so wide that it's one and a half wider than the chairs we reviewed in this article! This gives you plenty of space to work with if you're trying to feed or comfort multiple babies. 
Comfort
In terms of comfort, the Esright Rocking Chair uses thick padded seat cushions with a soft polyester fabric over the top. You'll be pleased to know that the seat covers are easily removable which makes keeping them clean a breeze.  
Colours
While the chair comes in a light neutral grey colour that will look great in any neutral colour themed baby nursery.
Features
If you're looking for a chair that glides, reclines or comes with an ottoman then the Esright Rocking Chair isn't for you unfortunately with the chair not capable of doing gliding or reclining. The lack of ottoman/foot rest shouldn't be a deal breaker as you can easily get one separately from the store which will look similar to the chair.  
Affiliate Disclosure – This post may contain affiliate links where we may receive compensation if you purchase products linked below. As an Amazon Associate, I can earn from qualifying purchases. This doesn't cost you anything and helps keep our little blog running. Read our privacy policy for further information.
Affiliate Disclosure – This post may contain affiliate links where we may receive compensation if you purchase products linked below. As an Amazon Associate, I can earn from qualifying purchases. This doesn't cost you anything and helps keep our little blog running. Read our privacy policy for further information.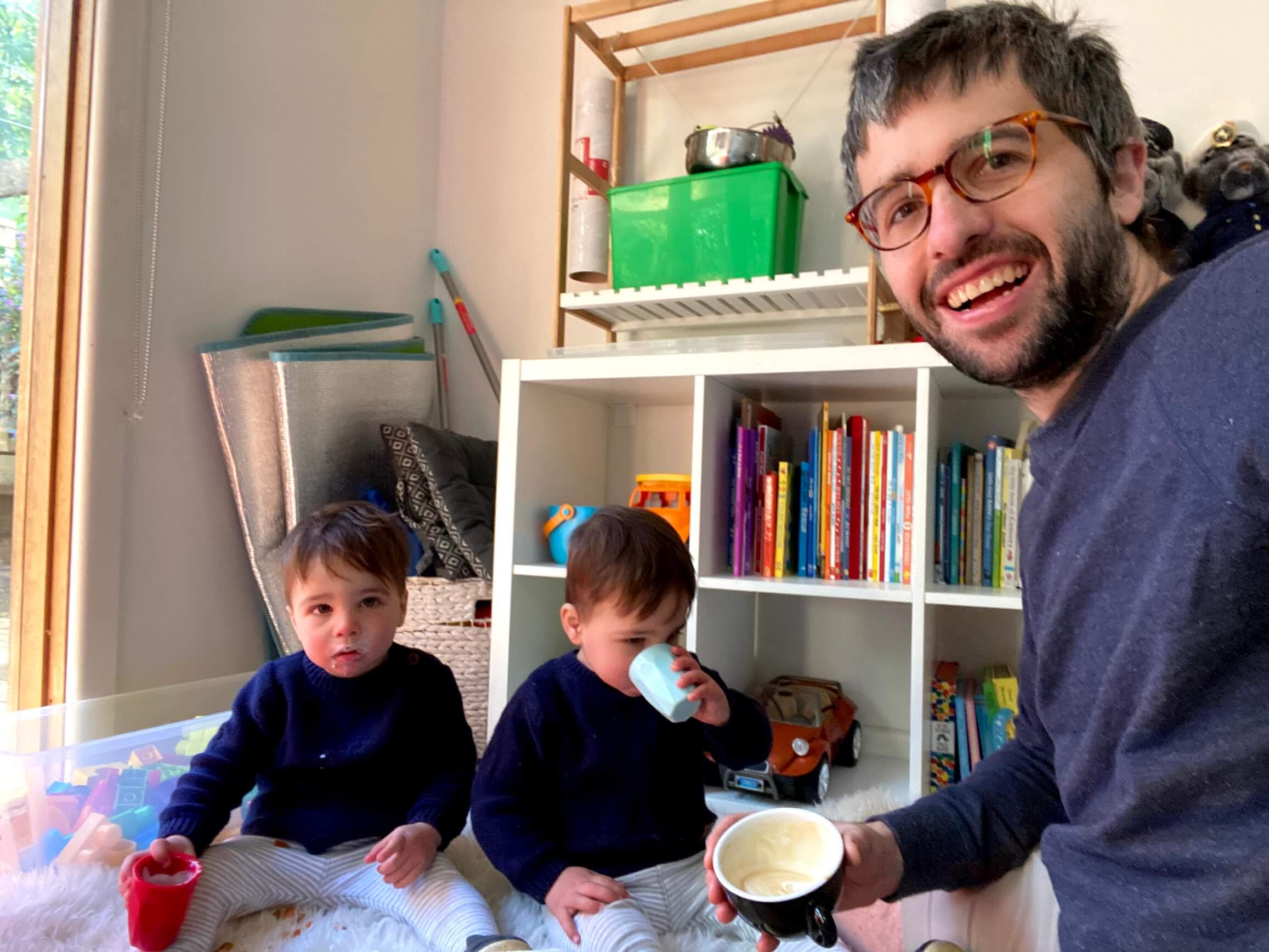 My name's Alex and I'm a husband, dad to beautiful identical twin boys, cyclist, photographer and connoisseur of great coffee!
Help I'm Having Twins has been created for me to share what I found useful as a new parent and dad to twins.