It goes without saying that pregnancy is a life changing experience. Coming with this experience can bring both excitement and anxiety for women as they navigate pregnancy for the first time.
One of the major challenges of pregnancy can be the physical discomfort that comes as your belly grows to accommodate the growing baby inside.  As the baby grows, the stomach and the intestines move to make way for the expanding belly, while the pelvic joints also begin to move in preparation for the child-birth. As these organs move and expand, this can lead to pain especially around the pelvic area and lower back.
Good news though! This is where maternity belts can help save the day and provide you greater comfort for your pregnancy.
Why Wear A Maternity Belt?
Owning a maternity belt isn't a necessity when you're pregnant but sure can help with any discomfort that comes with carrying a baby... or two! Generally maternity belts help with:
Relieving back pain
Improving posture
Protecting abdominal muscles from overstretching
Supporting the pelvic floor
With this in mind, there are also different situations where a maternity belt can be recommended. These include
Successive pregnancy: Successive pregnancies cause muscles to stretch rapidly and intensively, which could call for the support of a maternity belt.
Advanced pregnancy: As the pregnancy advances, the weight of the growing baby causes a shift in the centre of gravity affecting your posture. A belly belt is great at this point as it offers the much-needed support and helps to correct your posture.
During physical activity: A pregnancy belt is recommended when engaging in physical activity or household chores. It protects your baby bump from the strenuous exercises while providing support and comfort.
Difference Between a Belly Band and a Maternity Belt
Maternity belts and belly bands are often confused to mean one and the same thing.However, they are two different products with distinct functions.
Maternity Belt
Maternity belts also known as a pregnancy belt or a belly belt, is designed to wrap around and under the belly to offer support.
Maternity belts have traps and bands, which are instrumental in decreasing discomfort and muscle strain.
They also have a strong narrow, and stretchy fabric which wraps the front lower part of your belly, secured by back and side straps. 
Belly Band
Belly bands are also known as a belly ban, with its primary purpose to cover a woman's lower abdomen and to keep her pants from falling down during pregnancy.
Belly bands come with a stretchy fabric which is worn over the top of pants, or skirts when they can't go up anymore. They are used to cover the exposed part of the skin where the top ends and where the skirt or pants begin.
They are a great way to save on maternity clothes expenses.
Benefits of Wearing A Maternity Belt
One of the key reasons to wearing a maternity belt is to avoid developing life long problems in your back and other areas due to the extra weight you were carrying during pregnancy.  
Maternity belts provide a range of benefits including:
Good Posture
As the belly grows, the posture of a pregnant woman tends to shift due to the weight of the baby. This means that the lower back and the abdomen shifts the posture which in most cases leads to pain. A maternity belt helps to take the weight off the abdomen and lower back and correcting the centre of gravity throughout the pregnancy.
Reduces the Risk of Falls
A study conducted in 2014 found that women that wore maternity belts had improved balance and a significant reduction in the risk of falls than those who did not have. Maternity belts stabilise the pelvis which improves the balance in pregnant women.
Ease During Exercise
Exercising is very crucial throughout pregnancy, but it gets more difficult during the later stages of pregnancy. A maternity belt comes in handy at such times as it makes carrying out some activities like running, walking or exercising more comfortable. 
Reduced Pregnancy Aches
Some of the aches and pains experienced during pregnancy like lower back pain, and pelvic girdle pain can be reduced by using a maternity belt and make daily tasks more manageable. These pains can cause trouble while walking or standing for extended periods of time.
Post-Partum Belly Support
After childbirth, the stretched ligaments and muscles need time to heal. The mother's core strength is decreased and when this is combined with the demanding job of taking care of a newborn, it is quite challenging and can lead to injuries. A maternity belt provides support to the loose abdomen and lower back to increase comfort. If there is diastasis recti (a separation of the abdominal muscles), a maternity belt, combined with specific exercises, can assist in healing the muscles and bringing them together.
Don't forget, being pregnant is temporary but unfortunately back and other problems are not 🙁
What Should You Look for When Buying a Maternity Belt?
When choosing a maternity belt, it is important to choose one with the features that you are looking for while ensuring that it addresses your specific problem and offers the comfort you're after. There's no point buying a one that other people find comfortable that you do not.  
We generally recommend to look out for:
Offers comfort: A good maternity belt should offer the level of comfort that you are looking for. It should provide adequate support to counter the muscle strain and discomfort you may be experiencing.
Supports the Right Areas: Different belts provide more support in different areas so it is up to you to find a belt which provides support in the areas that you need most; the areas with most discomfort. The type of belt you choose is also dictated by the source and cause o the pain.
Fits you correctly: A maternity belt which is too lose will not provide the kind of support that you need nor will it relieve the discomfort you are looking to elevate. On the other hand, one which is too tight will bring more discomfort and may pose health risks to you and your baby. Therefore, choose a belt which fits you correctly.
Good quality: A good quality maternity belt is of paramount importance especially if you need to wear it every day. Choose one made of good materials and which can last for a long time without wearing and tearing.
Highly recommended: We recommend looking for maternity belts that come recommended by health professionals and not influencers on Instagram.
AZMED Maternity Belt
The AZMED Maternity Belt looks to provide support to your baby bump by using a gentle compression to the abdominal area without applying too much pressure. 
Designed for wearing underneath your clothes, the Azmed is designed using lightweight fabric which is breathable and comfortable.
One of the selling points of the Azmed maternity belt is the support it provides pregnant women to help ease hip and pelvic pains plus other common stretch related pains during pregnancy.
Works for waist sizes between 35-46 inches.
Cross Maternity Belt
The is a maternity belt designed to support you all the way through your pregnancy thanks to the adjustable straps.
The Cross Maternity Belt has been designed to provide greater support to your back when you're on the move. This in turn relieves pelvic area fatigue and muscle soreness in other areas.
By providing greater support to the back, this is particularly useful for people who have smaller frames and find the weight of carrying a baby unbearable. 
The Cross Maternity Belt comes in 4 different colours including:
Black
White
Skin colour (tan)
Pink
Be careful with sizing when ordering as this can fit on the larger size however if you find it to be a bit big, this can be fixed through pulling the straps closer to fit you better.
Looking to buy?
Currently available on for .
Comfy Mom Maternity Belt
The is an adjustable maternity belt designed for every trimester of your pregnancy.
The Comfy Mom Maternity Belt has been designed to relieve you from back pain and pelvic pressure during your pregnancy.  This is made possible by the belt being customisable allowing you to lift your baby bump up using the belly band which relieves pressure on your lower abdomen and pelvis.
Using comfortable materials (neoprene, nylon and polyester), the Comfy Mom Maternity Belt is comfortable enough to wear all day while you're at work in cold and warm conditions.
The Comfy Mom Maternity Belt comes in the following colours:
Due to the design of the Comfy Mom Maternity Belt being suitable for all trimesters, some reviews have highlighted that the belt can be a bit loose in the early stages of your pregnancy.
Looking to buy?
Currently available on for .
Sui Song Maternity Belt
The has been designed to be used during every trimester of the pregnancy. 
Constructed using lightweight cotton and fibre, the Sui Song Maternity Belt provides comfort while lasting wear and tear.  Thanks to the lightweight materials, this makes the Sui Song suitable for all conditions with its good ventilation.
The design of the Sui Song Maternity Belt is quite different to other maternity belts reviewed in this article. The shoulder straps are designed to provide greater support of your baby bump allowing it to sit higher with your shoulders help take some of the weight. This helps reduce pain specifically in the back but also the hips, pelvis and other common areas.
Unlike most other maternity belts reviewed in this article, the Sui Song Maternity Belt only comes in one colour (pictured).
Looking to buy?
Currently available on for .
LucyVee Maternity Belt
The is designed to fit for all trimesters of the pregnancy and easily customizable to fit your belly as it grows.
The belt has been designed to aid with pelvic and back pain by transferring some of the pressure from your spine to the maternity belt.
The LucyVee argues that it is able to stop your body from getting stretchmarks. We don't quite believe that it's possible to completely avoid stretchmarks by wearing a maternity belt but it will definitely help reduce them if worn often.
The LucyVee Maternity Belt lacks upper support like those seen in other maternity belts. This means for bigger pregnancies (twins), you may find that the belt does not provide enough support for your back.
Included with the LucyVee maternity belt includes a stylish keeping bag, e-book instruction guide and 3 bra extenders.
Unlike other maternity belts reviewed, the LucyVee only comes in the one colour (pink).
Looking to buy?
Currently available on for .
Affiliate Disclosure – This post may contain affiliate links where we may receive compensation if you purchase products linked below. As an Amazon Associate, I can earn from qualifying purchases. This doesn't cost you anything and helps keep our little blog running. Read our privacy policy for further information.
Affiliate Disclosure – This post may contain affiliate links where we may receive compensation if you purchase products linked below. As an Amazon Associate, I can earn from qualifying purchases. This doesn't cost you anything and helps keep our little blog running. Read our privacy policy for further information.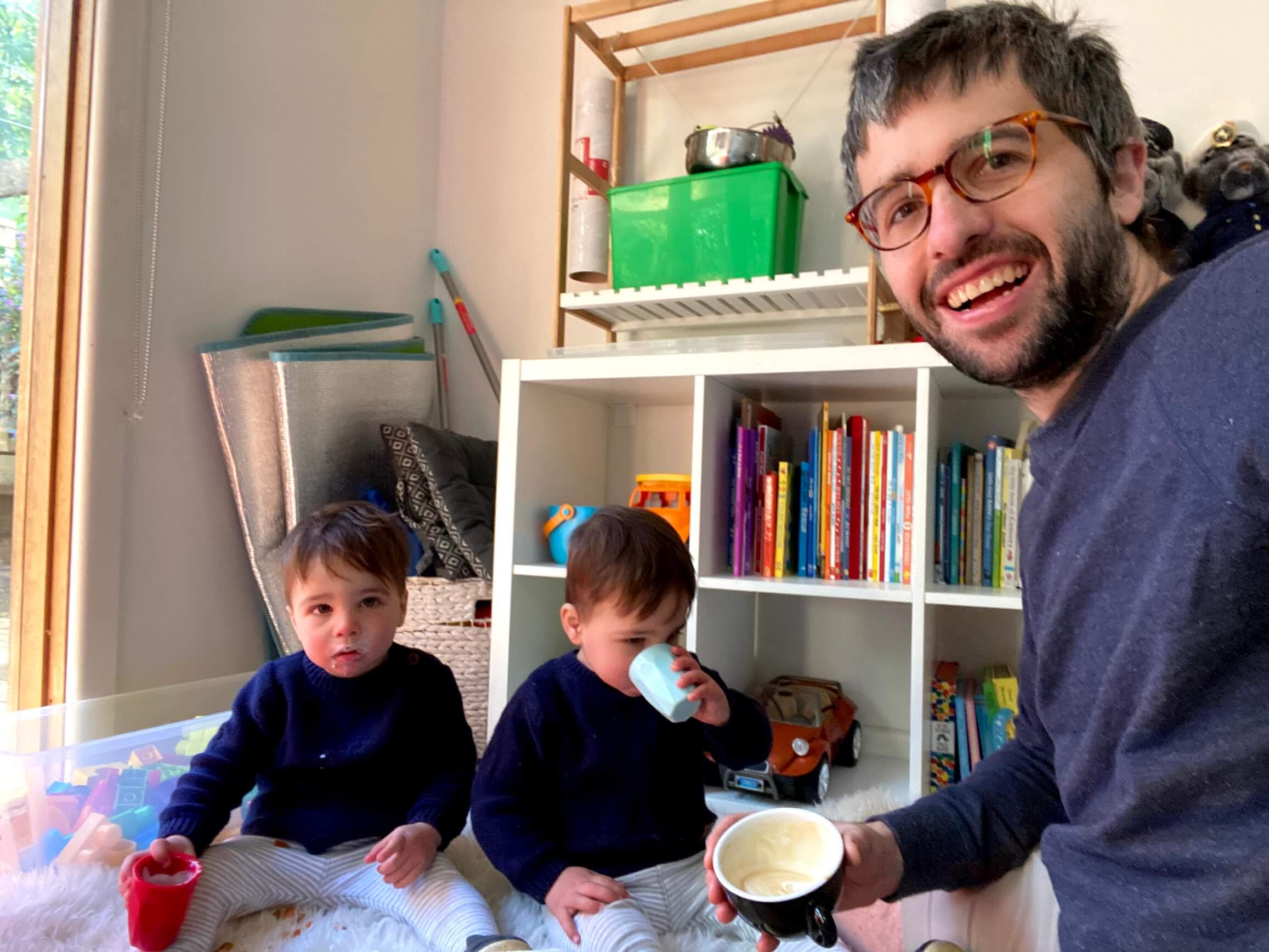 My name's Alex and I'm a husband, dad to beautiful identical twin boys, cyclist, photographer and connoisseur of great coffee!
Help I'm Having Twins has been created for me to share what I found useful as a new parent and dad to twins.