Child leashes have become the controversial topic over the years... Some people think they're amazing while other people argue they're inhumane. The purpose of this article is to look at:
Why people are using child leashes
What to look out for if buying a child leash
Reviews of the best child leashes
Child Leashes Compared
Table could not be displayed.
Why do People Use a Child Leash?
As a child learns to become more confident at walking, they become unpredictable and all over the place as they walk which can be particularly risky when you're outside the house and walking down the street. 
By having a child leash or child harness as they're sometimes known, the leash works as a safety device as it is worn by your child and linked to the parent or guardian at all times. The leash allows you to keep the child close to you at all times which can be particularly useful in busy built up areas by keeping your child safe at all times.
Reasons to Use a Child Leash
Child leashes aren't for everyone but there's a few reasons why they can be useful. These include:
Children with special needs - If your child suffers from special needs, in which case they need close monitoring and control whenever they are walking, then a child leash can be of benefit. in helping keep your little one close to you at all times.
Multiple children - If you are walking with multiple children, in which case it will be difficult to keep an eye on all of them,  using a child leash can be helpful.
Unpredictable - If your child is very impulsive, dashes out at any moment and always seem to make the wrong decisions, then you can consider using a child leash. 
Crowded areas – A crowded area can be overwhelming for both you and your child. This could be a large family gathering, a town street, a theme park or the beach. A child leash will come quite in handy in these places to make sure your child is safe at all times.
So, Should you Use a Child Leash?
The decision to buy a child leash or not really comes down to being a personal decision to where your child is currently at in their life.
Do you find your child has a habit of wandering off when you're out and about? Are they particularly defiant and squirmy?
If you answered yes to any of the above then perhaps a leash might be the way forward for you. 
Practice Makes Perfect
Now that you've bought a child leash, it's important to learn how to use it correctly before getting out and about with it.
We generally recommend practising the below in the comfort of your home to make sure both your child and yourself are comfortable when you eventually use it in the outside world.
Here's some of our tips on using a child leash for the first time:
Start slow
Introduce it to your child gently as a way of keeping safe and not as punishment for straying from the path.
Define at what times it is used so as not to send mixed signals to the child; will it be used when taking a walk near the home or when on busy roads and parks? 
Make your child understand why it is being used; whether it is due to the dangerous situations they may be in, or you are just being careful.
Safety First
When using the child leash for the first time, try not to fasten the leash too loose or too tight as this can rub on your child's skin or constrict blood flow.
Also try to help your child understand how they should walk when they are attached to the leash. If the children has not learned how to move in the leash, it can cause spills and falls.  
Different Types of Child Leashes on the Market
There are three different types of child leashes in the market, ​these include:
Safety harness child leash – This is a very simple child leash. It loops over the child's shoulders and clips around the chest. The clips are attached at the back of the harness and its straps ate adjustable so that they can fit your child properly, regardless of whether they are chubby or slim.  Generally the safety harness child leash is is fairly cheap and small due to the lack of safety features.
Backpack safety harness child leash – This child leash resembles a backpack and it works pretty much the same as a standard safety harness child leash. The clips are attached to the front of the backpack straps and they lock the child into the harness. It has two safety leashes one at the back of the backpack and the other one held in your hand. Due to its similarity with a backpack, it's an easier task to get your child to wear them. Additionally, they come in child-friendly designs like puppy, lion and more, which are appealing to young children and look less noticeable in public.
Child wrist leash – As the name suggests, it is clipped around the wrist. This is one of the most dangerous child leashes available. If in the event you face danger and you need to yank your child suddenly, you may dislocate their elbow or shoulder due to the leash being attached to their wrist. The force is not distributed across a larger area, like as it would be with a harness. 
Goldbug - Animal 2 in 1 Child Safety Harness
The Goldbug - Animal 2 in 1 Child Safety Harness is a stylish harness which is a combination of both a backpack and a harness which keeps your child distracted from realising they're on a harness.  The bag is suited for children from 18 months and above.
Safety
From a safety perspective, the GoldBug Animal 2 in 1 Harness allows you to tether quickly and it detaches easily from the bottom of the backpack for those times when you don't need your child on a close leash.
Comfortable and Storage
The Goldbug Animal 2 in 1 harness has been designed with adjustable straps making it easy to adjust the harness to suit a growing change.  Whilst the bag has been designed so you are able to use it as a bag with enough room to store your child's toys, snacks or even your keys while on the go. The storage is secured with Velcro closure to keep everything safe. 
Brica By-My-Side Safety Harness Backpack
The is a combination of both a backpack and a harness which effectively keeps your toddler close by when taking a walk.
Quality Materials and Colour Options
The Brica harness backpack is made using both polyester and nylon materials. The straps on the backpack are padded for your child's comfort and they are adjustable to fit your growing child. The back panel of the backpack is also padded for the added comfort of the child. Luckily the bag comes in two different colour options:
Green/Blue
 Pink/Gray
Storage for your Odds and Ends
While the Brica By-My-Side Safety Harness backpack has been designed smartly with its compartments and pockets being large enough to hold your child's snacks, toys, and other essentials when you're out and about.
Safety
From a safety perspective, the Brica safety harness has a tether which shock absorbing to help improve your child's comfort and reduce tension. This means that if in the event that you have to suddenly yank your child, the shock will be reduced.
Multi-Purpose
We really liked that the tether on the backpack is removable which means you can use the backpack years after you are done using it as a harness. 
Looking to buy?
Currently available on for .
Mommy's Helper Toddler Leash & Harness
The is the perfect leash for the safety-conscious parents who are budget conscious.
​Comfort First
The Mommy's Helper Toddler Leash and Harness has been designed with padded straps straps to prevent them from digging into your child. While the harness sits on the child's torso, and not the lower sensitive stomach area to provide greater comfort to your little one.
Easily Adjustable
Sometimes you want the tether to be short so your little one is close to you while other times you're happy to give your little one more distance between you and them. Luckily the tether length is adjustable to keep you as close to your child as you want. It can adjust from 30 inches to 42 inches and swivel to prevent it from tangling.
Money Back Guarantee
One thing we liked about the Mommy's Helper Toddler Leash was the fact you can buy with confidence because you are guaranteed 100% money back if you are not satisfied with the product. 
Flashbluer Anti-Lost Harness
The takes the harness idea and makes it cute with Micky Mouse style ears on the back of the harness. We loved this idea as it also helps with making your child want to wear it! 
Quality Materials
The Flashbluer Anti-Lost harness is made of high-quality polyester and cotton which is durable and yet not too rough on your child's skin.  While also including a strong metal clip which does not break easily so you can be confident that your child will remain securely attached at all times.
Multi-Purpose
You are also able to put away the tether and leave the harness on your child if they are happy just walking around in the leash.  This is super handy for situations where you are happy for your child to walk off the leash but may look to secure them later during the day and don't want the hassle of having to remove (and possibly upset) your child by taking the harness off.
The harness is suitable for infants up to 3 years of age. 
Looking to buy?
Currently available on for .
Animal Planet Baby Backpack with Safety Harness
The is a two in one allowing you to use it as a harness with leash or alternatively your child can use it as a backpack without the leash attached.
Different designs
The backpack comes in 6 fun different animal designs bound  to make your child love it and make it fun to wear. The designs include:
Elephant
Monkey
Giraffe​
Lion​
White tiger​
Bear
Room to Move
The Animal Planet Baby Backpack has a comfortable design with adjustable straps to cater for your growing child.
The backpack can be adjusted to suit your child as it grows up to the age of five years old.
Safety
This harness is designed with safety in mind so that parents can enjoy walking and shopping with their children even in crowded areas.
Storage
The Animal Planet Baby Backpack comes with a storage compartment which can hold your child's toys and snacks.
Looking to buy?
Currently available on for .
Affiliate Disclosure – This post may contain affiliate links where we may receive compensation if you purchase products linked below. As an Amazon Associate, I can earn from qualifying purchases. This doesn't cost you anything and helps keep our little blog running. Read our privacy policy for further information.
Affiliate Disclosure – This post may contain affiliate links where we may receive compensation if you purchase products linked below. As an Amazon Associate, I can earn from qualifying purchases. This doesn't cost you anything and helps keep our little blog running. Read our privacy policy for further information.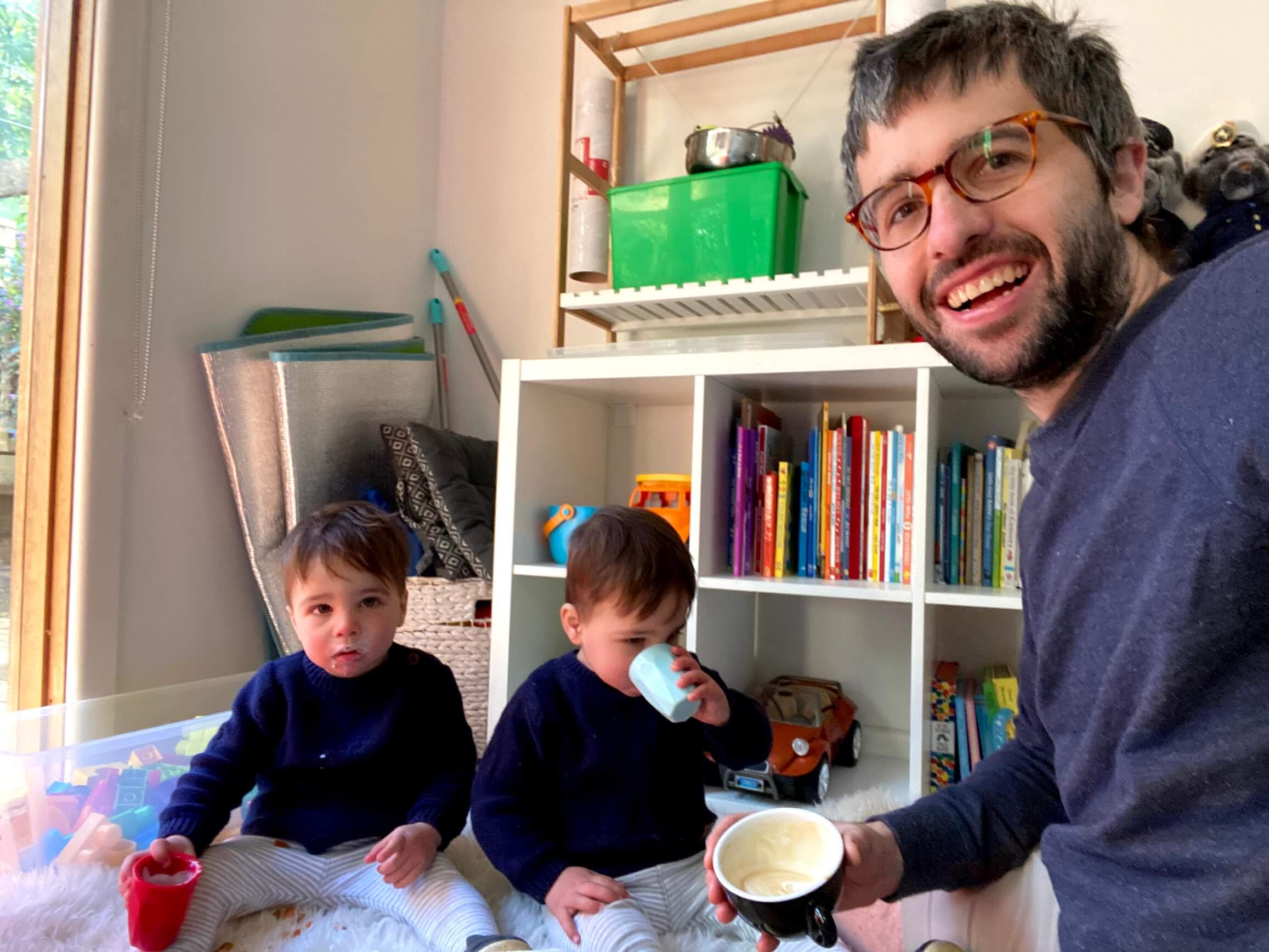 My name's Alex and I'm a husband, dad to beautiful identical twin boys, cyclist, photographer and connoisseur of great coffee!
Help I'm Having Twins has been created for me to share what I found useful as a new parent and dad to twins.