What is a Sleep Sack?
Getting your baby to sleep can be an uphill battle and the last thing you want is for them to wake up as soon as you put them down to sleep when using normal baby blankets.  Generally babies wake up early due to feelings of:
Discomfort – If you haven't quite wrapped your baby properly, they will quickly wriggle out of the wrap and be uncomfortable
Cold – Most babies kick their blankets as they sleep which can cause them to get cold and wake up wanting you to tuck them back in.
This is where sleep sacks come to your aid and becomes an essential part of the baby's bedding. A sleep sack is simply a wearable, bag-like baby blanket which offers a safer, better and more comfortable sleep to the baby.
Not only do sleep sacks help with providing comfort and keeping your baby warm at night but they also act to protect your baby from Sudden Infant Death Syndrome (SIDS).
By using loose blankets there is a risk your baby may cover the blanket over their head as they wriggle around and suffocate themselves.
Key Considerations when Purchasing a Sleep Sack


Not all sleep sacks are equal so it's important to carefully consider what different features are available on the market to ensure you're purchasing a sleep sack that works best for your baby.
Material
Baby sleep sacks will come into close contact with the baby's body so you need to ensure the material is suitable for the conditions (heat or cold weather) and doesn't irritate their skin.
We generally recommend:
Cotton based sleep sacks are more suitable in hotter months as they are breathable and hypoallergenic. In super hot weather, they can be worn directly on the skin to keep your baby from over heating
Flannel based sleep sacks are more suitable during the colder months since they warm enough and keep the baby warm without having to overdress them. However, avoid fleece material and all synthetic materials during the first six months as they can really get uncomfortable and are prone to overheating in a hot climate.
Merino wool based sleep sacks are suitable for all year round use as they use a lightweight fibre that traps heat as well as more heavier based materials during winter. While in summer merino wool looks to regulate your body really well. The material also acts to pull moisture away from your babies skin by absorbing it into the fibres and then evaporating this through to the exterior. This is also known as moisture wicking.
We recommend buying a range of sleep sacks for different weather conditions to ensure your baby is comfortable during the night. Otherwise you will find that using a heavy material sleep sack during summer can cause discomfort and also increase the risk of SIDS.
Design
Baby's sleep sacks are developed using a simple design which includes:
Vest design on the upper side
Sack design at the bottom side which encloses the baby's legs completely
Wings on the upper side, which encloses the baby's arms.
The wing design is more effective for babies in their first two months after birth when they do not have a lot of movement. If you need to leave the baby's hands-free, you only need to wrap the chest.
The vest design is more ideal for babies who are older than two months since they have started turning on their tummies while sleeping. This design leaves the hands free and they have plenty of leg-room in the sack. These ensure that they can use their limbs fully and they can turn back on their backs, to avoid SIDS.
Size
Baby sleep sacks come in different sizes and it is important to choose the right size for your baby. Baby sleep sacks are sized based on weight and age of your baby.
Choosing a very large sack will increase the SIDS risk since the baby can get out of the sack.
A very small sack, on the other hand, can be uncomfortable and may interfere with the baby's development.
Safety
The safety of your baby is a very vital factor to consider when purchasing a baby sleep sack. There's a few things which we recommend checking before you purchase:
How tight: Baby cannot free themselves during sleep, which could lead to choking hazards and increased SIDS risk.
Secure: Does the sleep sack come with a zipper closure? Choose a sleep sack with a top-to-bottom zipper to be certain that the baby cannot free themselves.
Avoid buttons: Try to sleep sacks with buttons as they can easily come loose and cause the baby to choke.
Transitioning from Swaddle to Sleep Sack
Generally babies begin to outgrow being stalled between ages four to six months. Obviously this varies from baby to baby but there are normally some early indications to when you should begin transitioning them to a sleep sack. These early indications include:
Increase in activity
Baby is beginning to become mobile
Always trying to have one or two arms out during swaddling
Rolling over
Decreased Moro reflex
More frequently waking up
Once you notice these signs, it is time to transition your baby from swaddle to sleep sack. Start slow by transitioning your baby gradually to a sleep sack to ensure that your baby is comfortable and able to get a good nights rest.
What Should a Baby Wear Under a Sleep Sack?
The sleep sack is worn with regular sleep clothing underneath. The clothing worn underneath the sleep sack can range from just a diaper to long sleeve bodysuit, onesie or cotton overall, depending on the weather.
We recommend that you avoid polyester clothing and synthetic materials as they may lead to overheating during summer conditions.
When to Stop Using a Sleep Sack
Once your baby can begin to pull themselves to their feet, it is the perfect time to stop using a baby sleep sack and transitioning to a toddler sleep sack. If your baby is attempting to stand up whilst ina  sleep sack, this can result in them tripping up and falling down which can be fatal.
What is a toddler sleep sack you're asking? A Toddler sleep sack is different from the baby sleep sack as it incorporates feet openings to allow your baby to stand in his baby cot without tripping over and also have enough room to freely move about.
HALO SleepSack Plush Dot Velboa Wearable Blanket
Halo are known for making some of the best sleep sacks on the market and this was one of our favourites. The   is made using 100 percent polyester material and it is used in the place of lose blankets during those summer months. The sleeveless design ensures that the baby does not overheat making them sleep comfortably during those summer months.
One thing we love about the Halo Sleepsack is how it conveniently unzips from the bottom to make diaper changing easier without waking your little one too much during the night. Another plus with the  zipper design that it also ensures that the wearable blanket cannot be kicked off, keeping the baby warm for the entire night.
No wonder it is a preferred choice for many nurseries in hospitals for teaching safe sleep practices to parents.
Sizing
It comes in different sizes to fit a range of different baby sizes including:
Small size fits 10-18 lbs (4.5-8.1 kg)
Medium size fits 16-24 lbs (7.2-10.8 kg)
Large size fits 22-28 lbs (9.9-12.7 kg)
Extra-large size fits 26-36 lbs (11.7-16.3 kg). 
Looking to buy?
Currently available on for .
Nested Bean Zen Sack Classic
The  is one of the more preferred sleep sacks reviewed in this article. The Nested Bean Zen Sack is constructed using 100% cotton making it machine washable. Whilst also including two way zippers so you can make diaper changes during the night without having to unzip the whole suit and wake u your baby.
The Nested Bean Zen is designed for all seasons with it having an ideal weight to make it breathable during summer and still offer enough warmth during those colder nights thanks to the TOG rating of 0.5.
One thing that we really liked about the Nested Bean Zen Classic and thought was a nice touch was the weighted pad on the chest area.
Why have a weighted area on the chest you ask? This is to provide your baby with a sense that your palm is resting on their chest to provide comfort and help them fall asleep. 
 Not a bad idea at all hey?
Sizing
The Nested Bean Zen Sack comes in a range of sizes including:
Small is suited for 3-6 month yearolds and fits 7-18 lbs or 3.1-8.1 kg
Medium is suited for 6-12 month yearolds and fits 16-24 lbs or 7.2-10.8 kg
Large is suited for 15-24 month yearolds and fits 26-36 lbs or 11.7-16.3 kg
Looking to buy?
Currently available on for .
Baby Deedee Sleep Nest Lite Baby Sleeping Bag
The is a lightweight baby sleep sack that comes in a range of options to suit all weather conditions.  Whether it be winter or summer, the quilted winter-weights, fleece mid-weight or cotton light-weight options will suit your baby depending on the season.
Note that the Baby DeeDee sizing runs small compared to other baby sleeping bags which we reviewed so be sure to factor this in when purchasing.
Some reviews have experienced their babies getting small abrasions/cuts on their chin from the zipper on the sleeping bag. This is due to the zipper not having a cloth flap at the end of the zipper to stop it from rubbing against the face.
Sizing
The Baby Deedee Sleep Nest Lite Baby Sleeping Bag comes in the following sizes:
Small designed to fit 10-18 lbs or 4.5-8 kg
Medium designed to fit 16-26 lbs or 7.2-11.7 kg
Large designed to fit 25-35 lbs or 10.8-15.8 kg
Looking to buy?
Currently available on for .
SwaddleDesigns Microfleece Sleeping Sack
The  is a sleep sack designed using 100% polyester material and is like a soft wearable blanket for your babies making it the perfect material for transitioning from swaddling. 
One downside of the polyester material however is that it can begin to shed a few a few washes losing that nice 'new' feeling that you get when you pull it out of the box. 
The SwaddleDesigns Microfleece Sleeping Sack is best suited for temperatures of 65-70 degrees Fahrenheit or 18-21 degrees Celsius.
Sizing
Luckily SwaddleDesigns make their sleeping sacks in a range of sizes including: 
Small (0-6 Months)
Medium (6-12 Months)
Large (12-18 Months)
Looking to buy?
Currently available on for .
Burt's Bees Baby Wearable Blanket
The   has been designed with safety in mind which is evident in the zipper guard, zipper garage and snap tab zipper cover. All of these protect your baby from rubbing against the zipper which can sometimes cause abrasions which we saw with a previously reviewed sleep sack.
We like that the Burt's blanket also makes a great transition blanket as you move your babies away from being swaddled.  The blanket has been designed to give your babies a 'loose blanket' feeling while being carefully zipped up limiting their ability to wriggle and cause suffocation like they could with normal loose blankets.
Another plus for the Burt's Bees Baby Wearable Blanket is the zipper being designed to open from the bottom which allows you to do sneaky nappy changes during the night without (hopefully!) waking your little one. 
Sizing
The Burt's Bees Baby Wearable Blanket comes in the following sizes:
Small to fit 10-18 lbs or 4.5-8 kg
Medium to fit 16-24 lbs or 7.2-10.8 kg
Large to fit 22-28 lbs or 10-12.7 kg
Looking to buy?
Currently available on for .
HALO SleepSack Winter Weight
Coming with a 2.5 TOG rating, the has been designed for those cold winter nights. The sleep sack uses a 100% cotton outer and 100% polyester fill to keep your little ones warm on those cold winter nights. The sleep sack comes in  sleeveless design to reduce the risk of overheating.
One thing we liked about the Halo Sleep Sack design was the roomy bottom which does not restrict your babies legs. This is important as it ensures your baby is getting proper hip development through being able to freely move their legs.
Like other sleep sacks reviewed in this article, the Halo SleepSack Winter Weight has been designed with a bottom zip which allows you to do sneaky nappy changes during the night without waking your little one.
Sizing
The Halo Sleep Sack Winter Weight comes in the following sizes:
Small to fit 10-18 lbs or 4.5-8 kg 
Medium to fit 16-24 lbs or 7.2-10.8 kg
Large to fit 22-28 lbs or 10-12.7 kg
Looking to buy?
Currently available on for .
Closing
A sleep sack is essential to a baby having a good night's sleep due to all the benefits that we have discussed here.
Getting the right type will make work easier for you and give your baby the much-needed good night's rest. When purchasing one, consider the quality of material, the design, the safety measures incorporated and the size to ensure that your baby is as comfortable as possible.
We hope this article has been useful for you.
Affiliate Disclosure – This post may contain affiliate links where we may receive compensation if you purchase products linked below. As an Amazon Associate, I can earn from qualifying purchases. This doesn't cost you anything and helps keep our little blog running. Read our privacy policy for further information.
Affiliate Disclosure – This post may contain affiliate links where we may receive compensation if you purchase products linked below. As an Amazon Associate, I can earn from qualifying purchases. This doesn't cost you anything and helps keep our little blog running. Read our privacy policy for further information.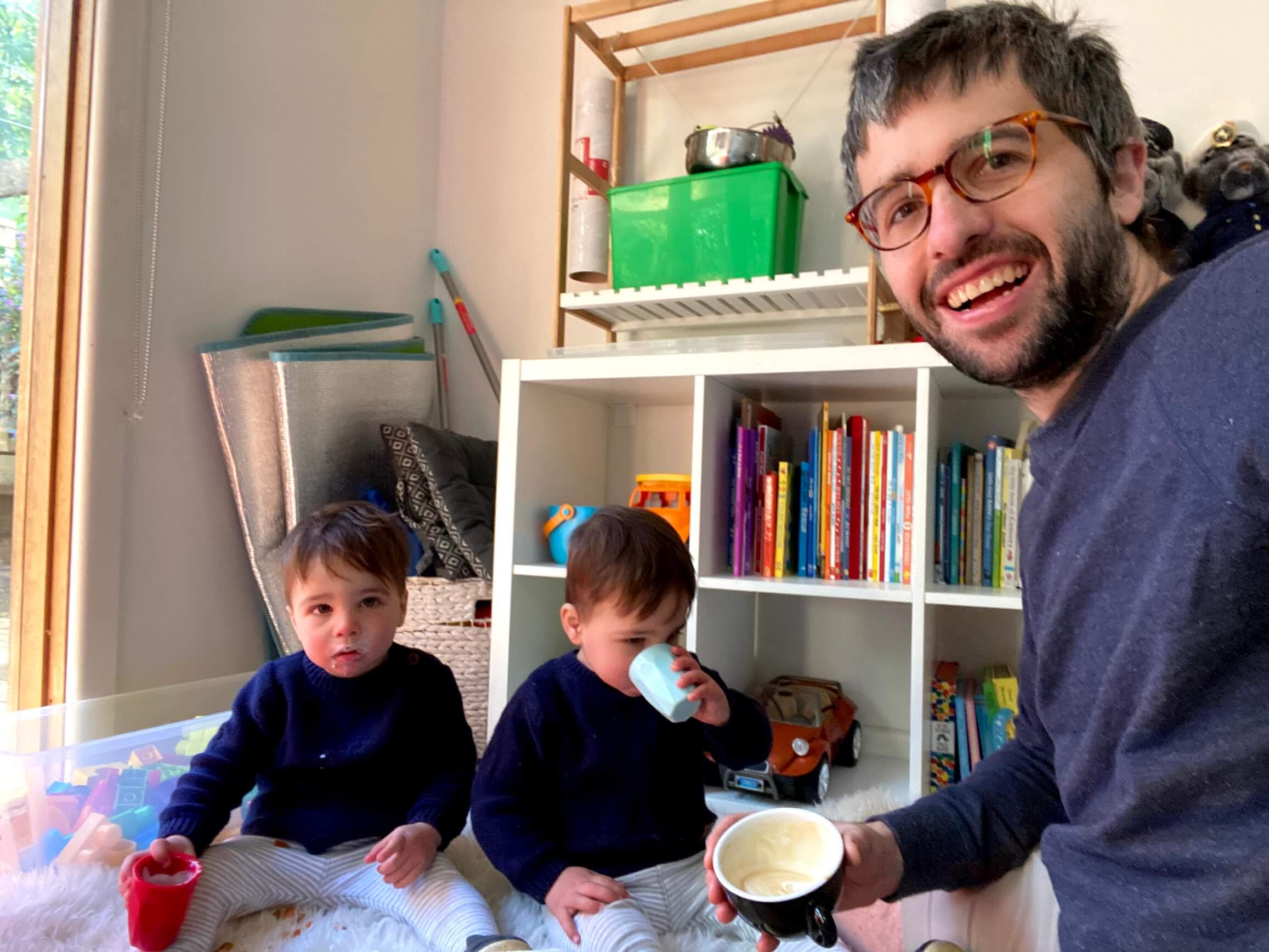 My name's Alex and I'm a husband, dad to beautiful identical twin boys, cyclist, photographer and connoisseur of great coffee!
Help I'm Having Twins has been created for me to share what I found useful as a new parent and dad to twins.