If you have had to travel with your toddler at some point, you will understand the need to have their separate place to sleep in a comfortable bed. Although kids are quite flexible, it's important to keep the routine happening while you are on holidays for them and also for your own sanity.
From our experience it can be quite costly to get an additional room for your baby or worse, some hotels or accommodation don't come with a bed to suit your bubba. For this reason we've found toddler travel beds a cheap and lightweight option to ensure your little one gets a great sleep. 
What is a Toddler Travel Bed?
A toddler bed is a compact, portable, lightweight and easy to carry bed used specifically for travel purpose which helps take the stress out of travelling with kids.
Toddler travel beds are designed to create a secure and comfortable sleeping place for kids whenever you are in new environments.
Toddler travel beds are of different types and you have the option to choose between:
Fold up toddler bed
Pop-up toddler bed ​
Toddler air mattress
Each one of them is different, and we will discuss them in the "5 Things to Consider When Buying a Toddler Travel Bed" section.
Why Should you Travel with a Toddler Travel Bed?
Space
Obviously you cannot travel with your toddler's cot because it will not fit into your car or the aeroplane if you are taking a flight. Plus who wants to go through the pain staking process of dissembling and assembling a cot or bed that's not made for travel? Not me!
Familiar Place
A toddler bed is much lighter and it takes up much less space. If you introduce it to your child early enough at home, they will be already accustomed to it. Your toddler will have a more familiar place to sleep in, which will reduce anxiety and help them to sleep well.
Convenience
A travel bed frees you from having to choose a hotel which offers specific sleeping arrangements for your child. You can choose a hotel from the many options available since your child is already taken care of.
Toddler travel beds are a great way to save money when you are travelling because you do not have to book larger hotel rooms which provide more beds. 
5 Things to Consider When Buying a Toddler Travel Bed
There are many available options for toddler travel beds and when you are buying one, you need to consider several factors. These include:
1. Type of Bed
There are two broad types of toddler travel beds, the inflatable toddler bed, and the folding toddler bed.
The inflatable bed is inflated and deflated every time you put it up and back down again. Although this can make it a little bit slower to prepare, they are compact and easy to carry around and can easily fit into your luggage. However, they are not very comfortable and the kids often roll-off.
The folding toddler travel bed is more comfortable and it supports your child's back better when sleeping. They come in two types, one which is very easy to use, whereby you simply fold it up. The other one needs some time to assemble. However, they are bigger and it is not easy to fit them in your luggage.
2. Size
Depending on your type of travel, certain types of beds will work well whilst others will not. Folding beds for example generally are quite big to travel with and are best suited for road trips where you have more room in your car. Whilst air mattresses compress down into a small bag and work well for aeroplane travel where you have limited baggage allowance.
3. Comfort
Trying to find a mattress that is comfortable for your little one to sleep on while being convenient to travel with can be hard to find. Generally fold up beds are more comfortable than air mattress beds however are much more bigger and heavier to travel with especially if travelling by air.
If you're limited for space when travelling and need to use an air mattress for air travel, we recommend keeping the mattress firmly pumped while putting something over the mattress to add softness like a muslin wrap for warm nights or a blanket for cold nights.
4. Age
How old are your infants you're travelling with? If you're travelling with babies aged 2 and under, look for a travel bassinet whilst for infants aged 2 and over, a travel bed is more suitable to your needs.
5. Convenience
There's no point buying a travel bed if you find it a chore to set up. For this reason, look into what's required to set up the travel bed every time you travel. Air mattress options will require you to pump and deflate the mattress for each use. Fortunately there are electric pumps on the market which act to pump and deflate a mattress saving plenty of time.
Milliard Portable Toddler Bumper Bed
The  is easy to transport and made it one of our favourites.
The MIlliard has been designed to include some great features including pockets where you can easily store some of your babies items when they are asleep to keep the hotel room looking tidy. While also including soft bumpers which help to keep your child in bed and avoid rolling off to the floor.
The Milliard Portable Toddler Bumper Bed is made of a durable outer material and a soft cosy inside which creates a comfortable sleep environment for your toddler.
When it comes to cleaning, the Milliard bed comes with a machine-washable mattress cover and a fitted sheet which is also washable for your convenience.
Looking to buy?
Currently available on for .
Reste Baby Travel Bed
The   has been designed for travel with its foldable design which makes it both portable and compact. While also including a draw string carry bag so you can easily lug it over your shoulder and carry it through the airport or pack it away nicely in your car boot.
The Reste Baby Travel Bed has been designed from infants to toddlers but we'd recommend this being more suitable for little ones from ages 6 months to 24 months. 
Sometimes when travelling it's easy to pick up a lot of dust and other bacteria from putting the bed down on new locations. Luckily the Reste Baby Travel Bed comes with a detachable mattress pad that is machine washable. 
Lastly the other thing we loved about the Reste was the safety of the bed. As you can see in the image above, the Reste includes safety bumpers on each side of the bed to protect your little one from rolling out during the night.
Looking to buy?
Currently available on for .
Regalo My Cot Portable Toddler Bed
The  is one of the best travel beds for your child when it comes to travelling on aeroplanes or when you're low on storage space and looking for something portable. This is thanks to the Regalo folding down to the size of a child's camping chair and includes a carry case making it convenient to lug through the airport.

The Regalo has been designed for children from ages 2-5 and up to 70 pounds thanks to the all metal frame which makes it durable and capable of taking a few blows by the baggage handlers without breaking. One thing we love about the bed is that the 'mattress' is made from washable nylon which makes keeping it clean a breeze.

Once you're at your destination, the Regalo is easy to assemble and only takes 15 seconds to have the bed fully assembled and ready to go.

We'd recommend looking for a foam mattress to provide greater comfort for your little ones.
Looking to buy?
Currently available on for .
My First ReadyBed
The is quite different to other beds reviewed in this article in the sense that it comes as a two in one! Not only are you buying a bed but also an in-built sleeping bag. A great idea for when you're travelling as it saves you the need to pack seperate linen.

Designed for infants from 18 months to 3 years of age, the ReadyBed has been carefully designed with safety in mind. The bed features tumble free sides to stop your child from falling overboard during the night.

The Readybed includes a manual pump but if you're lazy like us, I'd recommend buying a cheap electric pump to quickly pump up and deflate your mattress upon arriving at your destination.

If you're worried about picking up dirt and other bacteria while travelling, the ReadyBed is easy to clean and comes with a machine washable cover making it easy to wash and keep clean after every trip.
Looking to buy?
Currently available on for .
Hiccapop Inflatable Toddler Travel Bed
Let's be honest - we've all owned a camping inflatable mattress and at one point its picked up a puncture and become useless unless you buy a puncture repair kit. In response to this, the  uses puncture proof vinyl to stop punctures and if in the unlikely event you were to get a puncture, there's a lifetime guarantee replacement program. How good is that?
One thing we love about the Hiccapop bed is the built in electric pump. This is a big win over other beds we've reviewed which often only have manual pumps included. The electric pump in the Hiccapop can be used to inflate and deflate the bed in 30 seconds. Perfect for when you arrive somewhere late and just want to quickly get your child down to sleep.
Like other beds we've reviewed, the Hiccapop has been designed with safety in mind and includes railing to protect your little one from falling out during the night.
Looking to buy?
Currently available on for .
Closing
A toddler travel bed is a real lifesaver when travelling with your toddler. It will not only save you money and time when looking for a hotel room but will also help in reducing the stress levels associated with travelling with kids.
We hope this guide has been useful for you! 🙂 
Affiliate Disclosure – This post may contain affiliate links where we may receive compensation if you purchase products linked below. As an Amazon Associate, I can earn from qualifying purchases. This doesn't cost you anything and helps keep our little blog running. Read our privacy policy for further information.
Affiliate Disclosure – This post may contain affiliate links where we may receive compensation if you purchase products linked below. As an Amazon Associate, I can earn from qualifying purchases. This doesn't cost you anything and helps keep our little blog running. Read our privacy policy for further information.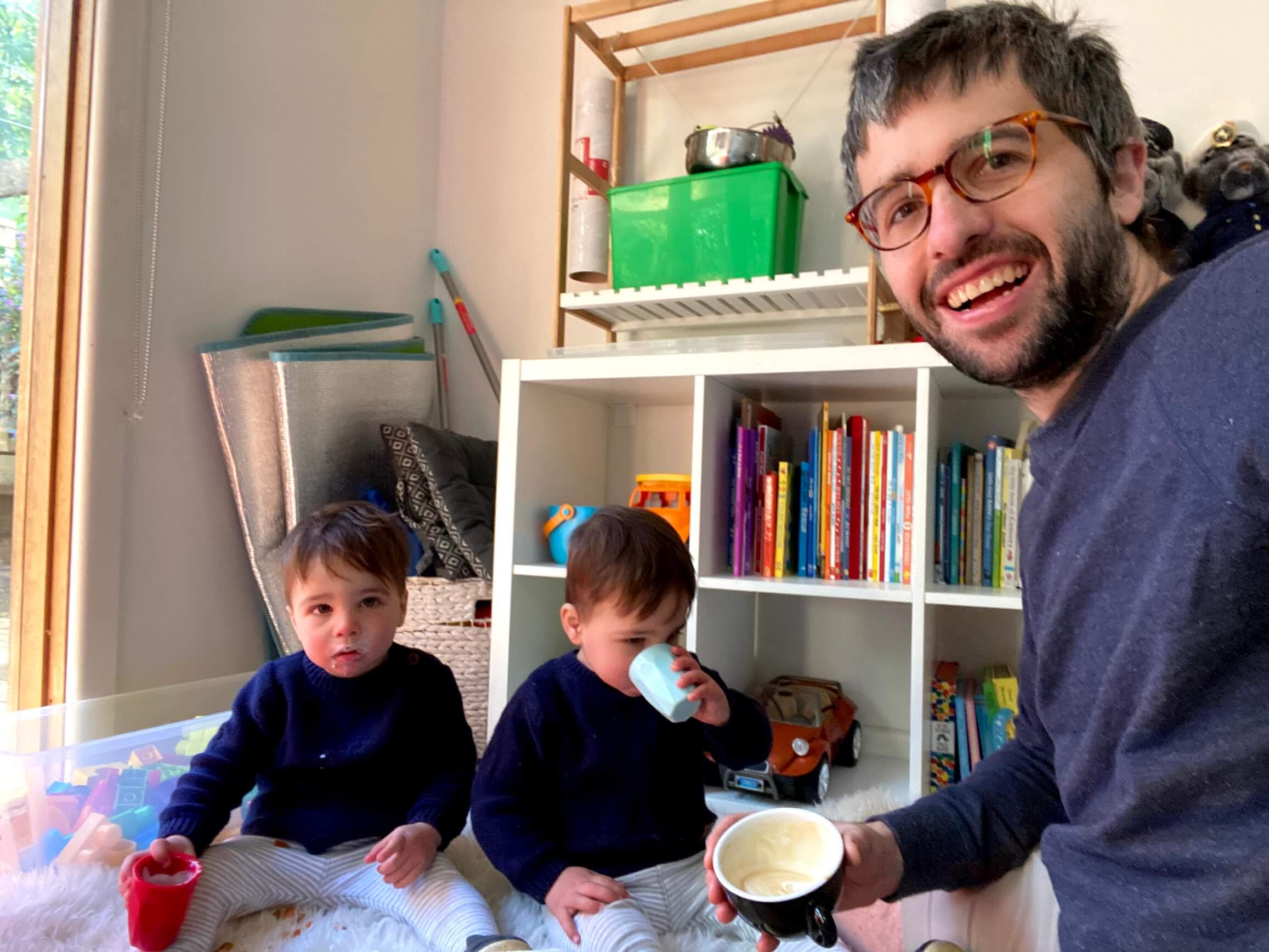 My name's Alex and I'm a husband, dad to beautiful identical twin boys, cyclist, photographer and connoisseur of great coffee!
Help I'm Having Twins has been created for me to share what I found useful as a new parent and dad to twins.