Why Buy a Swing for your Baby?
We bought two Fisher Price swings for our twin babies for a few reasons:
Great for when you're on your own – Trying to manage two babies when your own can be a nightmare but that's where having a baby swing can be super useful. We'll often place a baby in the baby swing whilst we are feeding the other baby or even when we are going about daily activities like having a shower or making breakfast.  You can feel comfortable knowing that your baby is securely strapped into the swing.
Soothing – Using the Fisher Price swing has been a great way to help settle our babies when other methods fail.  Just remember that it's OK to use the baby swing for soothing but you should avoid using a baby swing as a sleep device. This is due to motion during sleep impacting your babies ability to enter a restorative sleep.
Entertaining –  The Fisher Price Colourful Carnival Bouncer comes with toys attached to the unit which when combined with the swing and bouncing motion of the unit help keep your baby entertained.
What is the Weight Limit of the Fisher Price Swing
Not all baby swings are equal when it comes to how long a baby can stay in them. Some baby swings are designed for 0-6 months while others are designed for longer.
The Fisher Price Colourful Carnival recommends babies from newborn to 25 lbs or 11.3 kg.
How Long Can a Baby be in a Swing?
The Fisher Price Colourful Carnival recommends that your baby should be in the baby swing for a maximum of 30 minutes at any one time.  We would recommend that a baby swing should form part of a balanced routine for your baby. Instead of leaving the baby in the swing for 30 minutes, why not include 10 minutes of tummy time so they can help develop their neck muscles while interacting with you.
It's important to note that baby swings aren't an excuse to leave your baby in while you go about your daily activities. Whilst your baby is in the swing it's important that you maintain line of sight with the baby at all times to avoid injury or possible death. We will often have our swings set up in the kitchen while we are making a quick breakfast.
Fisher Price Colourful Carnival Swing Review
We own two of the Fisher Price swings and couldn't be happier with our purchases. Before purchasing the swings, we looked at the market to see what was available and for us, the Fisher Price Colourful Carnival was an affordable swing (especially important when you're buying two!) that ticked our boxes.
The Fisher Price colourful carnival swing is like a Kia car. It's not the most expensive car but comes with a lot of features and value for money.  With that analogy in mind, the swing has been designed as a 2-in-1 unit where you can either have your babies swinging (that sounds a bit wrong…!) or stationary and seated.
One of the things that appealed to us about the Fisher Price Swing was the battery powered swing motion meaning you don't need to sit there and constantly push the swing. The downside of this is that you will be constantly replacing batteries (especially if you purchase two like us!) but is a great way to keep your babies entertained.
While your baby are swinging they will also be entertained by the in-built toys, music and vibration that the swing puts out.  The unit has a repertoire of 12 different songs which cycle through as your baby swings whilst they are glazing up at the lion and elephant toys to the left and right of the unit.
One thing we loved about the Fisher Price Colourful Carnival Swing was the ability to easily fold it up and put it away in storage without feeling like you need a degree to dissemble the unit.
The one thing which we felt could be improved with the unit was the ability to plug it into the wall to run off mains power rather than running off battery power. You will chew through the battery with the unit when running off batteries so be sure to have some on hand so you aren't left with a screaming baby!
All in all, the Fisher Price Colourful Carnival Swing is a great affordable option for anyone looking for a swing that is capable of being used as a seat or swing whilst also keeping your baby entertained through its inbuilt toys, music or vibrations.
Affiliate Disclosure – This post may contain affiliate links where we may receive compensation if you purchase products linked below. As an Amazon Associate, I can earn from qualifying purchases. This doesn't cost you anything and helps keep our little blog running. Read our privacy policy for further information.
Affiliate Disclosure – This post may contain affiliate links where we may receive compensation if you purchase products linked below. As an Amazon Associate, I can earn from qualifying purchases. This doesn't cost you anything and helps keep our little blog running. Read our privacy policy for further information.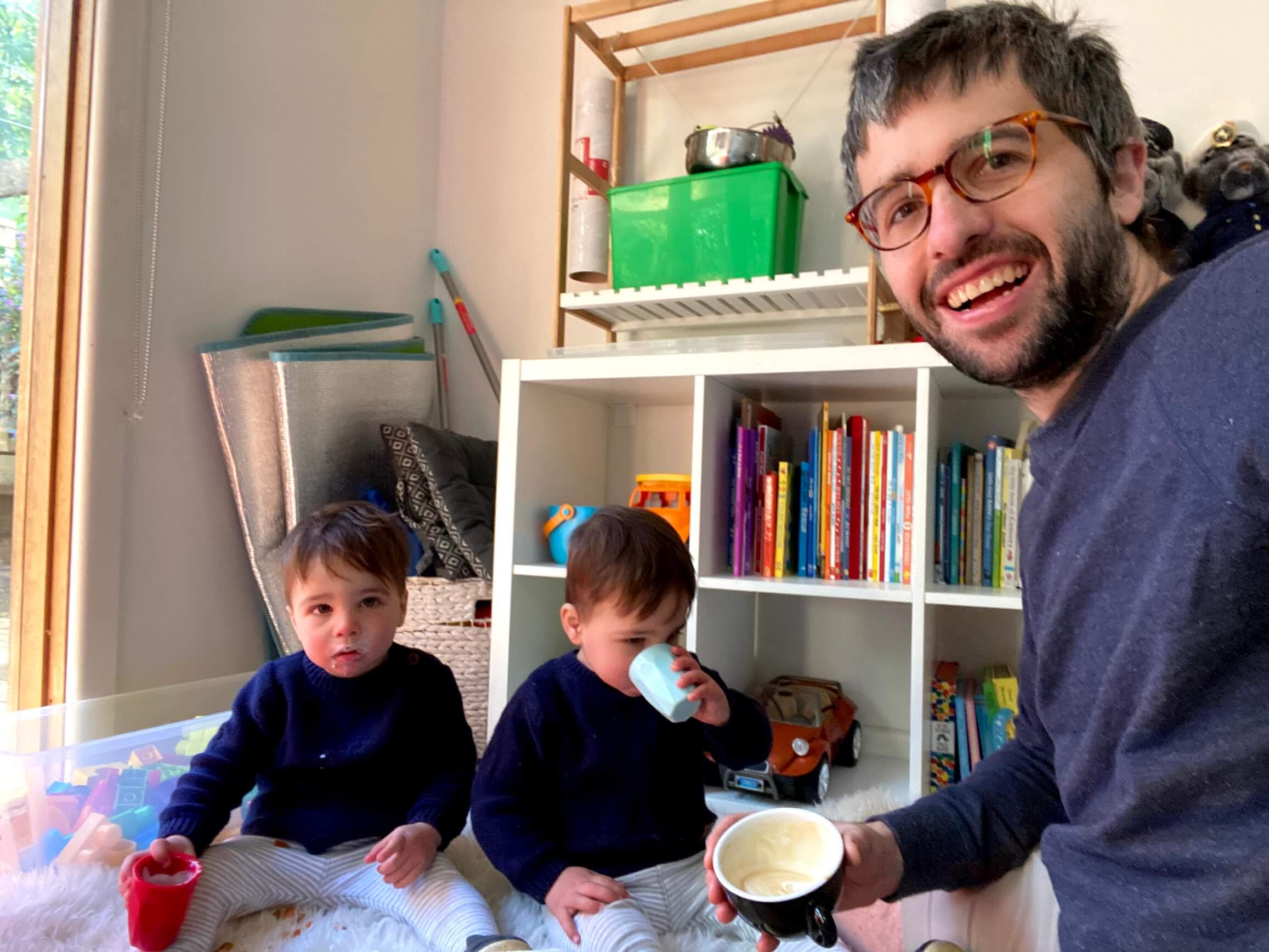 My name's Alex and I'm a husband, dad to beautiful identical twin boys, cyclist, photographer and connoisseur of great coffee!
Help I'm Having Twins has been created for me to share what I found useful as a new parent and dad to twins.