The Medela Sonata Breast pump was on our list of breast pumps when we were looking at pumps. The pump is best suited for mothers on the move who are looking to squeeze in pumps when out and about such as at work or catching up with friends.
Key features:
Double breast pump perfect for twins
Hospital grade pumping and hygiene
Responsive pump technology to maximise efficiency
Weighs only 1 kg or 2.2 lbs
Quiet operation
Bluetooth and app functionality that provides a consultant at your finger tips
Portable to use at home or take into the office
Includes rechargeable battery
Backlit lights on the device
Big and soft buttons if you need to press them with something other than your hand
Medela Sonata: Detailed Review
Priced at , the Medela Sonata isn't the cheapest breast pump on the market but comes with advanced comfort and features that put it above other breast pumps in the same cost bracket. 
We split the review up into a few sections below to best help you with how we rated the Medela Sonata breast pump.
Design of the Unit
We rated the portability of the Sonata 10/10.
Medela clearly know their audience and recognise that most people will be using the device in low light/dark conditions.  With this in mind, the team included light up buttons on the device which are perfect when you're doing a quick breast feed late into the night.
The pump has also been designed with big soft buttons which are especially useful if your hands are full with the breast pumps and need to use your knee or feet to give the buttons a nudge. Sounds silly but we've done it!
Another nice touch with the pump is the inclusion of a timer which basically allows you to gentle ramp up the suction power over a set period. The Medela allows you to set the suction to start out at 20% and gently ramp up to 60% over a set time without needing to touch the unit. Helpful again if you're breast feeding in dim light.
One thing that we felt that was lacking from the Medela was the ability to set presets for your favourite pump levels. For example, say you want a stronger suction level for one breast over the other and just wish to turn on the device and just start pumping, the Medela will require you to manually set the suction levels each time.
Efficiency 
We rated the efficiency of the Sonata 10/10.
The pump looks to maximise efficiency with its 'Responsive Pump Technology' that acts to maintain a consistent pressure to your breast during pumping. What this basically means is that the pump includes sensors which are measuring what is being pumped. Say your breast fullness is different today or you are travelling and the atmospheric conditions are different, the pump will make changes in its suction to maximise flow from the breast. We thought this was pretty neat and wasn't just a marketing gimmick!
Another nice touch with the Sonata was the use of Medelas '2-phase expression technology' which basically looks to mimick the natural sucking of a baby to maximise flow from your breasts.
Portability
We rated the portability of the Sonata 9/10.
Weighing only 1 kg/2.2 lbs, the Sonata is a lightweight  pump that is capable of being used both at home and when you're out and about.
The battery life of the Sonata lasts for 3-4 pumps which was more than enough for us. Other pumps on the market like the Spectra S1 are capable of 4 hours of use (so roughly 12 pumps if you assume each pump takes 20 minutes). The battery included in the Sonata is a rechargeable battery so you won't have to worry about having to arm it with AA batteries.
Comfort
We rated the comfort of the Sonata 9/10.
The Medela includes '2-phase expression technology' which basically looks to mimick the natural sucking of a baby to maximise flow from your breasts. This provides a more natural pump from the breast rather than some pumps on the market that more feel like a vacuum turned up to high!
Hygiene
We rated the hygiene of the Sonata 10/10.
The machine is designed using a closed loop system or as Medela call it their 'overflow protection system'.  This effectively means the machine is 'closed off' from the breast milk and it cannot overflow leaking into the pump and damaging the motor.
The overflow protection system isn't just there to keep your motor safe but also to keep moisture out of your tubing. This significantly reduces the need to clean and sanitise as you would with a machine that doesn't come with a closed loop system.
Medela pride themselves on their products being a medical device that has been tested over decades to meet strict quality and safety standards so you can have faith your breast milk will be healthy and safe for your babies.
Extra Features
We rated the extra features of the Sonata 10/10.
A new trend we've noticed on the market is the inclusion of bluetooth and apps for your smart phone.  To be honest, we find this a bit gimmicky but like what Medela have done with the Sonata. The app comes with some interesting features including:
"24/7 LC" which is round the clock access to a lactation consultant to get quick and easy access to an expert
Tracking of your baby (Breastfeeding/pumping sessions, bottle feedings, nappy changes, sleep, weight and height changes)
Data export in case you want to show your doctor
Another plus was how quiet the unit was with the Sonata basically silent when in operation!  You can breath a sigh of relief that when using this device in public (e.g. at work or in public) that people won't turn around and wonder what the noise is from. This is also great for when using the pump at home and trying to not make too much noise at night time.
Looking to buy?
Currently available on for .
Affiliate Disclosure – This post may contain affiliate links where we may receive compensation if you purchase products linked below. As an Amazon Associate, I can earn from qualifying purchases. This doesn't cost you anything and helps keep our little blog running. Read our privacy policy for further information.
Affiliate Disclosure – This post may contain affiliate links where we may receive compensation if you purchase products linked below. As an Amazon Associate, I can earn from qualifying purchases. This doesn't cost you anything and helps keep our little blog running. Read our privacy policy for further information.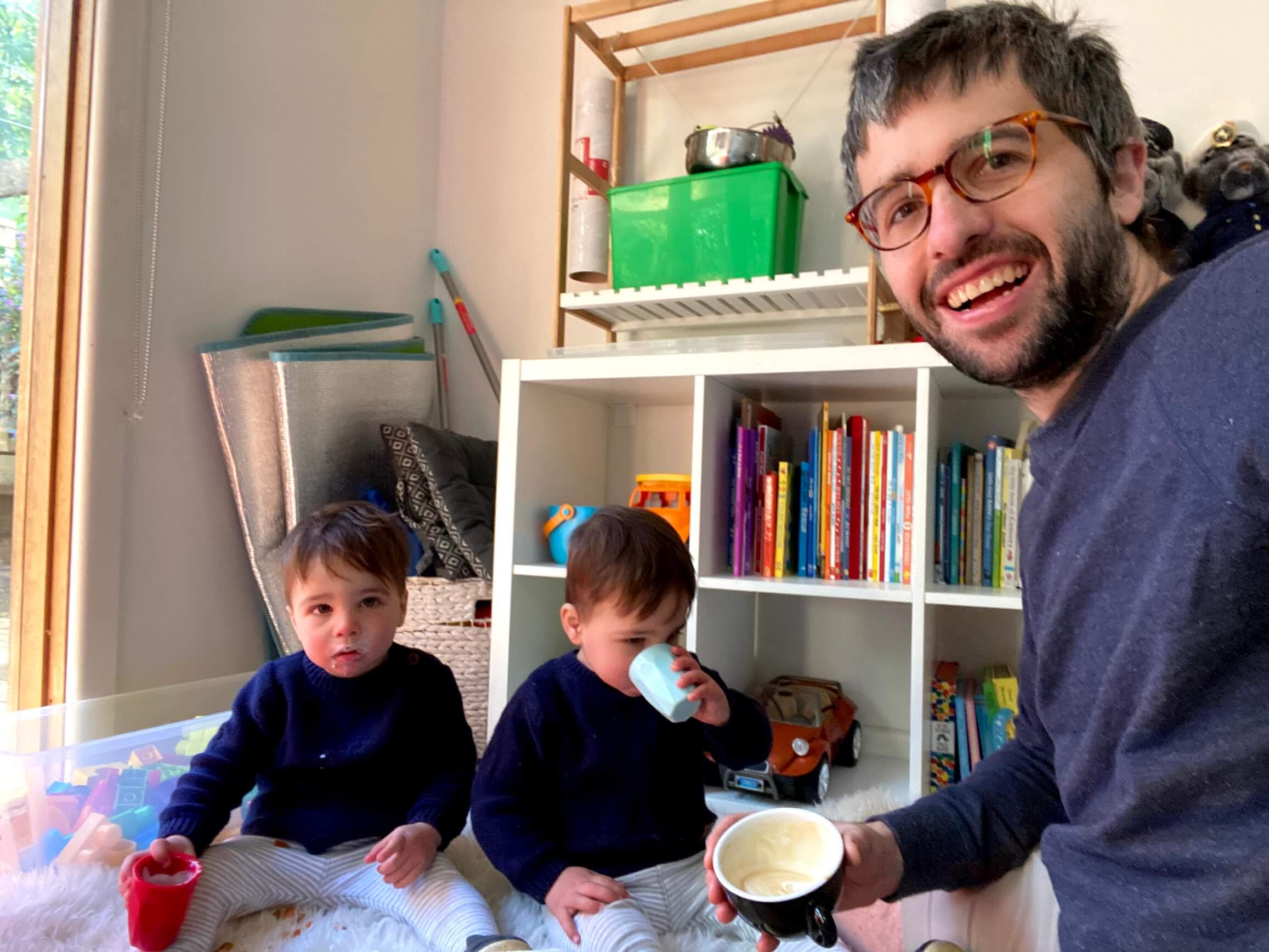 My name's Alex and I'm a husband, dad to beautiful identical twin boys, cyclist, photographer and connoisseur of great coffee!
Help I'm Having Twins has been created for me to share what I found useful as a new parent and dad to twins.