---
Dreambaby Retractable Baby Gate
Buying a Retractable Baby Gate
Living in a house with stairs and a dog, we were keen to get a baby gate but didn't want it to come at the cost of locking down our house so much that our dog wouldn't be able to use his dog door when we're not at home. For this reason, we wanted something retractable that also looked good. 
Luckily we came across the Dreambaby Retractable Gate and have been happy with them since.
Installation of the Dreambaby Gate
I'm the first to admit that I'm not a handyman type of husband so was a little bit nervous about installation of the Dreambaby Retractable Gates. Fortunately though, installation is a breeze thanks to the templates which come with the gate. Basically these are paper based templates which you overlay on your wall and pencil mark where you need to drill on the wall to ensure 100% accuracy. 
I'd estimate installation took around 30 minutes per gate but I'm sure if you're handy at home then you'll be able to do it far quicker.
Dreambaby Retractable Gate Instructions
Lost your instruction manual for your Dreambaby Retractable Baby Gate? Don't worry! We've got you covered. See the Dreambaby Retractable Baby Gate below: 
Design and Ease of Use
One important thing for us when it came to buying a baby gate was looking for something that wasn't ugly like your regular baby gate. We wanted something that could almost be hidden when not in use. Fortunately we stumbled across the Dreambaby Retractable Baby Gate which other than the mounting system, is basically hidden when not in use and comes in a range of colours (White and Black) to suit most homes.
In terms of using the gate, we found it took a few attempts to learn how to use the Dreambaby gate but after a while it becomes a second nature and you'll be able to open/close the gate with one hand.
If you read other reviews online, you'll notice some people complain about how noisey the gate is. We actually think this is a positive rather than a negative because if your child manages to open the gate, you will quickly hear and be able to quickly run and catch them. 
Safety
We have been pleasantly surprised by the safety of the Dreambaby gate as it has been able to withstand our two twin boys standing up and trying to pull on the gate. While we are always quick to remove them away from the gate, we've found the gate good at holding their weight momentarily before we quickly scoop them up and pull them away from harms way. 
Criticism
Our only major complaint about the Dreambaby Retractable Gate is the opening/closing mechanism isn't super intuitive. This results in people coming to your house and have a hard time trying to work out how to use the gate. Not the best if you're in one part of the house with a baby in your arms and then need to awkwardly open the gate for them because they're unable to figure it out. 
Conclusion
All in all, this is a great baby gate for anyone looking for something that looks great, can be retracted when not in use and most importantly, is safe for your little one!
Affiliate Disclosure – This post may contain affiliate links where we may receive compensation if you purchase products linked below. As an Amazon Associate, I can earn from qualifying purchases. This doesn't cost you anything and helps keep our little blog running. Read our privacy policy for further information.
Affiliate Disclosure – This post may contain affiliate links where we may receive compensation if you purchase products linked below. As an Amazon Associate, I can earn from qualifying purchases. This doesn't cost you anything and helps keep our little blog running. Read our privacy policy for further information.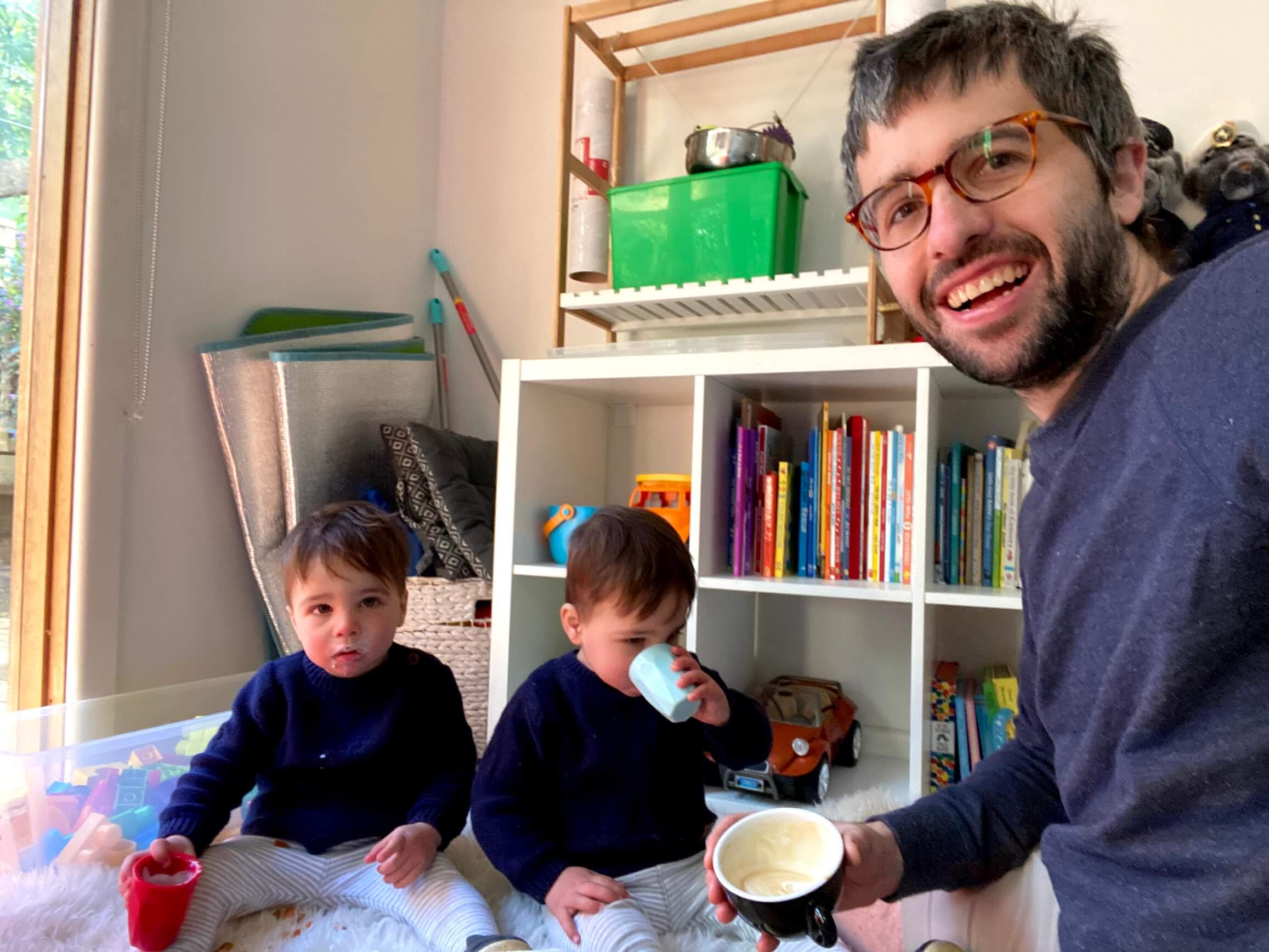 My name's Alex and I'm a husband, dad to beautiful identical twin boys, cyclist, photographer and connoisseur of great coffee!
Help I'm Having Twins has been created for me to share what I found useful as a new parent and dad to twins.