Not to be confused with a ship that takes you to space, the exersaucer is a stationary exercise unit where your little one is able to stand whilst being able to stimulate themselves with surroundings toys.

Exersaucer's are a great alternative to walkers as your child is fixed in the one place and can't roll around like they can with a walker. 
Before we look at some of the best exersaucer's on the market, we walk through what to look for when buying an exersaucer, things to consider from a safety perspective and why exersaucer's are important for your child's development.
In case you don't have time to read, we recommend the Fisher-Price 2-in-1 Sit-to-Stand Activity Centre which is available at Amazon for $89.99.
What's the Difference Between a Baby Walker and a Baby Activity Centre? 
You're probably thinking, hang on, how is an exersaucer different to a walker which we used to use as kids ourselves? Good question. 
As the name suggests, walkers are designed to help your child learn to walk thanks to wheels on the bottom of the unit allowing your child to roll around a room. Walkers are great as your child is surrounded by stimulating toys while being able to freely move around the room and slowly build up muscles so they can freely walk on their own. But... there's one problem with walkers. They require a lot of supervision to avoid accidentally walking into objects that may then fall on them, falling over or even worse, walking down stairs and injuring themselves.  
Exersaucer's differ to walkers where your child is kept in a stationary position and they're not able to freely move around. This is great as it means your baby is safe from harming themselves and also means you can do other things while your child is strapped in.
What Age Can an Exersaucer be Used?
It's recommended for your child to use a play mat up until 6 months and then begin transitioning to an exersaucer. By spending time on their stomach or back, this helps your baby develop muscles especially around the neck which comes in handy when they transition to beginning to use an exersaucer.
What's the Height and Weight Limit for an Exersaucer?
As exersaucer's vary in size between manufacturers, there's no set height and weight limit for every exersaucer and this will ultimately vary from manufacturer to manufacturer. 
We generally recommend exersaucer's as suitable for children up to 32 inches and 25 lbs (11 kg). Be sure to double check the fine print for the exersaucer you end up buying.
Why are Exersaucer's Important for your Child's Development?
There's quite a few reasons that exersaucer's are great for your child's development which include:
Familiarise standing in an upright position - After spending the first 6 months of their lives on their back, it can take some time to familiarise to being in a position other than on the back. Exersaucer's a great way to help your little one getting used to standing and begin to build leg muscles that will help them with crawling and eventually walking. 
Exposure to different textures and shapes - Exersaucer's come with a variety of toys attached that look to exposure your child to different shapes and textures. By having a variety of shapes and textures these also work great for keeping your child busy with their short attention span.
Practice hand eye coordination - For some children, an exersaucer will be the first time they begin trying to grab and pull objects. Exersaucer's are a great way for your child to practice their hand eye coordination by grabbing and pulling objects. 
Safe environment - With your child securely strapped in a stationary position, your child can safely play in the exersaucer without fear of hurting themselves like they may have previously with a walker where children were known to accidentally walk down stairs or into objects. Another bonus is that you can also go about other jobs like house work in the same room while watching your child.
5 Things to Look for When Buying an Exersaucer
With plenty of exersaucer or baby activity centres on the market, it can be a bit confusing to what makes one good vs others. Here's some tips for things we'd recommend looking out for:
1. Easy to Clean
Let's be honest - children aren't the most tidy lot so it always pays to look for units which are easy to keep clean. We generally recommend looking for a unit that looks like it will be able to withstand a fair bit of disinfectant being sprayed on it without deteriorating.  
For this reason look for exersaucer's with lots of plastic surfaces and don't rely too heavily on materials like felt as these may fray over time.
2. Toys
Exersaucer's come with toys either attached or hanging from the unit. Generally, we recommend looking for units that offer a range of different toys to properly stimulate your child. Some things to look out for:
Toys that require your child to practice their hand eye coordination skills
Different textures and colours
Toys that rattle when shook
Different shapes and colours to visually stimulate
3. Safety
With all the different toys available on child exersaucer's also comes safety concerns you need to consider when purchasing. From our experience, avoid units where there are small parts which easily disconnect from the unit and could end up in your child's mouth and become a choking hazard.
4. Adjustability
An important part of a baby activity centre is the ability to adjust the height over time as your baby grows. This is important for two reasons:
Being able to adjust the height means you will be able to get longer use out of it as opposed to one which is in a fixed position and the height cannot be adjusted. 
Your child's feet should barely be touching the ground. This is to avoid your child putting excess pressure on their joints and muscles which are still very much growing!
5. Portability
If you're like us and travel from time to time, having equipment that simply folds down when not in use without needing to be dissembled is a huge plus. Because exersaucer's come with toys attached to the unit, we recommend checking whether these can be detached off the unit and stored separately as we found this makes travelling with the unit easier as it removes a lot of the awkward bulk.
What's the Difference between an Exersaucer and a Bouncer?
Not a great deal... With an exersaucer and bouncer your child can spin around 360 degrees but the main difference between an exersaucer and a jumperoo (otherwise known as a bouncer) is the ability to jump around.
As the name suggests, bouncers use a safety harness system that straps your child into the unit so they can freely bounce around. Exersaucer's work a bit differently and don't have a bouncing mechanism so your child is essentially fixed in the same standing position.
---
Infantino 2-in-1 Sit, Spin & Stand
The Infantino is a 2-in-1 exersaucer capable of being used collapsed on the ground for when your baby is crawling all the way to being an elevated play and stand centre.
In terms of weight capacity, the Infantino exersaucer is capable of holding weight of up to 13 kg (or 30lbs).
​

The Infantino comes with 6 different toys that all light up and make different sounds which is bound to keep your child amused.
In terms of adjustability, the Infantino 2-in-1 comes with 3 different height positions to suit your growing child. While also being capable of rotating 360 degrees.
If you're like us and plan to leave the house with your exersaucer, you'll be pleased to know that the Infantino easily folds down and stores away.
​

One downside to the Infantino 2 in 1 is the long-term durability of the unit. We noticed a common theme with reviews highlighting that the paint can rub away off the unit over time onto clothes or worse yet, rubs onto your child's skin... 
---
Fisher-Price 2-in-1 Sit-to-Stand Activity Centre 
Fisher Price is a reputable children's brand known for their quality products with the Fisher Price 2-in-1 Sit to Stand Activity Centre being a great example. Similar to the Infantino unit we previously reviewed, the Fisher-Price 2-in-1 exersaucer is capable of being used while your little one is crawling all the way up until they are standing on their own. 
In terms of entertainment, the Fisher Price Sit to Stand has a fun musical alligator which is used to make sounds and light up different colours as your child presses the buttons. If the sounds aren't your thing, the musical alligator also plays music for up to 20 minutes.
The Fisher Price Sit to Stand Activity Centre is capable of supporting children of heights up to 30 inches and weight up to 11 kg (or 25 lbs). While the unit itself is capable of being extended to 3 different height positions.
For those clean freaks out there, you'll be pleased to know that the seat pad can be removed and washed.
---
Baby Einstein Rhythm of The Reef 
Does your child love the sea? You're in luck if so with the Baby Einstein Rhythm of the Reef themed towards the sea with lots of reference to the animals of the sea. The Baby Einstein comes with 5 different sea animal toys of different shapes and colours which are bound to keep your child busy.
Similar to other exersaucers we've reviewed, the Baby Einstein comes with the ability to play music and sound effects thanks to the 3 key keyboard.
In terms of weight and height limit, the Baby Einstein Rythm of the Reef is capable of holding babies up to 11 kg (25 lbs) and heights of 30".  While also having 3 different adjustable height positions.
The Baby Einstein Rhythm of the Reef comes with a machine washable seat pad allowing you to keep the unit nice and clean.
---
The Evenflo Exersaucer is similar to other units we reviewed where it acts as a 2-in-1 unit that's capable of being used when your little one is crawling all the way up until they're walking.
One thing we loved about the Evenflo compared to other exersaucer's we reviewed was the inclusion of 20 different shapes, colours, textures and sounds. Most other units were around 6-8 different shapes, colours, etc so this was impressive!
Like other units we reviewed, the Evenflo is capable of having its seat pad removed for easy cleaning. Similarly to other units, the has a similar holding capacity, the Evenflo exersaucer is capable of holding children up to 11 kg (25 lbs) and 30" high.
---
Disney Baby Mickey Mouse Camping with Friends Activity Saucer
Closing out this round up of some of the best exersaucer's on the market is the the Bright Stars Activity Saucer. This was one of our favourites thanks to the cute Disney Under the Stars theme. Seriously, how cute is Camp Mickey?! We loved it.
This Disney themed exersaucer comes with spinning toys, light up lanterns and melodies to help keep your child amused.
One thing we really liked about the Bright Stars Activity Saucer was the ability to securely mount your own toys to the unit. This works great for adding a bit of variety to the unit.
Similar to other units we reviewed, the Bright Stars is capable of holding children up to 11 kg (25 lbs) and 30" in height. The seat also can be adjusted to 3 different heights.
Affiliate Disclosure – This post may contain affiliate links where we may receive compensation if you purchase products linked below. As an Amazon Associate, I can earn from qualifying purchases. This doesn't cost you anything and helps keep our little blog running. Read our privacy policy for further information.
Affiliate Disclosure – This post may contain affiliate links where we may receive compensation if you purchase products linked below. As an Amazon Associate, I can earn from qualifying purchases. This doesn't cost you anything and helps keep our little blog running. Read our privacy policy for further information.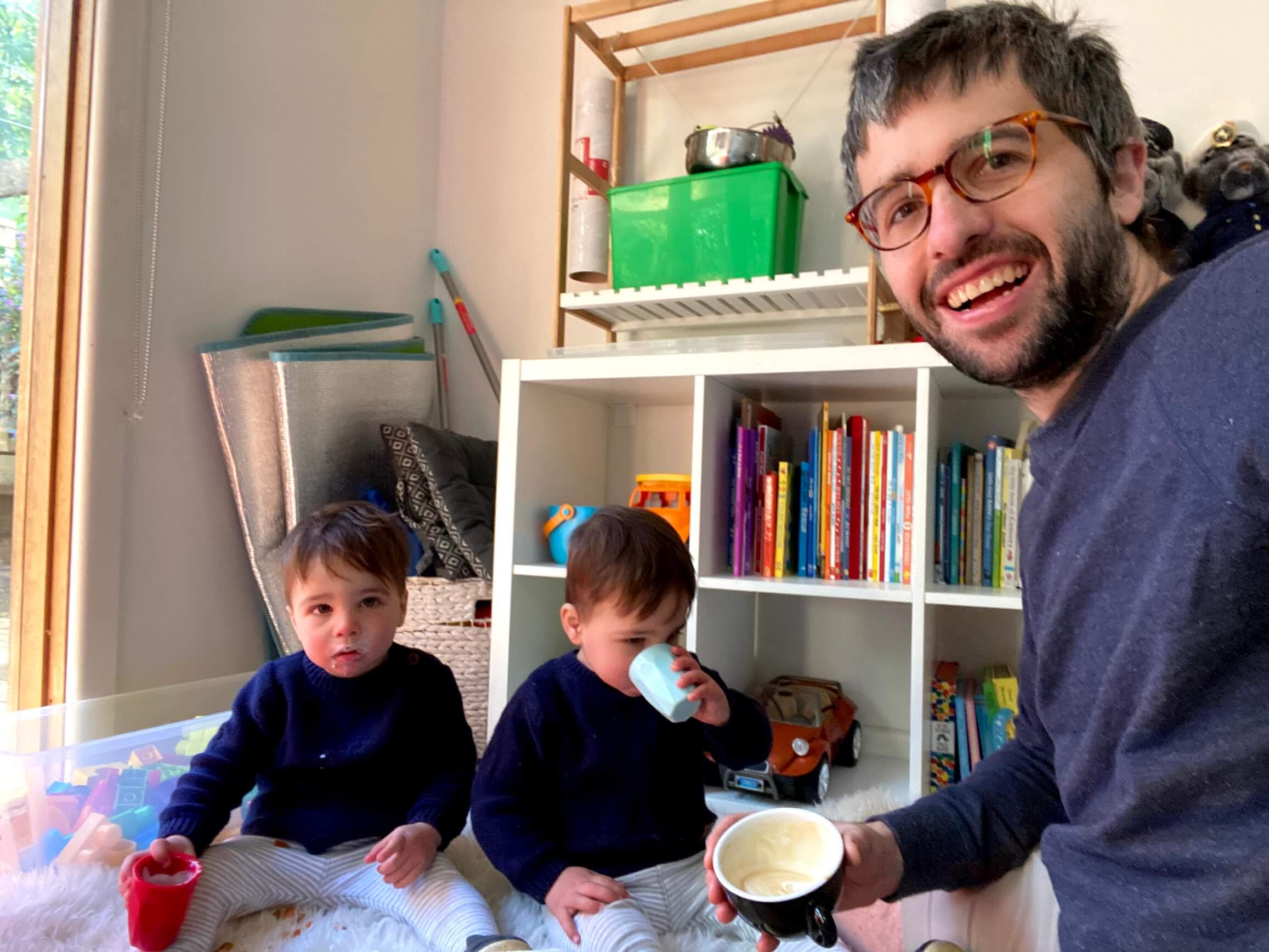 My name's Alex and I'm a husband, dad to beautiful identical twin boys, cyclist, photographer and connoisseur of great coffee!
Help I'm Having Twins has been created for me to share what I found useful as a new parent and dad to twins.