Spending time in the water with your little one is a great way to bond and get to you know your newest member. But what do you do about nappies (or for our American friends diapers!) when you go swimming? Enter swimming nappies which are specifically designed to address some of the shortfalls you will experience with regular nappies when they are exposed to swimming which we'll discuss later. 
Buying non-reusable swimming nappies can quickly become an expensive exercise if you're constantly going swimming with your little one.  This article looks into reusable swimming nappies to understand how they work, what to consider when buying some for your first time and reputable swimming diapers. We personally recommend the which is available on Amazon for .
What are Reusable Swim Diapers?
You're probably wondering, what makes a swimming diaper different to a regular diaper and why do I need them?
Good question. Reusable swimming diapers use a waterproof material and liner to help keep urine and poo from leaking into the water. The real difference here between a regular nappy and a swimming nappy is that the poo is contained within the nappy rather than being absorbed into the nappy from the water. 
Another point of difference with swimming nappies is that they do not swell like disposable nappies as they get wet. This results in a far more comfortable nappy for your baby and less chance of rash.
As the name suggests, reusable nappies can be placed in the wash and used again. Simply remove the solid and clean as if you would normally hygienically clean your child's clothes.
How Do Reusable Swim Diapers Work?
You're probably wondering to yourself... How does the nappy keep everything in without it leaking into the water of the beach or pool? Good question.
Swimming nappies are designed to have a snug fit and use velcro on either side of the nappy to provide a strong seal around the nappy. By having this strong fit it helps keep poo contained within the nappy as your child is swimming. 
In terms of cleaning the nappy after use, we recommend taking the child out of the reusable swimming diaper, flush the contents of the diaper into the toilet and then give it a rinse down. Once you get home, simply place the diaper into a cold to warm wash in the washing machine and let it wash like you would normally wash your babies clothes.
How To Use Reusable Swim Diapers
Using a reusable swim nappy is easy but here's a few things we'd recommend from our experience:
Don't put the swimming nappy on too early before swimming as the urine will leak through the nappy. 
When you're ready to put the swimming nappy on, place the swimming diaper on as you would put a regular nappy. 
If you need to drive to the beach or pool, we suggest putting a normal nappy over the top of your child's swimming out fit and swimming diaper. This helps catch any urine that makes its way out of the swimming diaper. Don't forget swimming diapers only capture poo and not wee... Once your child is ready to go swimming, simply take the normal diaper off and you're ready to go.
Be sure to check the swimming diaper from time to time when you're in the water  to avoid any awkward surprises in the water... 
Dispose the contents of the nappy while you are at the pool and place it in a plastic bag. Upon arriving home throw it in the wash like you would when normally washing your child's soiled clothes.
Do Reusable Diapers Hold Pee?
One of the great things about swimming diapers is that they don't swell up like a normal nappy would when they get wet. But with this comes a negative... They don't hold urine which means your child's urine escapes into the water or on you!
This isn't really an issue as pools are chlorinated and will kill the urine. But it does present challenges when you are waiting to get in the water and your child urinates while you are holding them. For this reason, we recommend putting a normal nappy over the top of your child's swim nappy and swimming outfit to catch and urine before you go in the water.
​

What Are Reusable Swim Diapers Made Of?
Reusable swim diapers are made of a waterproof material which makes them function well when worn at the pool or beach. They also velcro on like regular diapers to help in creating a seal to stop poo escaping and also provide a comfortable fit for your little one.
Most reusable swim diapers have snaps on the side of the diaper. This makes it easy for you to change them without creating a mess.
What to Look For When Buying A Reusable Swim Diaper
We'll be honest... There's not a lot to look out for when buying a reusable swim nappy but the fact that most people don't even realise they exist made us think we should probably put together a quick buying guide of what to consider when purchasing a swimming diaper for your baby for the first time.
Comfort
The best reusable swim diaper is made of a soft waterproof cloth, lined with a soft mesh, which is used to hold the solid. This cloth is very comfortable on the baby's skin and will help them to enjoy their time in the pool. Getting a swim diaper that fits your baby well will contribute significantly to their comfort.
Similar to nappies, we found sizing can vary between manufacturers so it may take some time to find a nappy that properly fits your baby.
Functionality
When choosing a reusable swim diaper, ensure that it can effectively carry out the work, it is meant for, containing poo. The velcro should snug tightly around the baby's waist and legs to prevent any leakage, which can lead to the contamination of the pool water.  For this reason, we recommend checking the sizing guide to ensure the nappy is the correct size for your little one's size and weight.
Price
The price range of reusable swim diapers is quite broad, depending on size, quality, design, and brand. As your baby is growing so quickly and you'll need to buy a new size every few months, we'd recommend not breaking the bank and just buying a more affordable pair like the which is available on Amazon for .
​

---
Nageuret Reusable Swim Diaper
When we were looking for a swimming nappy, the first one we came across was the Nageuret Swimming Diaper and I'm glad we did as it ended up being our favourite! The Nageuret Swim Diaper comes in two different colour options (Fish Red Blue Green and Sea Friends) while being made with a breathable waterproof material. Having a diaper made from a waterproof material is key as it stops the nappy holding water and becoming heavy for your little one.

One thing we really liked about the Nageuret range of swim diapers is the fact the product is covered by warranty. This is handy and provides peace of mind if in the future your product breaks, you'll be happy to know you're covered for repairs.

The Nageuret Swim Diaper is made to last thanks to the sizing fitting babies from newborn all the way to 2-3 years of age thanks to the rise snaps. The rise snaps work by having multiple snaps on the outside of the nappy which means you can simply go a wider snap as your baby grows. Nageuret recommend babies as large as 32 lbs and 36" are able to wear the Nageuret reusable swim diaper comfortably.


Currently available on for .


---
i play. by green sprouts Baby Snap Reusable Swim Diaper
If you're quite fussy when it comes to what your baby wears when you're out and about then we think the i play by green sprouts baby swimming nappy if the one for you. Coming in 35 (!!) different colour options means there's something for everyone.

Made for convenience and comfort thanks to the soft wicking liner to help prevent diaper rash and also the durable side snaps making it a breeze to take the swimming diaper on and off.

The i play. by green sprouts swimming diaper comes in 8 different sizes ranging from newborn all the way to 24 months. Personally, we prefer the idea of one swimming diaper to fit all similar to the Nageuret swimming diaper range.

In terms of how the sizing runs, it's recommended to size up as the i play. By green sprouts swimming diapers can run a bit small.
Currently available on for .


---
One thing that you'll quickly notice that's different with the Splash About Happy Nappy is the inclusion of neoprene cuffs at the bottom of the swimming nappy that wrap around your child's thighs. But this isn't the only thing that's different about this swimming diaper. 
The Splash About Nappy uses disposable nappy liners which are then inserted into a nappy wrap under the swim diaper. The wrap is machine washable and is designed to catch any accidents that might occur in the pool. We think this is a great idea if your child still has runny poos which are more common when they are still on breast milk or formula. This is particularly great if you're using a public pool which are strict about swimming diapers.

Coming in 17 different colour and pattern options, you're bond to find something that works with your little one's style. Whether that be something coastal themed to something cat themed.

While the Splash About Happy Nappy comes in 5 different size options ranging from new born all the way through to 2-3 years of age.
---
i play. by green sprouts Trunks
While the i play. by green sprouts trunks are a bit different to other swimming outfits we reviewed. Largely due to these being trunks instead of nappies! We wanted to share the love for parents not really feeling nappies and wanting something a bit older looking.

The i play. by green sprouts swimming trunks are similar to what you'd come to expect with a swimming diaper by providing a strong level of protection to help stop poo escaping the trunks.

Similar to the i play. by green sprouts swimming diaper we reviewed, the trunk version comes in 26 colours. You're bound to find something that meets the colours and patterns your child is into! While also coming in 6 different sizes as all the way from newborn to 24 months old.
Currently available on for .


---
Closing out our review of some of the best swimming diapers on the market is the Alvababy Swim Diapers. These were the best value out of all the nappies and great for anyone with twins as you effectively get two nappies for the price of one!​

Similar to other swimming nappies we reviewed, the Alvababy swim diaper comes in a range of colours and patterns (22 in fact!) so you're bound to find something that suits your child's tastes whether that be nautical or animal related.

The Alvababy Swim Diaper comes in 6 different sizes which are suitable for newborn babies all the way through to infants of 3 years of age.

Similar to other swimming baby diapers we reviewed, the Alvababy uses a snap locking system for placing the swim diaper on and off.
Currently available on for .


Affiliate Disclosure – This post may contain affiliate links where we may receive compensation if you purchase products linked below. As an Amazon Associate, I can earn from qualifying purchases. This doesn't cost you anything and helps keep our little blog running. Read our privacy policy for further information.
Affiliate Disclosure – This post may contain affiliate links where we may receive compensation if you purchase products linked below. As an Amazon Associate, I can earn from qualifying purchases. This doesn't cost you anything and helps keep our little blog running. Read our privacy policy for further information.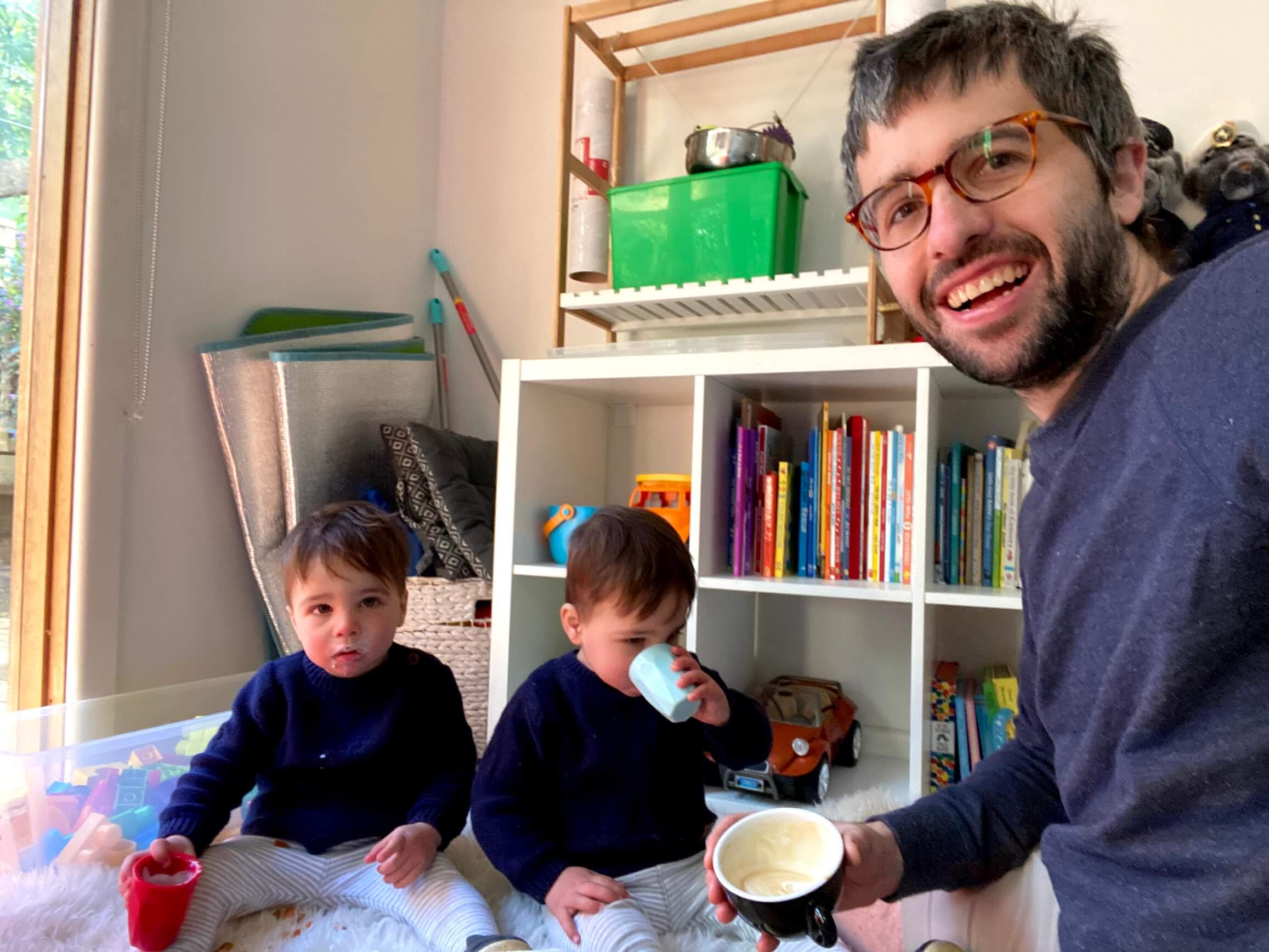 My name's Alex and I'm a husband, dad to beautiful identical twin boys, cyclist, photographer and connoisseur of great coffee!
Help I'm Having Twins has been created for me to share what I found useful as a new parent and dad to twins.