---
Evenflo ExerSaucer Jump and Learn Jumper
It's a bit of a cliche saying but your kids grow so fast. As your baby's neck strengthens and the baby can hold their head up unsupported, they start exploring their surroundings which presents its own challenges in helping keep them safe from accidentally knocking things over.

The Evenflo exersaucer is one item which comes in handy by holding your baby and preventing them from harm, they also aid in the physical development of your child and help them learn in an engaging way.

What is an Exersaucer?

Before we go any further though... What is an exersaucer you're probably wondering... An exersaucer is a sitting device for babies which consists of a flat circular plate and a seat where the baby sits and plays with various toys attached to the device. The seat is made of fabric, and includes back support. While the exersaucer is placed on a track to allow the child to move in a circular motion.

The exersaucer does not contain any wheels, which makes it quite safe for the baby, as there is no risk of rolling down stairs (phew!). With this in mind, the exersaucer is stationary at all times and includes an assortment of toys to keep the baby engaged. These toys may include bells with sounds, music, soft toys with different colors, or even a teether. These toys are great in helping the baby to develop their hearing and vision senses.
Evenflo ExerSaucer Jump and Learn Jumper Features

The Evenflo ExerSaucer Jump and Learn Jumper comes in three different varieties, that is, the Fun, Double Fun and the Triple Fun. Basically, the higher the rating (or fun level rather!) means the higher number of toys and sensory stimulation for your baby.

Toys and Sensory Stimulation
​The seat of the Evenflo exersaucer rotates 360 degrees, giving your baby access to all the toys and over 58 simple learning activities. These activities provide excellent sensory feedback with their different colours, sounds and textures to stimulate your baby. One thing we liked about the Evenflo is the fact that some toys detach from the unit so your baby can play with the toys when not in the exersaucer.

Adjustability 
The Evenflo exersaucer has a proper height adjustment which has three different levels. Smaller babies can use the lowest setting, which allows the seat to sit down almost to the floor, then use the higher settings as your baby grows. From our experience, other exersaucer's on the market generally have limited height adjustment so we really liked that the Evenflo comes with 3 different height settings.

Ease of Cleaning
​The seat fabric of the Evenflo ExerSaucer Jump and Learn Jumper is removable and machine washable. Considering the frequency with which an exersaucer will get dirty, this is super handy in being able to help keep your exersaucer clean.

Powering the Evenflo Exersaucer
The Evenflo Exersaucer uses six batteries to power the music, sounds and lights.
Benefits of the Evenflo Exersaucer Jump and Learn Jumper 
​We get it! Trying to keep your child entertained and stimulated to help them develop mentally can be quite tough as a parent. There's a few reasons why we think having an Evenflo exersaucer in your house is a great idea, these include:
Entertaining your baby when you're on your own can be hard work. We found having an exersaucer is a great way to mix things up and add a bit of variety to the day.
Your baby is securely in place and there isn't a risk that they may accidentally walk into something and harm themselves.
They free you up so you're able to multi task and do other things. While we do not recommend leaving your child on their own, we have found having our boys in exersaucer's while we complete house work in the same room (e.g. folding washed clothes or sweeping the floor) as a great way to get things done.
Helps your baby develop physically as they exercise their muscles when jumping up and down. Your baby will also further develop their back and neck muscles as they explore their toys on the exersaucer.
At What Age Can a Baby Use an Evenflo Exersaucer?
Generally it's recommended that once a baby can sit with some support that is around 4-6 months, they are typically ready to use an exersaucer. We recommend at this age to sit closely to them and help support them as they will no doubt tire quickly due to it being a new exercise for them.
The best age for a baby to use an exersaucer is ages 6-7 months when they can sit independently, without using arms for balance. This is the age when they can sit very well on their own thanks to having great back strength to properly support them. At this age, there is a decreased risk of developing a poor posture which can potentially lead to long-term health issues. 
How to Clean the Evenflo Exersaucer
Maintaining a hygienic environment for your baby is key especially when they are extra sensitive to getting sick more than adults. This was one of the reasons why we really liked the Evenflo Exersaucer thanks to the ease of keeping it clean and tidy.
When it comes to cleaning the Evenflo Exersaucer, we recommend:
Remove the seat by popping the elastics free from underneath and pull the plastic tabs. 
Pull the seat from the top
Use a regular mild detergent and either hand wash or place the seat in your washing machine on a cool/warm water cycle with low spin/RPM. 
If your seat has any stains evident, we recommend using a stain remover like Napisan if you're in Australia. If the stain is quite bad, let it sit overnight before washing it in the washer.
Conclusion
In summary, we think the Evenflo ExerSaucer Jump and Learn Jumper is a great investment for anyone that's looking for an exersaucer that's safe, easy to clean and most importantly, provide great stimulation for your child. While they aren't cheap, you're bound to get plenty of use out of one. 
Currently available on for .


Affiliate Disclosure – This post may contain affiliate links where we may receive compensation if you purchase products linked below. As an Amazon Associate, I can earn from qualifying purchases. This doesn't cost you anything and helps keep our little blog running. Read our privacy policy for further information.
Affiliate Disclosure – This post may contain affiliate links where we may receive compensation if you purchase products linked below. As an Amazon Associate, I can earn from qualifying purchases. This doesn't cost you anything and helps keep our little blog running. Read our privacy policy for further information.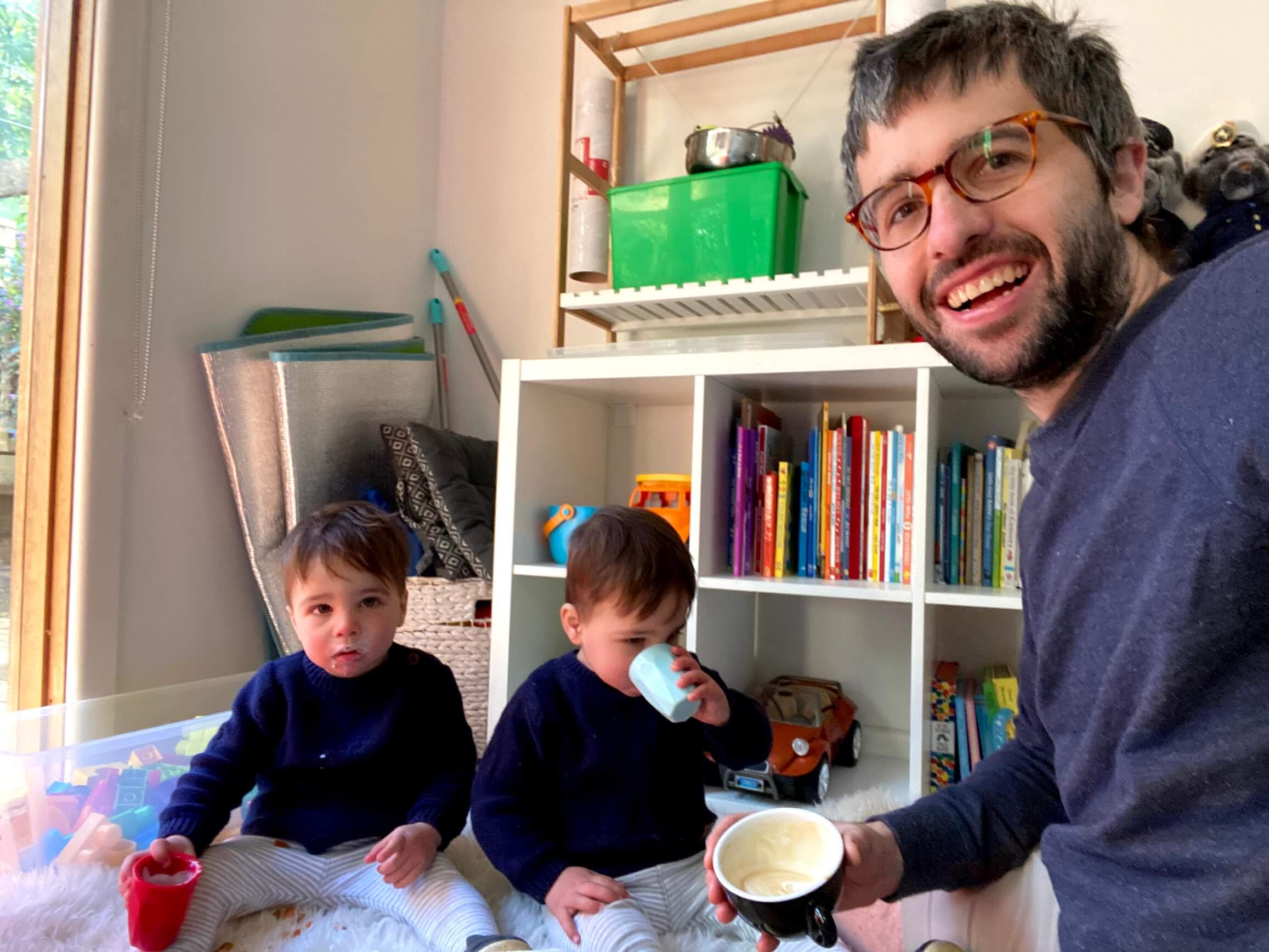 My name's Alex and I'm a husband, dad to beautiful identical twin boys, cyclist, photographer and connoisseur of great coffee!
Help I'm Having Twins has been created for me to share what I found useful as a new parent and dad to twins.