Taking your baby to the beach in the first 12 months can be one of the most fun experiences as you begin to introduce them to the gritty texture of sand and the feeling of water running over their feet. But with the joy of going to the beach also comes some extra precautions to keep your baby safe from the dangers of the sun.  For this reason, investing in a quality beach tent for your baby is important to ensure your trips to the beach don't become potentially dangerous for your little one.
This article explores what to look for when buying a beach tent for your child and also some of our favourite baby beach tents on the market. If you're limited for time, we personally recommend the Easthills Outdoors Instant Shader Deluxe XL beach tent which is available from Amazon for $82.99.
Baby Beach Tents Compared




Name
Easthills Outdoors Instant Shader Deluxe XL
Nest Tents Grande Beach Tent
AmazonBasics Pop-up Beach Tent Sun Shade Shelter
Bend River Automatic Instant Baby Tent
Extras?
Extended font floor to spread out on
Includes pool and flyscreen door to keep flies out

Name
Easthills Outdoors Instant Shader Deluxe XL

Name
Nest Tents Grande Beach Tent

Name
AmazonBasics Pop-up Beach Tent Sun Shade Shelter
Extras?
Extended font floor to spread out on

Name
Bend River Automatic Instant Baby Tent
Extras?
Includes pool and flyscreen door to keep flies out
Why Buy A Baby Beach Tent?
According to the Cancer Council of Australia, we know that children under the age of 12 months are particularly more susceptible to  sunburn, skin and eye damage, and skin cancer than adults.  This is due to their body being more sensitive to ultraviolet (UV) radiation which can fast track skin cancer mutations than what we may experience as adults.  It's recommended that children under the age of 1 should avoid any exposure to sun with a UV rating of 3 or more.
While the best way to keep your baby safe from the sun is to put have them in the sun at all, there are some different precautions which you can take with one of them being investing a baby shade tent.  Baby shade tents come in all shapes and sizes with some tents being more suited to accomodate one baby while others are large enough to cater for an entire family. They also double up well as creating a secure environment where your baby can't crawl/walk away and potentially drown.
Another reason to invest in a tent for your baby at the beach is that it also makes a good and safe place to put them down to rest if they need a short nap while you are at the beach. Obviously being careful they don't over heat but we'll get to that.
9 Things to Look for When Buying A Baby Beach Tent
If you are looking for a baby beach tent to take your baby for summer adventures, there are many options to choose from. We've created this checklist of things to consider when buying to help aid you with your purchase.
1. Coverage
For your baby to be properly protected from the sun, your baby must be entirely out of the sun. Although buying the tent online may be the best option since you will get a variety of models to choose from as well as the best prices, sometimes it can be hard to truly visualise how big something will be in real life.
We recommend pulling out the tape measure if you're buying online and to do some measurements at home to ensure that you are buying a tent that is big enough to provide enough coverage for your baby. Also be sure to factor in how big your child will be in 1-2 years time as their legs begin to grow.
2. Sun and Ultraviolet Protection
The best baby beach tent offers both sun and ultraviolet rays protection. The tent should be large enough to cover the baby from direct sunlight but the material should also be strong enough to try block out the heat so your baby doesn't over heat in the tent.  Look out for the UPF label on the tent as this will tell you how strong the tent is against ultraviolet rays.
3. Size
The size of the baby beach tent will depend highly on your specific needs. If your baby is staying in the tent alone, then choose a small-sized tent. If you will need to accompany the baby in the tent to breastfeed, choose one which will comfortably accommodate both of you.
Also, ensure that a baby beach tent is light in weight as it is usually moved a lot. A trip to the beach also means that you will be carrying loads of other staff, so besides being light in weight, it should also be durable to avoid getting damaged.
4. Price
Depending on the brand, size and design of a baby beach tent, the prices are quite diverse. Set a budget and look for baby tents within that range, then determine the features that you are looking for. Ensure that you buy a tent that is affordable but with most of the features that you prefer. If you must go for a costly tent, we recommend prioritising its UV protection levels above all other features.
5. Ventilation
Although most baby tents are made of UVP material, the sun can make them hot and stuffy quite fast. The baby cannot control their body temperatures as adults do so we recommend choosing a baby beach tent which is well-ventilated by using mesh panels on either side to encourage airflow. Also look for a tent that uses strong material to try block out the heat of the sun.
6. Design
Baby beach tents come in a range of designs but there's a few things we'd recommend looking for when purchasing, these include:
Make sure the tent comes with mesh panels to allow airflow in the tent for ventilation and keeping the tent cool. These mech panels are also used to reduce wind resistance in case of sudden blow of breeze along the shoreline.
Include built-in ground covers that cover the sand and dirt, providing a clean area for the baby to play on. Ensure that these covers are strong and durable to bear the sand friction and last long.
The opening flaps of the baby beach tents can be secured using hook and loop fastenings or a zipper. Be sure to check this feature to decide which one is the best for you. Some tents can be secured to the ground using stakes and tie-downs, while others just lie on the flat service. We generally recommend zip ties as this avoids them flapping around in the wind which may keep up your baby if it's trying to sleep.
7. Easy to Assemble
Before choosing your baby beach tent, ensure that it is easy to set up. You don't want a tent which will take you half a day to set-up.  There's nothing worse than getting to the beach and having to spend significant time assembling and dissembling something in the warm sun.
8. Durability
We recommend looking for a baby beach tent that is able to withstand the elements particularly heavy rain and wind that can happen as the weather changes. Ensure that the tent and all its parts are firmly stitched together. Also, look for a tent made of a sturdy material that is not easy to wear and tear.
9. Anchor Points
The baby beach tent can easily be blown away by the strong winds. Choose a tent that has anchor points where you can put either plastic or metal pegs to hold it to the ground. Some other tents come with a built-in sandbag, which you can fill with sand to hold the tent to the ground.
---
Easthills Outdoors Instant Shader Deluxe XL
The Easthills Outdoors Instant Shader Deluxe XL beach tent was one of the more larger baby beach tents we reviewed. With the bag being more designed for families rather than just your baby, you are able to comfortably fit 4 adults plus children in the tent. We think this is a great option for anyone that is looking to be able to spread out in the tent and not be constrained by size.
In terms of size, the Easthills beach tent measures at 99" wide, 53" diameter and 57" high. While weighing at 3.6 kg (8 lbs). Definitely not the lightest tent on the market but the travel carrying bag included with the tent helps lugging it around.
If you're like us and get a bit paranoid about your belongings on a busy beach, you'll be happy to know that the Easthills Instant Shader Deluxe XL comes with a zippered front porch which can be locked (with your own lock). This is also handy if you need to breastfeed or change a nappy in private.
Fortunately the bag can be setup and dissembled in around 1 minute which means you won't have to spend too much time in the hot sun getting the tent out and setup.
---
Neso Tents Grande Beach Tent
While the Neso Tents Grande Beach Tent won't suit everyone with its openness, we think it's a great option for people looking for a tent that will last long-term as your kids get longer.
The Nest Grande Beach Tent takes a more open design relying on a 7 ft high roof and no walls. We found this to work well with little kids as they're able to stand up and move around. 
Coming in a range of 13 different colours from black to flamingos (!!!) you're bound to find something that suits your needs.
---
AmazonBasics Pop-up Beach Tent Sun Shade Shelter
Amazon have been quietly working away over the last few years with their Amazon Basics range which looks to deliver quality products at a much cheaper price point.  The AmazonBasics Pop-Up Beach Tent is no exception and a great buy for anyone looking for a beach tent for their child.
The tent is capable of comfortably sitting two adults plus children where it offers plenty of protection from the weather thanks to the enclosed side panels which help block the wind and sun while the extended front floor is great for keeping the sand out.
In terms of size, the AmazonBasics Beach Tent weighs only 890 grams (1.98 lbs) and comes with a carry bag for carting the tent around. You'll be pleased to know that the tent itself is a breeze to setup and only takes around 15 seconds to setup.
---
The Epltion Baby Beach Tent was one of the more portable beach tents we reviewed. Coming in at 400 grams (0.9 lbs), you'll have no trouble at all carrying this around with the included carry bag.  What's even better is the tent only takes 15~ seconds to assemble.
​

You'll be happy to know that you won't need to worry about needing to spray your child with insect repellent thanks to the Epltion Baby Beach Tent coming with mesh walls to help keep insects out.
One down side of the Epltion Baby Beach Tent is the fact only one person (your child) can fit in the tent at any one time. Not ideal if you also want to try get in to entertain them or even try keep out of the sun yourself! 
Currently available on for .


---
Bend River Automatic Instant Baby Tent
The Bend River Automatic Instant Baby Tent was a bit different to other tents we reviewed where it came with a... wait for it... a built in pool! You're probably thinking wait?! A pool?! Yep! A pool. Well... More of a splash pad/pool for your baby to sight on under the shade to help keep them cool. A great idea if we do say so!
The Bend River Beach Tent is a relatively light tent coming in at 1.2 kg (2.65 lbs) and also includes a carry bag to help lug it to the beach. Another plus for this tent is the fact it only takes 30 secs to assemble.
​

Another plus for the Bend River Baby Beach Tent is the flyscreen door which works a great for keeping insects out and not needing to spray your little one with insect repellent.
One limitation to the Bend River Beach Tent and similar to the Epltion Baby Beach Tent is that this only has enough room for one person. Not ideal if you're looking to get out of the sun or jump in and entertain your child. 
Affiliate Disclosure – This post may contain affiliate links where we may receive compensation if you purchase products linked below. As an Amazon Associate, I can earn from qualifying purchases. This doesn't cost you anything and helps keep our little blog running. Read our privacy policy for further information.
Affiliate Disclosure – This post may contain affiliate links where we may receive compensation if you purchase products linked below. As an Amazon Associate, I can earn from qualifying purchases. This doesn't cost you anything and helps keep our little blog running. Read our privacy policy for further information.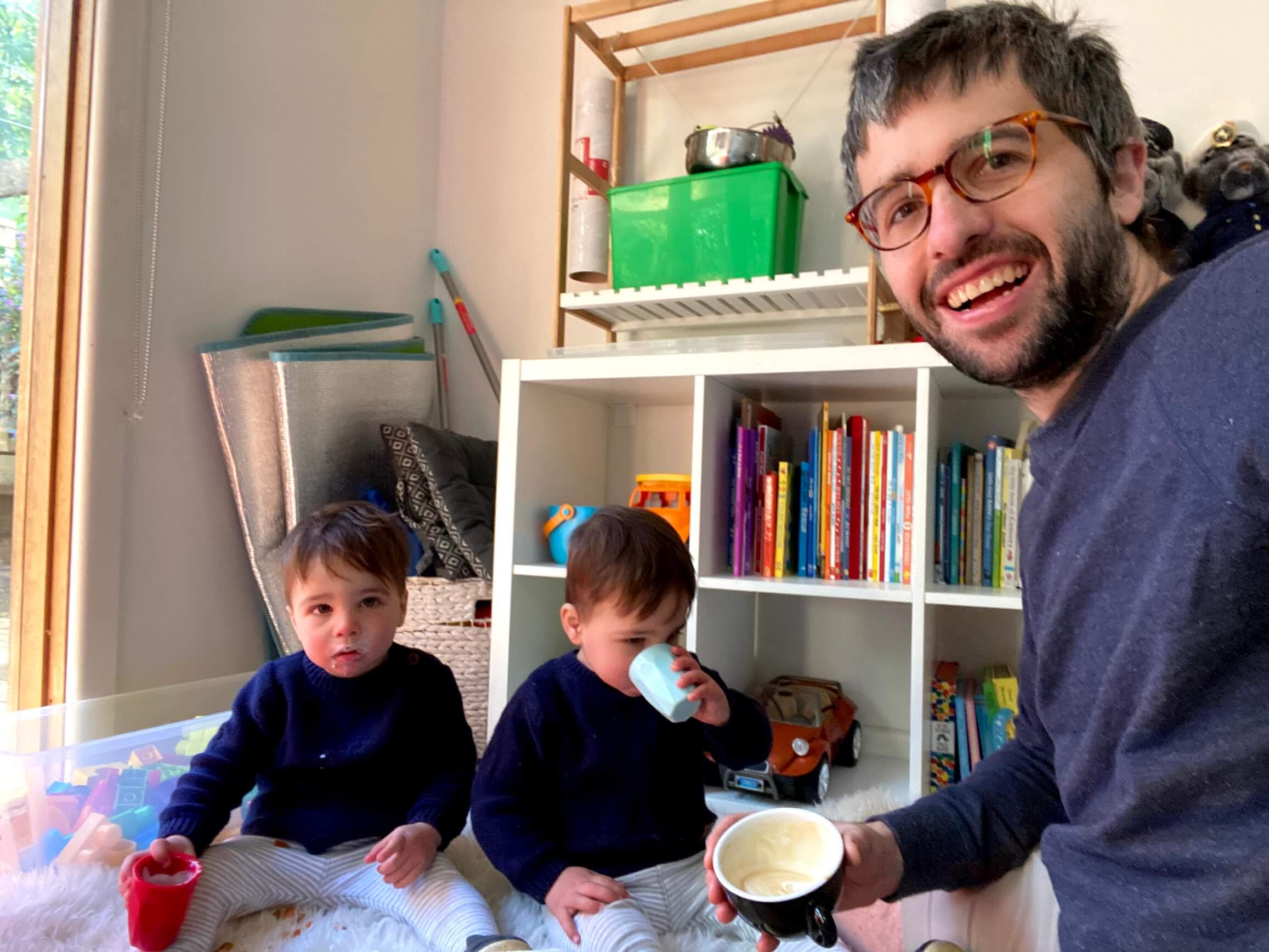 My name's Alex and I'm a husband, dad to beautiful identical twin boys, cyclist, photographer and connoisseur of great coffee!
Help I'm Having Twins has been created for me to share what I found useful as a new parent and dad to twins.