Pack n Play or otherwise known as play yards or playpens are a great way to create a secure and safe environment for your little one to play in while they are young. Thanks to being slightly elevated and using a mesh screen around the pen makes it impossible for your baby to escape and reduces their ability to harm themself too!
If your time poor and don't have time to read this post, we recommend the Baby Trend Deluxe II Nursery Center is available from Amazon for Price not available. Its great value for money and comes with a decent sized play area while also coming with a bassinet and changing table.
This post looks at the Best Pack n Play for your baby while also covering off:
Why you should consider using a pack n play
How to pick the best back n play
From a safety perspective, can your baby sleep in pack n play?
What is the best pack n play for newborn sleeping?
What is the best pack n play that comes with a bassinet?
While also looking at some of the other good pack n plays on the market
Why Use a Pack n Play?
So you're probably wondering to yourself, why should I use a pack n play when I've got a small rug on the floor that's both comfortable and safe? Good question.
Pack n Play's are a great option as they keep your child contained in the one place thanks to the mesh surrounding walls. While they are also slightly elevated off the ground with a comfortable padded floor which is nice and comfortable for your little one. 
Appropriate Age for Using a Pack n Play?
In terms of safety and suitability, pack n play's are best suited from the new born stage all the way through to when your child is able to climb over the sides. So from our experience, this would be at around the 1 years of age mark but will ultimately be different from child to child. 
Doubles up as a Bassinet
While pack n play's also double up as a bassinet or portable crib which is perfect if you're travelling and looking to have an environment where your little one can safely play while also having somewhere to sleep. We talk about the safety of children sleeping in pack n play's later in the post.
How to Pick out the Best Pack n Play
Buying a pack n play is a relatively straight forward process in which most are pretty similar and perform the same function. Like anything though, you get what you pay for with the cheaper items on the market generally being harder to assemble, not as lightweight and coming with less toys than more expensive options. How to pick out the best pack n play: 
Weight limit - Ensure you're always following the weight limit on the pack n play you decide to purchase. Generally, most pack n play's will have a weight limit of 30 pounds which is around 13 kg. Bare in mind that you also consider any toys in the pack n play that might add to the weight of your baby (e.g. toys or books)
Ease of setting up and portability  - If you're like us and limited for space, you want something that's easy to set up and pack away when needed. For this reason, look for something that doesn't require any tools to disassemble or assemble. 
Toys and entertainment - From our experience, the range stimulus that comes with pack n play can be numerous different built-in lights, sounds and toys while others come with a more limited range. These are great as they help sooth your baby and entertain them which helps with them building a positive association with the pack n play and want to spend time in it. 
Safety - Like all things baby related, you need to make sure that the pack n play you're buying is safe to use. There's a few things we recommend such as ensuring the pack n play is stable so your little one isn't able to topple it over, always buy sheets that are properly fitted to avoid accidentally slipping up and going over your child's face which could cause harm. 
Can a Baby Sleep in a Pack n Play?
Short answer - Yes.
Longer answer - Yes but be careful.  We touched on safe sleeping in our article on creating a sleep routine for your twins but remove any objects on the bed that potentially could be a hazard if your baby was to accidentally grab them in the middle of the night and place them on top of their face. Items which can be hazardous and should be removed from the pack n play include: loose fitting sheets, toys, books and so forth. Just keep what they need to sleep and remove anything else. 
 Best Pack n Play with Bassinet
---
Baby Trend Deluxe II Nursery Center
The Baby Trend Deluxe II Nursery Center was our pick of the bunch for anyone in the market for a pack n play that's well suited for sleeping thanks to its multi-level bassinet. The Baby Trend uses two different levels with the middle level being best suited for newborns where they are less likely to move around as much. While the bottom level is more designed for heavier babies and also those that are prone to moving around in their sleep. 
When it comes to sleep, the Baby Trend Deluxe II Nursery Center also includes lights and music which are designed to help your baby fall to sleep.
While the changing table of the Baby Trend Deluxe uses a swing mechanism so you can swing it onto place and then swing it away when not in use. The changing table comes with two storage pouches which are handy for storing diapers and wipes. One downside to the changing table is that the changing table cannot be removed and placed in the wash.
From a storage and assembling perspective, the Baby Trend Deluxe is easy to assemble thanks to the locking mechanism only requiring one hand to assemble and disassemble. While the Baby Trend Deluxe also comes with large caster wheels and brakes which moving it around from room to room a breeze. 
Best Pack n Play with Changing Table
---
Graco Pack and Play Change 'n Carry Playard
For anyone in the market for a Pack n Play that has a great changing table then the Graco Pack and Play Change n Carry Playard is for you. The changing table folds away into a convenient pouch when travelling while also having multiple storage pockets to store diapers and wipes.  While the changing table can be removed for when not in use. 
The play/sleep area of the Graco Pack and Play comes with great padding to ensure your baby is comfortable whether it be your little one is sleeping or playing on the area.
In terms of assembly, the Graco Pack and Play is easy to assemble thanks to not requiring any special tools to assemble.
One downside of the Graco Pack and Play Change 'n Carry Playard is the way the changing table and play area is setup. With other pack n play's, the changing table sits above the play area and doesn't use any play space. The Graco Pack n Play is a bit different where the changing table takes up the play area. It's only when the changing table is removed from the unit that your child will get full use of the play area.
Currently available on for .


Best Pack n Play for Play Time
---
Regalo My Play Portable Play Yard
If you're looking for a Pack n Play that's very much designed for play then the Regalo My Play Portable Playard is for you. This is thanks to the playpen having around 16 square feet or 4x4 of space. Plenty of space for your little one to play!
In terms of portability and assembly, the Regalo My Play Portable Playard is easy to assemble while being portable and lightweight if you're travelling with it. 
The Regalo My Play Portable Playard is a bit different to other play areas we reviewed which are normally suited for ages of 0-12 months. The Regalo is best suited for ages of 6 to 24 months as it being more designed for infants rather than babies.
While in terms of safety and keeping the play area clean, the Regalo is easy to keep clean thanks to the play area being machine washable. While the Regalo Play Area is designed with safety in mind thanks to its reinforced stitching and safety lock to help keep the baby safe in the play area while using it. 
Two downsides of the Regalo My Play Portable Playard is that it doesn't come with a bassinet or change table like other pack n play's include. While the Regalo doesn't include an cushioning on the bottom. For this reason, it's best used on carpet, grass or sand to ensure comfort for your little one.
Affiliate Disclosure – This post may contain affiliate links where we may receive compensation if you purchase products linked below. As an Amazon Associate, I can earn from qualifying purchases. This doesn't cost you anything and helps keep our little blog running. Read our privacy policy for further information.
Affiliate Disclosure – This post may contain affiliate links where we may receive compensation if you purchase products linked below. As an Amazon Associate, I can earn from qualifying purchases. This doesn't cost you anything and helps keep our little blog running. Read our privacy policy for further information.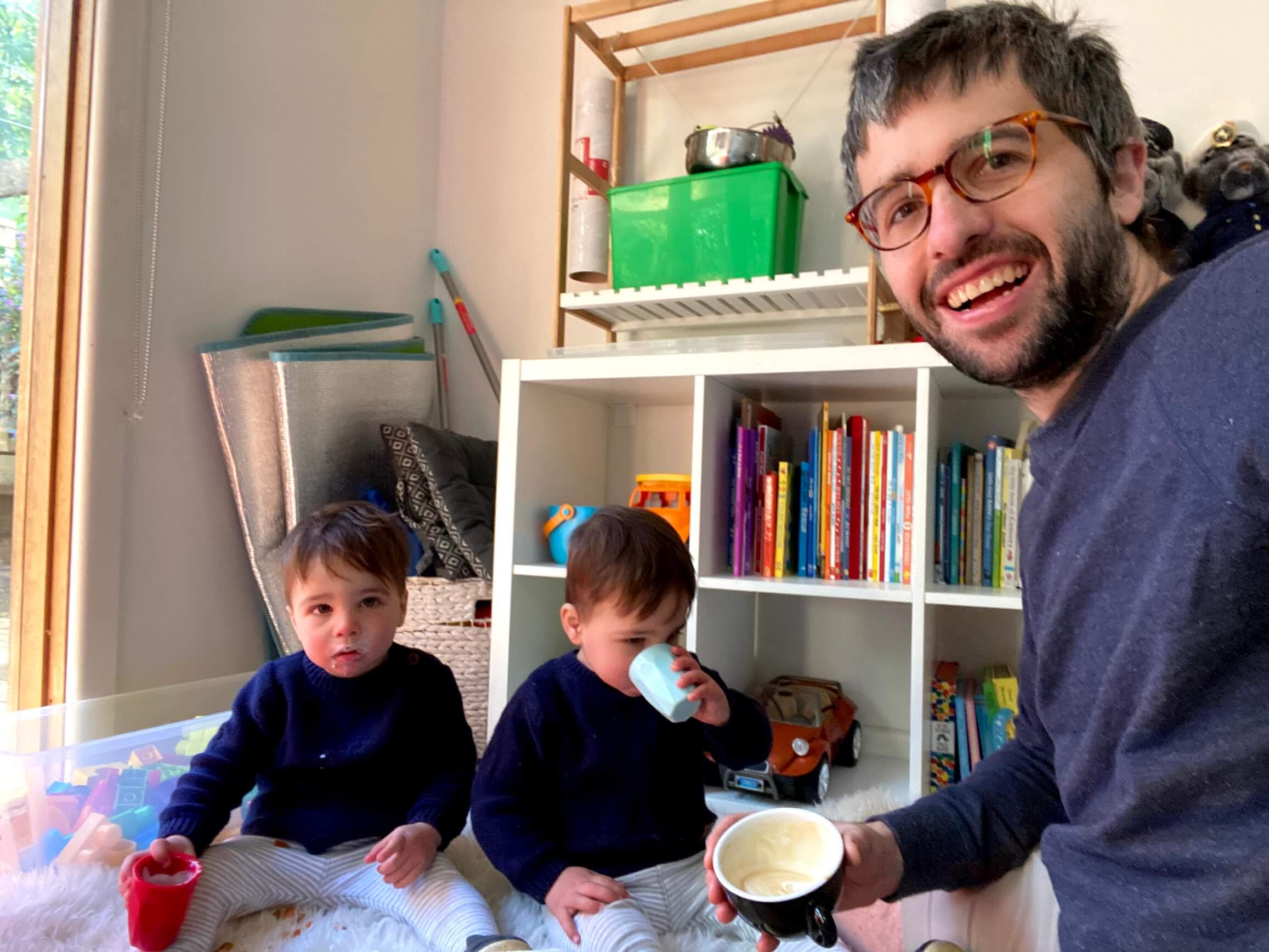 My name's Alex and I'm a husband, dad to beautiful identical twin boys, cyclist, photographer and connoisseur of great coffee!
Help I'm Having Twins has been created for me to share what I found useful as a new parent and dad to twins.